Spring-clean! |New Year's Cleaning|One Storage Mini Storage
Release Date : 14-01-2022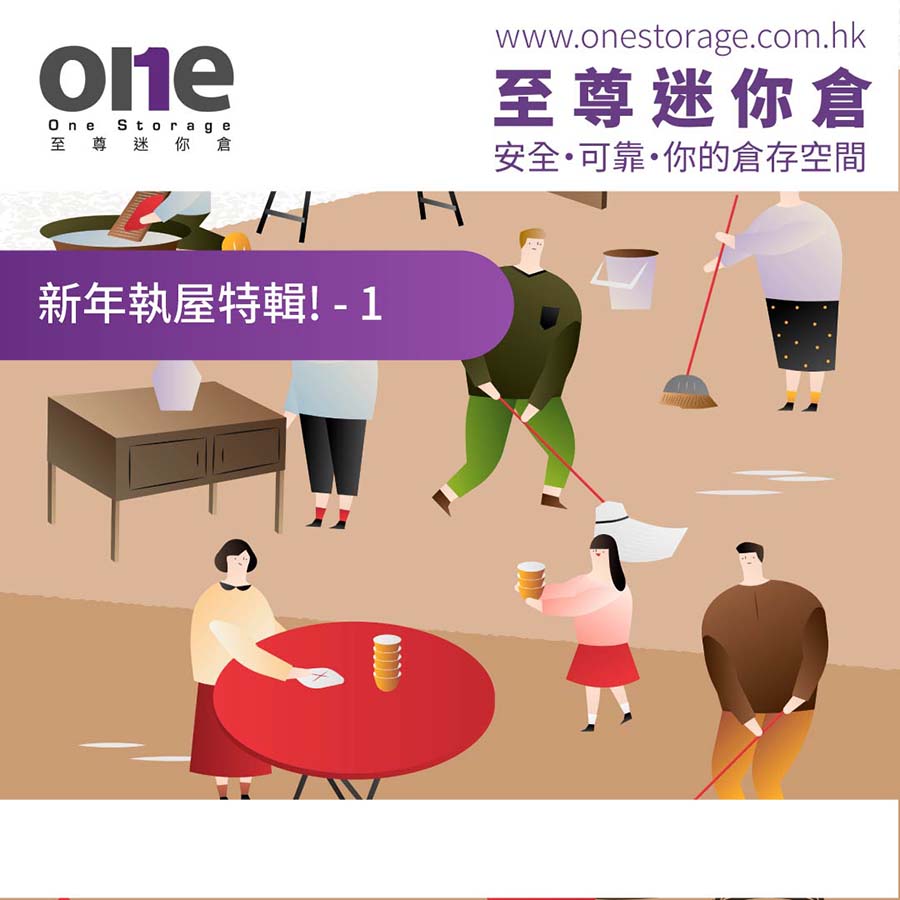 It's Chinese New Year again! Of course, you have to clean your home on the 28th of the year to welcome the new year, but is it troublesome to clean your home? Why don't you take a look at the tips shared by our One Storage Extreme Mini Storage.
Household Tip 1 - Clean Tile Dirt
Stains between tiles are difficult to deal with? In fact, no special cleaning tools are needed. You can try using a toothbrush and toothpaste. First put toothpaste between the tiles, then scrub with a toothbrush, you can get rid of mold, easy and convenient!
Cleaning Tips 2 - Removing Odors
The room and the refrigerator sometimes smell a little strange? In fact, lemon is a good helper to remove odor! Clean the room or refrigerator with lemon juice to remove odors. Or cut a lemon in half and put it in the room or refrigerator to absorb the smell.
Skills learned! But if the house is full of debris, it is difficult to restore the original beauty of the home no matter how clean it is. Trouble with sundries, our One Storage Extreme Mini Storage can help you!
One Storage has nearly 30 branches in Hong Kong! In addition, each warehouse is equipped with an all-weather air-conditioning constant temperature system and a security system. If you are looking for a safe and easy-to-use mini-storage, of course it is the One Storage Extreme Mini-storage!
New Year's Eve? Get rid of the clutter first! The limited offers launched by One Storage Extreme Mini Storage are also not to be missed!
Sign up for a 12-month lease now and enjoy a special discount, plus 1 month of free warehouse rental*! 40% off 12+1*, hurry up and make an appointment!
For concessionary registration enquiries: https://m.me/onestorage
-----------------------------
Renovation | Short term rental | One Storage Can Help | Mini Storage

-------------------------------------
Kennedy Town | Tai Po | Chai Wan | Siu Sai Wan | Wong Chuk Hang | San Po Kong | Yau Tong | Kwai Chung | Kwai Hing | Kwai Fong | Tsuen Wan | Tsing Yi | Fo Tan | Tuen Mun
Click here for Express Whatsapp: https://cutt.ly/51188503
*Terms and conditions apply, please contact our staff for details.
*Terms and Conditions: Offer is subject to availability while stocks last. This offer is only applicable to new registered customers of Supreme Mini Storage. In case of any dispute, the decision of Supreme Mini Storage shall be final. Registrants have read this Disclaimer page and agree to the Personal Data and Privacy Statement and are willing to receive promotional information.