2022 DSE list released! Full sharing of the admission process! |Book Storage|One Storage|Mini Storage
Release Date : 22-07-2022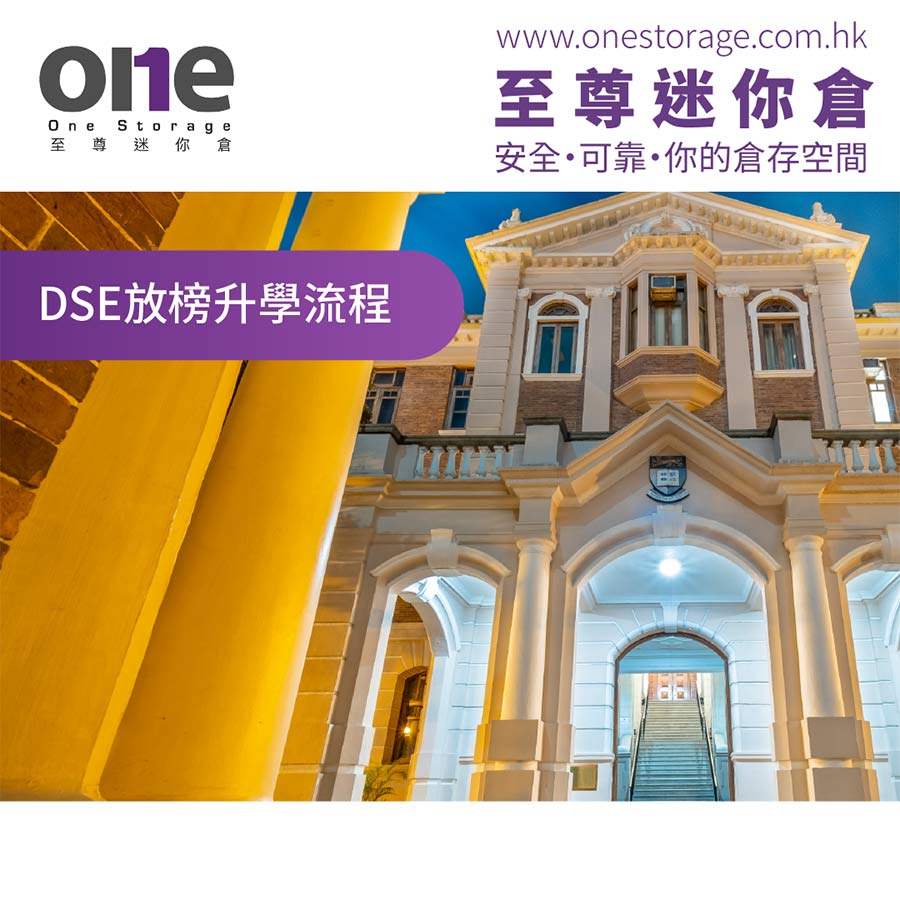 Same-day matters 1-JUPAS re-election
Today's Item 2 - College Knocking
Same-day Item 3 - Result Review Result
Other Outlets 1 - Self-financing Bachelor's Programmes (Non-JUPAS)
Other way out 2 - VTC and IVE courses
Other Outlets 3 - Associate Degree Programs
Other Outlets 4 - Re-reading or Self-study
Other Outlets 5 - Diploma Yi Jin
2022 DSE rankings
The results of candidates who have applied for the 2022 DSE have recently been released! This year, including upper-school candidates and self-study students, a total of about 48,000 candidates participated in the HKDSE examination, and 17,336 candidates obtained the "3322" score, which is the basic entry requirement for universities.
The 2022 DSE results are also the first time that the results will be issued by SMS to ensure that all candidates can receive DSE results under different circumstances. At the same time, the school can also arrange for candidates to return to the school to collect their results, while the results of self-study students will be sent by post.
Same-day matters
After the list is released, some matters are best dealt with on the same day!
Same-day matters 1-JUPAS re-election
Students should have listed the order of their favorite subjects on the JUPAS system earlier, and after the 2022 DSE results have been obtained on the release date, students can log in to the JUPAS account at the designated time to modify the course order, and can choose a new course to come to. Replacing old courses or moving order (no more than 5 courses) to give yourself an advantage in JUPAS allocations.
Today's Item 2 - College Knocking
At present, most post-secondary-level colleges will set up online and offline applications immediately on the release date. Students can immediately go to the corresponding post-secondary-level colleges to knock on the door according to their scores. Pay attention to bring the following items to meet different needs:
Original and copy of 2022 DSE transcript
Original and copy of ID card
Original and copy of high school transcripts
Money for registration, reservation, etc.
Recommendation letters from schools and different units
Original or copy of other learning experience
Original and copy of Student Learning Profiles
Same-day Item 3 - Result Review Result
If students have any objections or doubts about the results of the 2022 DSE, they can apply for a review of the results within 5 days after the results are released. There are two types of review results, namely:
Points review is to review whether there are technical and implementation errors in the calculation of points, such as points input errors.
Re-reading the answer sheet is an application to re-read the test paper, and the test paper will be re-examined by the examiner.

However, there are different fees related to the review of results, so you should pay attention in advance.
other way out
In addition to the general JUPAS (JUPAS) degree, in fact, students can also choose different ways out of the JUPAS system, such as self-financing bachelor's degree, sub-degree courses and VTC courses, etc., whether they continue to study or acquire new skills for employment. You know what!
Other Outlets 1 - Self-financing Bachelor's Programmes (Non-JUPAS)
In addition to the degree programmes offered in JUPAS (JUPAS), in fact, different self-financing institutions such as the Open University of Hong Kong, Hong Kong Shue Yan University, and Caritas Institute of Higher Education can offer bachelor's degree programmes. Most of the self-financing bachelor's degree programs are similar to the degree programs offered by JUPAS (JUPAS), and they are also an ideal outlet for many students.
Other way out 2 - VTC and IVE courses
For students who intend to acquire a skill and enter the workplace, the Vocational Training Council will also provide different career-oriented courses. Compared with self-financing degree courses and sub-degree courses, VTC courses have relatively fewer requirements on DSE scores, and are suitable for most students who have completed six years of secondary school courses.
IVE provides eight different types of basic course diplomas for the main force. The whole semester is about one year, and after graduation, you can obtain the equivalent of the second level of DSE5 subjects.
Other Outlets 3 - Associate Degree Programs
Associate degree courses refer to courses such as associate degree or advanced diploma. The content of the courses is similar to that of bachelor degrees, but the orientation of the two is different. Associate degree courses are generally academic-related knowledge-based; while advanced diploma courses are mostly career-oriented. Content is the main thing. Both are also one of the ways that many students use to connect to a bachelor's degree program.
Other Outlets 4 - Re-reading or Self-study
If the grades are not as ideal, but the students who plan to take the DSE exam again can choose to retake the DSE exam in a different institution or even retake the next year's DSE exam as a self-study student to try to get better results.
Other Outlets 5 - Diploma Yi Jin
The Diploma Yi Jin programme will teach common skills and general knowledge, such as language proficiency, information technology and mathematics. The full-time Diploma Yi Jin programme is approximately 1 year and the part-time programme is 2 years. Upon completion of all 8 subjects in the Diploma Yi Jin programme, graduates will receive a grade equal to Level 2 of DSE 5 subjects.
DSE is an important process in life. Everyone also takes a step towards their own ideals, but don't think that there is no need for different reference books after middle school. In fact, different degrees or different homework are required. Different references are also required. books! If you don't have enough space to store books at home, a mini storage can actually help you! Because One Storage is ready to help you early in the morning!
One Storage Super Mini Warehouse now has 40 branches in various regions for everyone's convenience! There may be many challenges and difficulties in life, but One Storage is your reliable partner at all times, whether you need to store books to cope with your studies, store sports equipment for athletes, or need to develop more for your children. More living space! One Storage Extreme Mini Storage is always with you and is your most reliable storage partner!
-------------------------------------
Click to check our latest offer now
Talk to us: https://m.me/onestorage
-------------------------------------
✅ 24-hour easy access at any time
✅ 7x24 smart security access system
✅ HD security monitoring and alarm system
✅ Comply with latest Fire safety guidelines
✅ Constant temperature air-conditioning system
Hong Kong Island:
Siu Sai Wan | Chai Wan | Tin Hau | Kennedy Town | Wong Chuk Hang
Kowloon:
Yau Tong | Kwun Tong | San Po Kong
New Territories:
Kwai Chung | Kwai Hing|Kwai Fong | Tsuen Wan | Tsing Yi | Fo Tan | Tai Po | Tuen Mun
Express Whatsapp: https://cutt.ly/51188503
*Terms and conditions apply, please contact our staff for details.
*Terms and Conditions: Offer is subject to availability while stocks last. This offer is only applicable to new registered customers of Supreme Mini Storage. In case of any dispute, the decision of Supreme Mini Storage shall be final. Registrants have read this Disclaimer page and agree to the Personal Data and Privacy Statement and are willing to receive promotional information.