Model Railways - Want to start but afraid of running out of space? |Toys, Model Collection|One Storage|Mini Storage
Release Date : 22-08-2022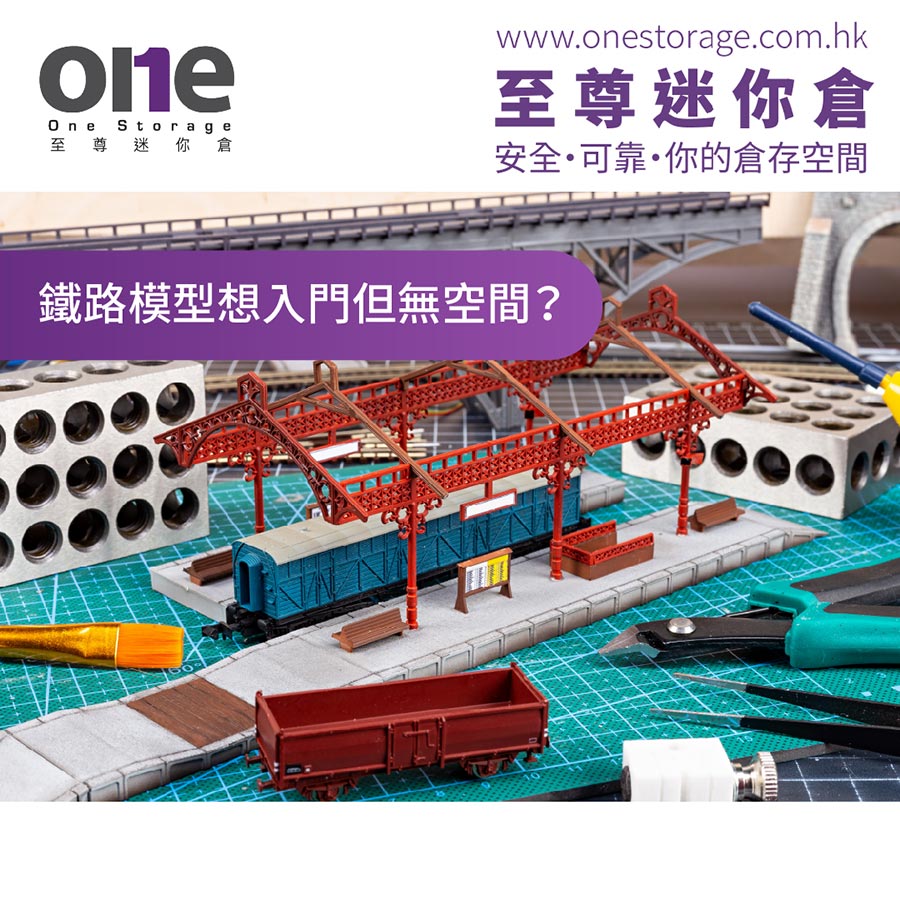 Recently, many people have been paying attention to the news. It must be the East Rail Line crossing the sea, but in addition to the real railway, many people actually love some small railways, yes, they are model railways! If you are also interested in railway models, you might as well take a look at the following introduction to railway models!
Different ratios to know
Just like gunpla has different proportions such as HG, MG, PG, etc., railway models also have different proportions. The mainstream is N (1:150) and HO (1:87).
The meaning of the N ratio is because the gauge used by the model of this ratio is 9mm, and the English of 9 starts with the word N, so it is the N ratio!
The difference between N and HO is mainly the size of the railway model. N is much smaller than HO, so it is the mainstream choice for players in Asia. Therefore, there are many more models that can be selected by N ratio than HO!
Model Railroad Maintenance
Basically, there are not many things that need to be maintained. If you are a scene player, you should do a good job of dustproofing and regularly clean up all kinds of stains on the track and scene. In the train model itself, it is mainly to add a small amount of lubrication to different joints when the movement is not smooth. Oil will do.
Model railway power supply
The power supply method of the train on the railway model may surprise everyone. In fact, the train model is powered by the rails of the railway model! Therefore, the train itself does not need batteries or charging. It is actually the rails that need to be connected to electricity! Connect a controller connected to the power supply to the rail, and the current on the rail can be controlled by the controller! The motor of the later model train can be powered from the rails through the metal wheels!
In fact, there are many different types of models in the world, and there are also different types of model lovers, but model lovers in Asia, especially Hong Kong, believe that they all face the same problem, that is, lack of space! Whether it is a railway model, a gunpla model or an architectural model, there are cases where they are getting smaller and smaller, precisely because everyone's living space is not large enough! But in fact, there is a way to solve this problem, that is to find our One Storage Extreme Mini Storage!
One Storage has branches in the extreme mini warehouse area, and 40 stores serve all friends in Hong Kong! No matter what kind of toys or models you love, One Storage Extreme Mini Storage is convenient for you to store! You can store your treasures in the mini-storage, so that there will be no conflict between your preferences and life, or you can put household sundries in the mini-storage, so that your home has more space to play with models! How to store how to put it, as you like, the space is up to you from now on!
-------------------------------------
Click to check our latest offer now
Talk to us: https://m.me/onestorage
-------------------------------------
✅ 24-hour easy access at any time
✅ 7x24 smart security access system
✅ HD security monitoring and alarm system
✅ Comply with latest Fire safety guidelines
✅ Constant temperature air-conditioning system
Hong Kong Island:
Siu Sai Wan | Chai Wan | Tin Hau | Kennedy Town | Wong Chuk Hang
Kowloon:
Yau Tong | Kwun Tong | San Po Kong
New Territories:
Kwai Chung | Kwai Hing|Kwai Fong | Tsuen Wan | Tsing Yi | Fo Tan | Tai Po | Tuen Mun
Express Whatsapp: https://cutt.ly/51188503
*Terms and conditions apply, please contact our staff for details.
*Terms and Conditions: Offer is subject to availability while stocks last. This offer is only applicable to new registered customers of Supreme Mini Storage. In case of any dispute, the decision of Supreme Mini Storage shall be final. Registrants have read this Disclaimer page and agree to the Personal Data and Privacy Statement and are willing to receive promotional information.