Hong Kong Sports and Leisure Expo 2022! Sports and leisure goods storage! |Living Space|One Storage|Mini Storage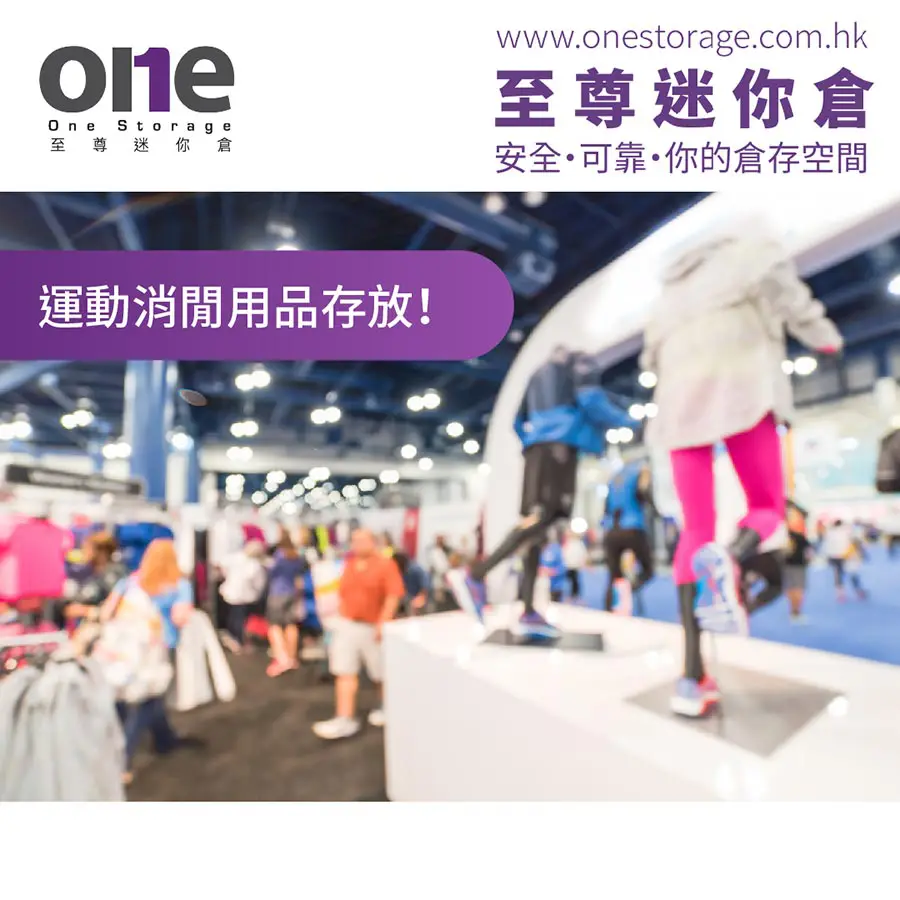 Have you been to the Hong Kong Sports and Leisure Expo 2022? It has been completed recently, and the whole expo is very interesting!
This year's Hong Kong Sports and Leisure Expo has a total of eight main exhibition areas, and there are many sports and experiences for on-site participation! Such as electric racing car, lacrosse demonstration and experience, flight simulation experience and golf simulation, etc. are available for trial play, it is an unforgettable memory!
The Sports and Leisure Expo does not only have sports elements, but also the theme of leisure. There is a "Photo World" exhibition area in the venue, which displays a variety of photographic equipment and related products, which will surely make many photography enthusiasts very excited; there is also a theme area. "Endless Chess Fun" exhibited table games, and local game manufacturers also launched many new games to participate in the exhibition, some of which are linked with local food brands, which are both novel and have collective cultural memories!
The Sports and Leisure Expo not only brought together many products to provide discounts and discounts, but also made everyone experience many new sports and leisure experiences. It was a great success! I believe that friends who have gone will be rewarded! Whether it's a variety of sporting goods, a variety of photographic equipment, or even fun board games, it's worth taking home!
However, sports equipment such as rackets, nets, etc., or photography equipment and table games, are not commonly used items. However, Hong Kong's living space and storage space are insufficient, and some commonly used works have taken up a lot of space, and these items that are not commonly used may not be able to be accommodated. But life should be full of fun, sports and leisure is also an important part of life, and should not be affected by lack of space! In fact, you can find the best of both worlds with One Storage Extreme Mini Storage to help you solve the storage problem!
At present, One Storage Super Mini Storage has set up branches in many areas in Hong Kong, with a total of 40 stores! Friends living in various districts in Hong Kong can easily use our services! There are many kinds of sports and leisure-related items, and they are not commonly used, so it is most suitable to put them in the One Storage Extreme Mini Storage! In addition, the warehouse is equipped with a 24-hour constant temperature system and an intelligent security system, allowing you to store with peace of mind!
-------------------------------------
Click to check our latest offer now
Talk to us: https://m.me/onestorage
-------------------------------------
✅ 24-hour easy access at any time
✅ 7x24 smart security access system
✅ HD security monitoring and alarm system
✅ Comply with latest Fire safety guidelines
✅ Constant temperature air-conditioning system
Hong Kong Island:
Siu Sai Wan | Chai Wan | Tin Hau | Kennedy Town | Wong Chuk Hang
Kowloon:
Yau Tong | Kwun Tong | San Po Kong
New Territories:
Kwai Chung | Kwai Hing|Kwai Fong | Tsuen Wan | Tsing Yi | Fo Tan | Tai Po | Tuen Mun
Express Whatsapp: https://cutt.ly/51188503
*Terms and conditions apply, please contact our staff for details.
*Terms and Conditions: Offer is subject to availability while stocks last. This offer is only applicable to new registered customers of Supreme Mini Storage. In case of any dispute, the decision of Supreme Mini Storage shall be final. Registrants have read this Disclaimer page and agree to the Personal Data and Privacy Statement and are willing to receive promotional information.