Business documents have to save well and mini storage can help|Business document storage|One Storage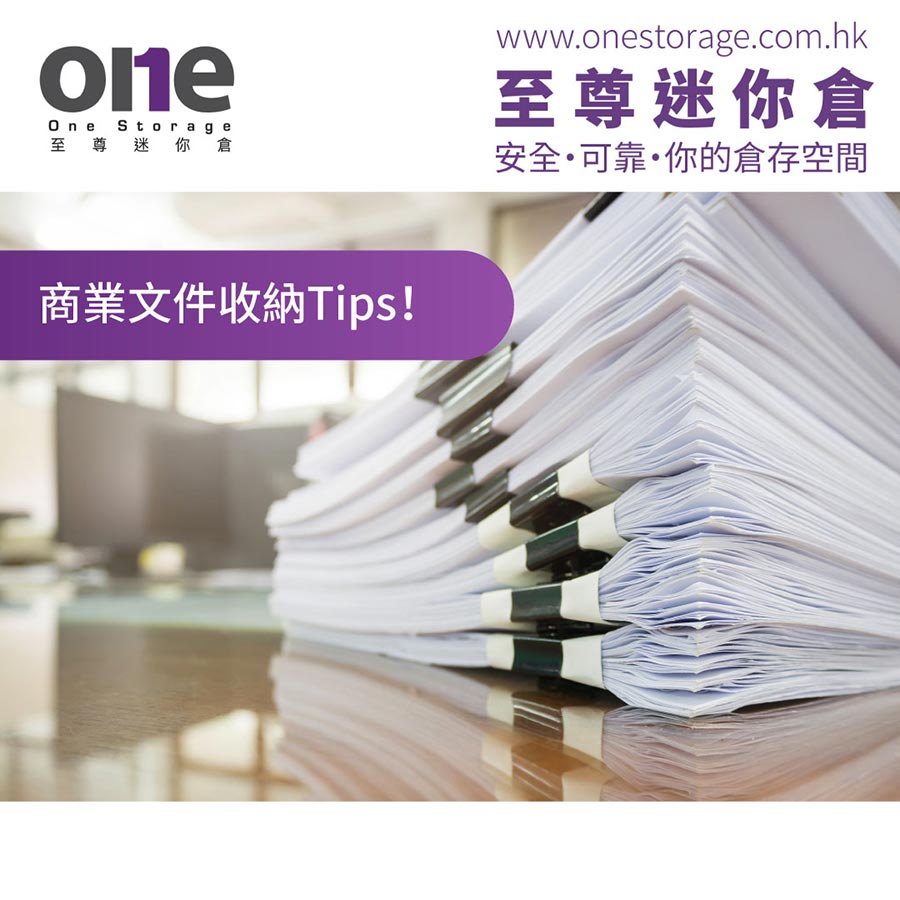 Section 51C of the Inland Revenue Ordinance of Hong Kong requires that every person operating a certain industry, profession or business in Hong Kong must keep sufficient records of his income and expenses in Chinese or English so that his assessable profits can be easily determined. Relevant records should be kept for at least 7 years. If the relevant person fails to comply with the regulations to keep business records without reasonable excuses, he may be fined up to HK$100,000.
According to the "Code of Practice on Human Resources Management" promulgated under the "Personal Data (Privacy) Ordinance", employers can keep the personal data of former employees for no more than 7 years, counting from the day the former employee leaves the job. In addition, employers can keep the personal data of unsuccessful job applicants for no more than 2 years (counting from the date of unsuccessful job applicants), after which the relevant data must be destroyed.
It can be seen that in order to do different businesses in Hong Kong, you need to pay attention to the preservation of relevant documents, but the preservation of business documents is not an easy task. It is necessary to protect privacy and safety, and to ensure that the documents will not be discolored or damaged. In view of this, our One Storage Supreme Mini Storage has three important points to remind you about the preservation of business documents:
Good classification and management
There are various types of business documents such as contracts, accounting certificates, account books, etc. Therefore, good classification management is very important to avoid failure to find them in time and quickly when needed.
Pay attention to the file retention period and clean up regularly
Too many files will make storage more chaotic. You must pay attention to the storage period of files and regularly count and clean up expired files to make useful files easier to find.
Security and storage environment
Business documents must record different privacy and business information, so they must be stored in a secured place. At the same time, the documents are made of paper, and the storage environment must be kept at a reasonable temperature and humidity to prevent the documents from discoloration and deterioration.
After reading the above points, I am worried about how to better store business documents? One Storage Supreme Mini Storage is your best choice!
The number of One Storage Supreme Mini Storage stores is close to 30. There are branches in Hong Kong, Kowloon and New Territories. The transportation is very convenient. The company is located in different locations. At the same time, One Storage Supreme Mini Storage strictly complies with all fire protection requirements and related laws and regulations, and is equipped with an all-day security system to ensure the safety of storage files. It is also equipped with a 24-hour air-conditioning system to maintain a reasonable temperature and humidity in the warehouse, reducing the chance of file discoloration and deterioration.
Nearly 30 Supreme Mini Storage|Open 24 hours|A good helper for home storage
Kennedy Town / Chai Wan / Siu Sai Wan / Wong Chuk Hang / San Po Kong / Yau Tong / Kwai Chung / Kwai Hing / Kwai Fong / Tsuen Wan / Tsing Yi / Fo Tan / Tuen Mun / Tai Po
-----------------------------


-------------------------------------
Enquiry Hotline: 2111-2636
*Promotion terms and conditions: The designated warehouse type and the designated rent must be paid in advance. The quantity is limited. The price varies according to the area and the latest promotion. It is for reference only. The quantity and promotion period are limited, while the quota is full. Please contact us for details. Only applicable to new customers who register for the first time, and cannot be used in conjunction with other discounts. Supreme Mini Storage reserves the right of final decision.