Pay attention to epidemic prevention at home, One Storage tips accompany you to fight germs! |Anti-epidemic Tips|One Storage|Mini Storage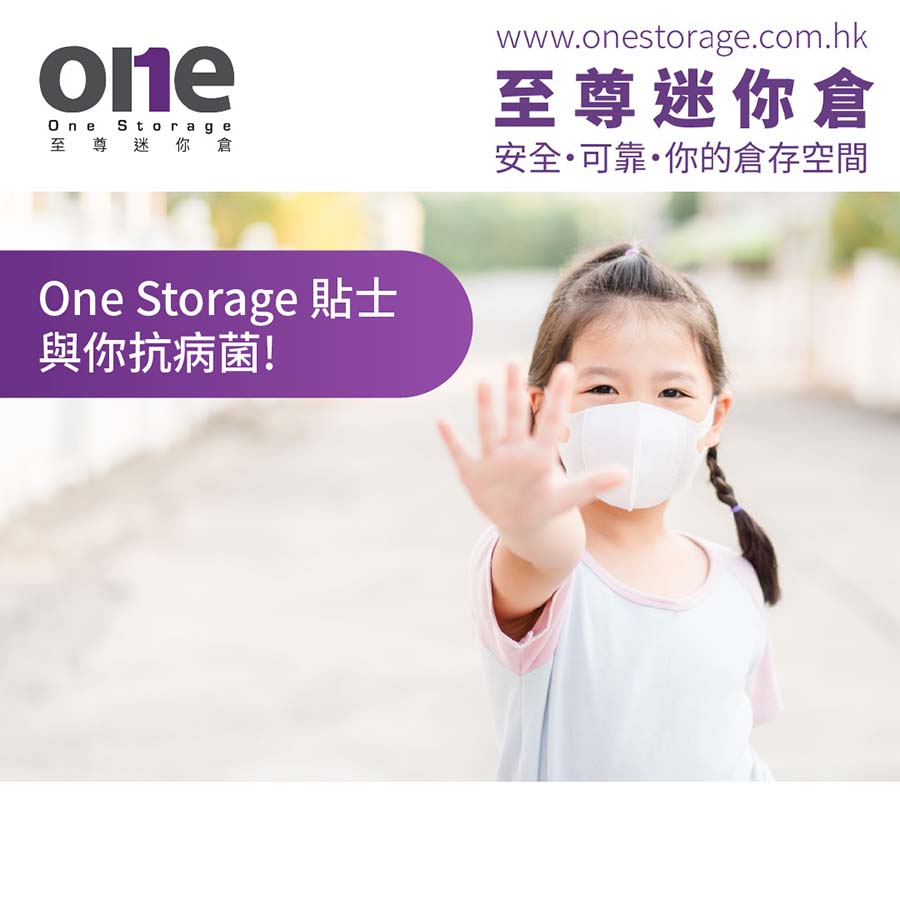 Now that the epidemic continues, epidemic prevention information must be updated frequently! You can follow the latest news here:
1. Changes to social distancing measures in catering premises
2. "Vaccine Pass" will be implemented
3. Gatherings of more than two families are prohibited in any private place
4. Suspend most hospital and residential visits
5. The gathering restriction order is tightened from 4 people to 2 people
6. Class 17 scheduled premises to be closed
The above information is for reference only, all official announcements by the government shall prevail
Now everyone may have to stay at home to fight the epidemic, but even if you stay at home, you should pay attention to some epidemic prevention tips to avoid missing some points to pay attention to. Immediately take a look at the anti-epidemic stickers prepared by our One Storage for you Servant:
Point 1: Keep Air Circulation
Open more windows at home, because maintaining air circulation can prevent the virus from staying indoors at high concentrations.
Point 2: Regularly clean everyday belongings
Some things should always be brought and used, such as mobile phones, keys, wallets, etc., and should be cleaned regularly to avoid bringing the virus home.
Point 3: Be careful when picking up packages and takeaways
Try to ask couriers and takeaway staff to put packages, takeaways, etc. outside the door of houses and enterprises to reduce the chance of contact with people.

Together, we can defeat the epidemic! But when you stay at home, do you want a more comfortable home space? We at One Storage can help!
There are nearly 30 branches of the ultimate mini warehouse, which is self-stored by customers, reducing the chance of contact with people, and it operates around the clock to ensure that you can always store all the stored items. Want a bigger and more comfortable home? Send household clutter to the One Storage !
For concessionary registration enquiries: https://m.me/onestorage
-----------------------------
Renovation | Short term rental | One Storage Can Help | Mini Storage

-------------------------------------
Kennedy Town | Tai Po | Chai Wan | Siu Sai Wan | Wong Chuk Hang | San Po Kong | Yau Tong | Kwai Chung | Kwai Hing | Kwai Fong | Tsuen Wan | Tsing Yi | Fo Tan | Tuen Mun
Click here for Express Whatsapp: https://cutt.ly/51188503
*Terms and conditions apply, please contact our staff for details.
*Terms and Conditions: Offer is subject to availability while stocks last. This offer is only applicable to new registered customers of Supreme Mini Storage. In case of any dispute, the decision of Supreme Mini Storage shall be final. Registrants have read this Disclaimer page and agree to the Personal Data and Privacy Statement and are willing to receive promotional information.