A good way to send the old and welcome the new! |New Year's Storage|One Storage|Mini Storage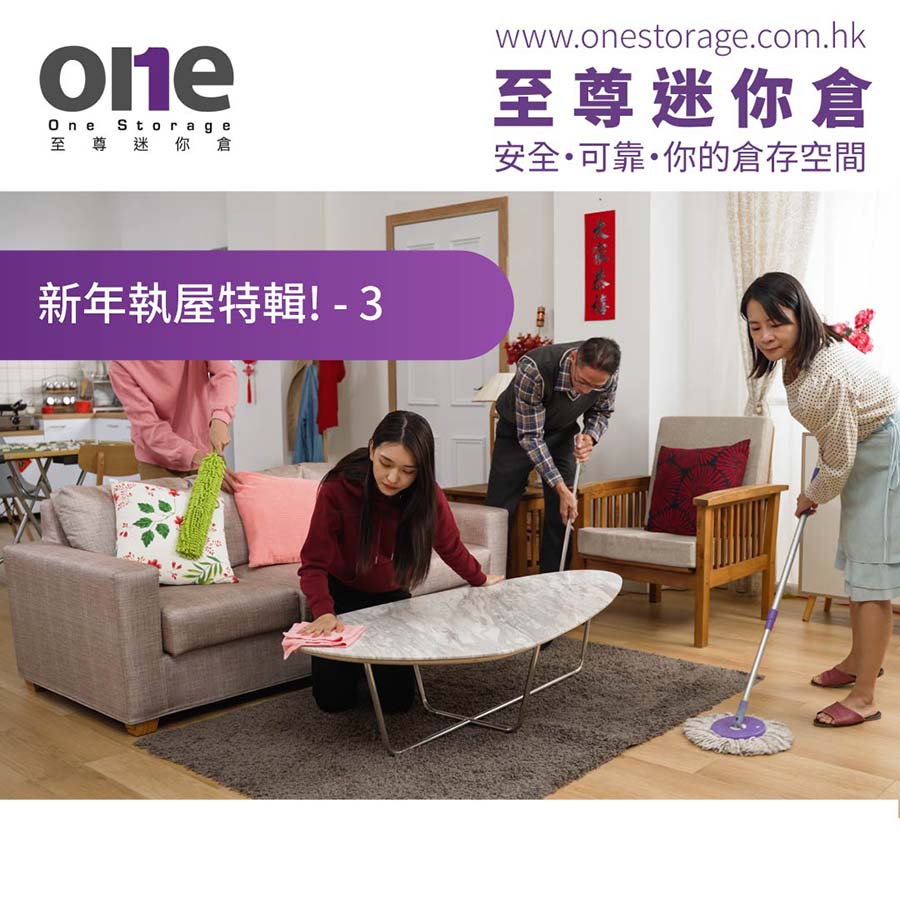 It is the so-called "cleaning the sloppy on the twenty-eighth year"! The New Year is approaching, are you ready to clean your home at 28:00? Apart from cleaning, in fact, traditionally it is also important to send off the old and welcome the new during the New Year. However, most of the people in Hong Kong are busy with work. How can we help them manage the house more easily? Here are some great ways to do it!
Organizing Tips 1 - Clothes Organizing
Sort the clothes by type and color, and then send the clothes that will not be worn again to the recycling box, send them out or resell them second-hand, etc. Finally, the sorted clothes can be folded and rolled up and put into storage boxes or drawers.
Tidying Skill 2 - Classification Principle
In fact, how often an item is used is also a very important classification and storage principle. Try not to affect the original storage plan, put the commonly used items in the conspicuous place, and the less-used items at the bottom of the cabinet and the bottom of the bed. Equal space, it will be better than simply classifying by size and type.
Organizing Tip 3 - Separating Storage Spaces for Family Members
If it is a friend who lives with family members, when packing, don't just push the items of family members together according to the type and type, it is better for each person to have a complete storage space on one floor or one compartment, so that the items can be clearly separated. , less confusion!
What if the storage space is really insufficient? Come to our One Storage Extreme Mini Storage Helper!
One Storage is open all year round and is a good partner for your storage problems all year round. One Storage Extreme Mini Storage has nearly 30 branches in various districts of Hong Kong, equipped with a constant temperature and air conditioning system, and complies with all fire regulations and mini storage. If you have any storage problems, we will definitely eliminate your troubles!

Hurry up to find our help, let the home also clean for the New Year! Don't miss the limited offer from One Storage Extreme Mini Storage!

Sign up for a 12-month lease now and enjoy a special discount, plus 1 month of free warehouse rental*! 40% off 12+1*, hurry up and make an appointment!
For concessionary registration enquiries: https://m.me/onestorage
-----------------------------
Renovation | Short term rental | One Storage Can Help | Mini Storage

-------------------------------------
Kennedy Town | Tai Po | Chai Wan | Siu Sai Wan | Wong Chuk Hang | San Po Kong | Yau Tong | Kwai Chung | Kwai Hing | Kwai Fong | Tsuen Wan | Tsing Yi | Fo Tan | Tuen Mun
Click here for Express Whatsapp: https://cutt.ly/51188503
*Terms and conditions apply, please contact our staff for details.
*Terms and Conditions: Offer is subject to availability while stocks last. This offer is only applicable to new registered customers of Supreme Mini Storage. In case of any dispute, the decision of Supreme Mini Storage shall be final. Registrants have read this Disclaimer page and agree to the Personal Data and Privacy Statement and are willing to receive promotional information.