Double Ninth Festival Go Go Go! ?|Hiking equipment storage|One Storage|Mini Storage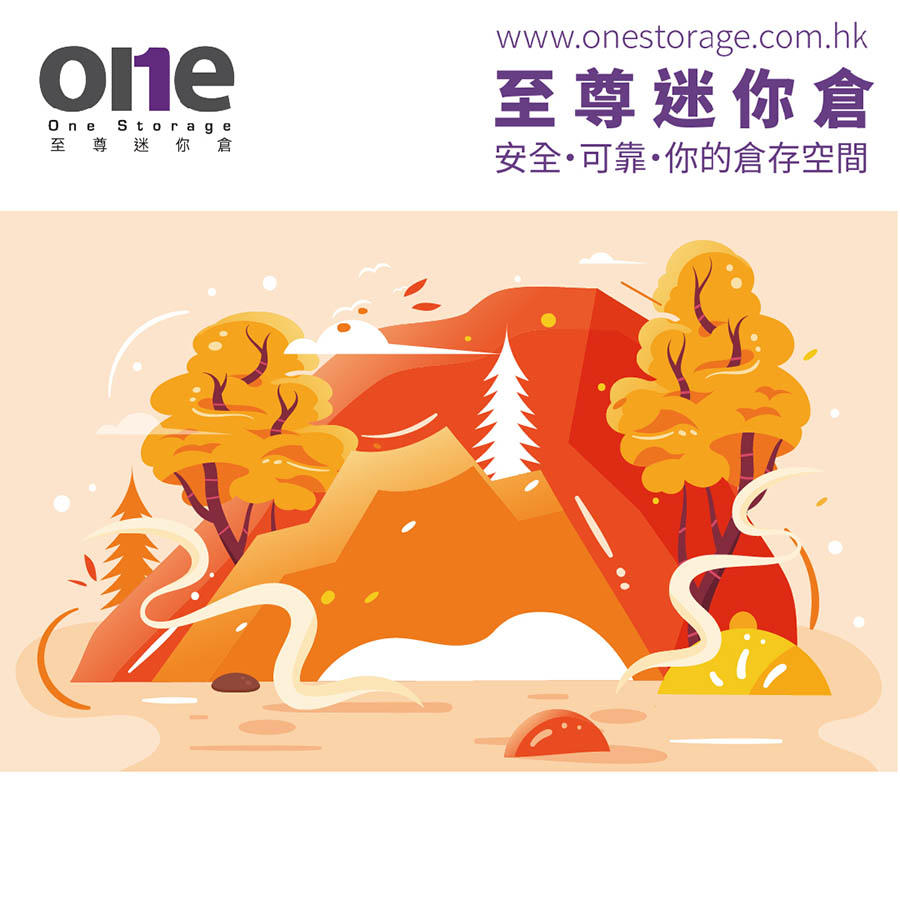 Today is the ninth day of the ninth lunar month-Double Ninth Festival! I believe everyone knows that the most common origin of the Double Ninth Festival is a story of climbing high to avoid epidemics in ancient times, so it has slowly evolved into the current tradition of hiking on the Double Ninth Festival. But because of the wind, I am afraid that Chongyang will not be able to climb this year.
Of course, hiking is not necessarily only on the Chung Yeung Festival. Hong Kong has a large number of countryside attractions, so many Hong Kong people have always liked hiking and camping. However, most of the Double Ninth Festival falls in autumn, and it is really suitable for everyone to make an appointment with friends and relatives to go hiking and climbing.
In view of this, One Storage Supreme Mini Storage intends to share with you different useful hiking equipment:
Hiking poles: Hiking poles can spread the weight of luggage and one's own weight to the hands, effectively reducing the burden on the body and leg muscles.
Map and compass: You can use the map and compass to find the accurate position and avoid getting lost when you are hiking. Although the mobile phone can now do it for you, you still need to bring your equipment to avoid the mobile phone without electricity and no signal.
Headlights: Headlights can be used as lighting, which is very helpful in dealing with different situations. At the same time, it does not need to be held in your hand like a flashlight.
Water bag: Adequate drinking water is essential for hiking. The water bag is very convenient. It can avoid the need to take out the water bottle from the backpack every time you drink water, and you can drink directly from the hose of the water bag.
Although the above hiking tools are very convenient and practical, the big problem is that they are not used daily, and there may not be enough space for storage in the home.
Want to hike, but don't have enough storage space at home? Find our One Storage Supreme Mini Storage!
One Storage Supreme Mini Storage has nearly 30 branches in 18 districts in Hong Kong. The location is convenient and all kinds of transportation are easy to reach. At the same time, it has a 24-hour intelligent security access system, so that friends who love hiking can store and pick up anytime, anywhere Different types of hiking equipment make it convenient for you to set off at any time and challenge one mountain after another.
The Kwai Chung Youyi branch and Kwai Chung Kwai Fung branch of One Storage Premium Mini Storage are now offering 40% discount! Hiking "enthusiasts" in Kwai Chung District, come find a helper of One Storage Supreme Mini Storage, so that your hiking gear will not become your storage trouble!
Nearly 30 Supreme Mini Storage|Hiking Equipment Storage|Hiking Fans
Kennedy Town / Chai Wan / Siu Sai Wan / Wong Chuk Hang / San Po Kong / Yau Tong / Kwai Chung / Kwai Hing / Kwai Fong / Tsuen Wan / Tsing Yi / Fo Tan / Tuen Mun / Tai Po
Store address of each branch
Enquiry Hotline: 2111-2636
*Promotion terms and conditions: The designated warehouse type and the designated rent must be paid in advance. The quantity is limited. The price varies according to the area and the latest promotion. It is for reference only. The quantity and promotion period are limited, while the quota is full. Please contact us for details. Only applicable to new customers who register for the first time, and cannot be used in conjunction with other discounts. Supreme Mini Storage reserves the right of final decision.