Double 11 discount! Don't miss Sporting goods! |Sports items Storage|One Storage|Mini Storage
Release Date : 08-11-2021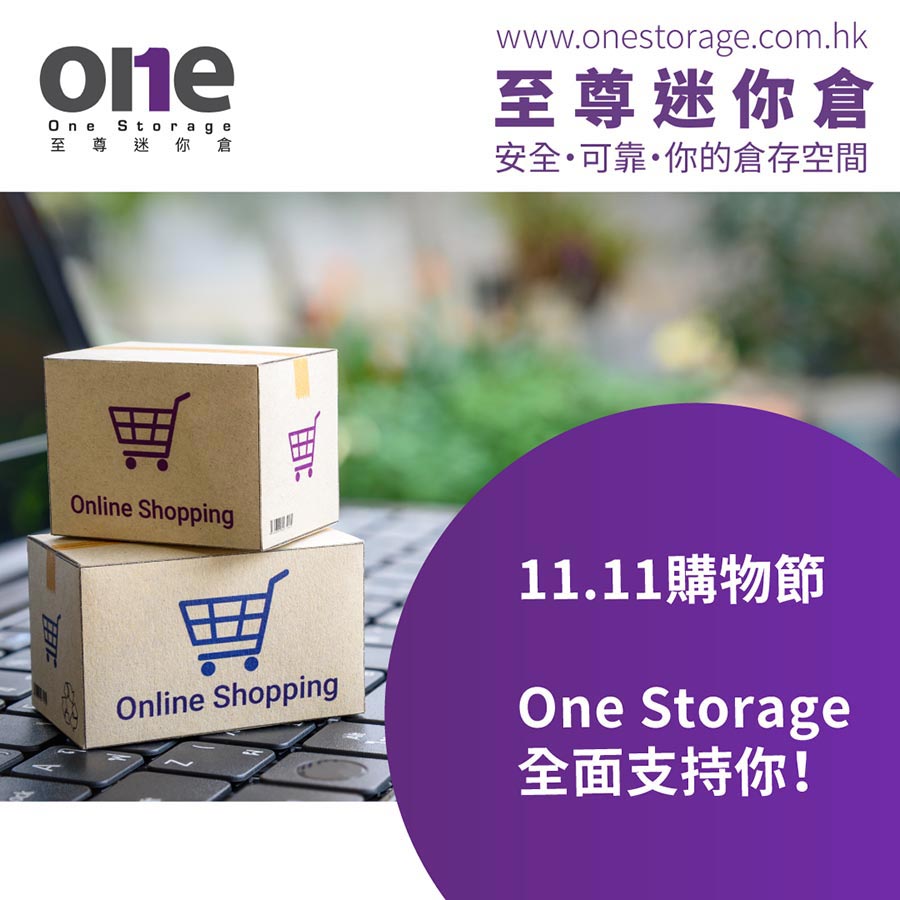 As the weather turns colder, it's important to remember to keep warm and remember that the annual November Double 11 Sale is coming! I'm sure many of you are already gearing up to buy some of your favourite items on that day!
I wonder if you have a habit of exercising? I think one of the best things to buy on the online platform is sports related products. If you want to play a sport well, you must not be sloppy with the equipment and gears! If there is any wear and tear on your sneakers, such as a flattened sole, it can easily lead to injury, and for sports that require rackets, you must always be aware of the condition of your racket.
With this great offer, it makes sense to buy in advance any sports related items that you will use in the future or that you will need to replace from time to time, such as shoes, sportswear, rackets and sports socks. However, although these items may be useful in the future, there is no need to replace them in a hurry, and there may not be enough space at home to store them.
Take advantage of our One Storage mini storage service and take advantage of every opportunity you can!
One Storage has nearly 30 shops located in Kowloon, New Territories, Hong Kong, which are easily accessible and suitable for customers living in any area. With 24-hour pick-up and drop-off, you can pick up your supplies in the morning, at noon, at night or even late at night and get into the swing of things! Guests can also make use of the space calculator available on the One Storage website, which allows you to calculate the amount of storage you need for different items and sizes, and is sure to help you with any household needs!
Not only do you have to take advantage of the Double 11 offer, but you can't miss out on the One Storage Premium Mini Storage offer too!
Enjoy a special discount on a 12 month lease plus 1 month free*! 60% off 12+1*, register now!
One Storage|Mini Storage|Sports Equipment Storage|Clear out the storage space
Kennedy Town | Tai Po | Chai Wan | Siu Sai Wan | Wong Chuk Hang | San Po Kong | Yau Tong | Kwai Chung | Kwai Hing | Kwai Fong | Tsuen Wan | Tsing Yi | Fo Tan | Tuen Mun
-----------------------------
Renovation | Short term rental | One Storage Can Help | Mini Storage

-------------------------------------
One Storage|Mini Storage|30 shops in Hong Kong for you to choose from|$0 rental is waiting for you!
Kennedy Town | Tai Po | Chai Wan | Siu Sai Wan | Wong Chuk Hang | San Po Kong | Yau Tong | Kwai Chung | Kwai Hing | Kwai Fong | Tsuen Wan | Tsing Yi | Fo Tan | Tuen Mun
For concessionary registration enquiries: https://m.me/onestorage
Click here for Express Whatsapp: https://cutt.ly/51188503
*Terms and conditions apply, please contact our staff for details.
*Terms and Conditions: Offer is subject to availability while stocks last. This offer is only applicable to new registered customers of Supreme Mini Storage. In case of any dispute, the decision of Supreme Mini Storage shall be final. Registrants have read this Disclaimer page and agree to the Personal Data and Privacy Statement and are willing to receive promotional information.