Dragon Boat Festival | Seasonal clothes storage | One Storage | Mini Storage
Release Date : 02-06-2022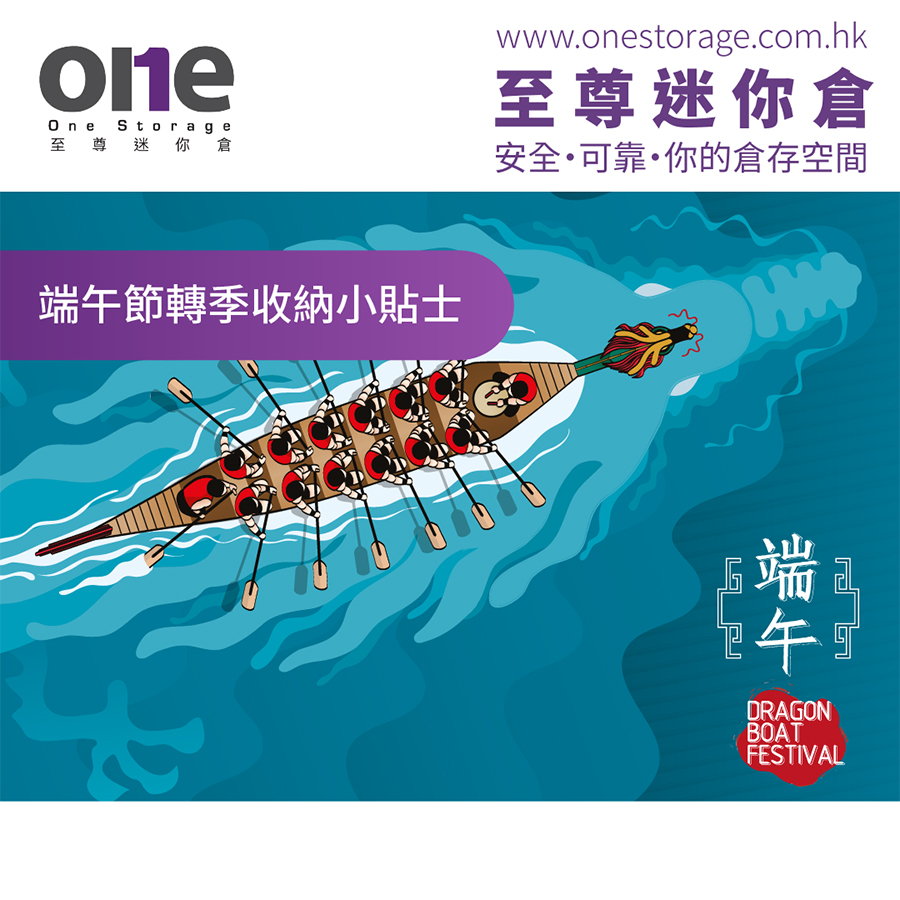 This year's Dragon Boat Festival is on June 3rd. The Dragon Boat Festival was a meaningful festival in ancient times. It was the beginning of summer and the festival to send away plagues and pests. Parents often say that only after the Dragon Boat Festival can the weather really change. Hot, actually quite reasonable. Because the word "Duan" in the Dragon Boat Festival actually means "beginning", and "wu" is actually a homonym, referring to "the fifth month of the first month", because according to the traditional calendar, May is equal to the month of "wu". Therefore, the term Dragon Boat Festival actually refers to the beginning of May and summer.
So friends, don't just remember to eat dumplings during the Dragon Boat Festival, but also prepare to store them during the season, because the weather is going to get hotter. Take a look at our Dragon Boat Festival changing season storage tips for you!
winter clothing
The biggest trouble for clothes storage is moisture and insects. In winter, clothes are generally more cotton, which is very hygroscopic. If the environment is not clear, it is easy to make clothes damp and even insects. Therefore, all clothes, especially coats, must be washed and dried completely! Then store in a cool environment.
Holiday decorations/clothing
Holiday decorations or clothing, etc. are predictable when they will be used, so all winter festive decorations or clothing can be temporarily put away in summer without wasting or cluttering the home. These items, especially clothing, must be stored in a sealed storage box or bag, and you can put a hygroscopic agent in it to prevent moisture from spoiling things and even bugs.

After understanding the significance of the Dragon Boat Festival to people's life and weather in ancient times, do you immediately feel that the Dragon Boat Festival is not only a good time to eat zongzi, but also a good time to clean up your home? But when you want to clean up, you find that there is not enough space in your home. Do you have to abandon a lot of things in your home?
Do not be afraid! There is One Storage Extreme Mini Storage!
One Storage has many branches in Hong Kong, with a total of 37 stores serving you! The warehouse has an all-day air-conditioning and constant temperature, which protects items from moisture. Coats and thick quilts can be stored in the One Storage Extreme Mini Storage! Take it out again in the winter and use it again!
Don't worry about seasonal storage! One Storage Super Mini Storage has an offer that's right for you!
-------------------------------------
Click to check our latest offer now
Talk to us: https://m.me/onestorage
-------------------------------------
✅ 24-hour easy access at any time
✅ 7x24 smart security access system
✅ HD security monitoring and alarm system
✅ Comply with latest Fire safety guidelines
✅ Constant temperature air-conditioning system
Hong Kong Island:
Siu Sai Wan | Chai Wan | Tin Hau | Kennedy Town | Wong Chuk Hang
Kowloon:
Yau Tong | Kwun Tong | San Po Kong
New Territories:
Kwai Chung | Kwai Hing|Kwai Fong | Tsuen Wan | Tsing Yi | Fo Tan | Tai Po | Tuen Mun
Express Whatsapp: https://cutt.ly/51188503
*Terms and conditions apply, please contact our staff for details.
*Terms and Conditions: Offer is subject to availability while stocks last. This offer is only applicable to new registered customers of Supreme Mini Storage. In case of any dispute, the decision of Supreme Mini Storage shall be final. Registrants have read this Disclaimer page and agree to the Personal Data and Privacy Statement and are willing to receive promotional information.