It is easy to seek good luck and avoid evil in the Year of the Tiger! |Home Fengshui|One Storage|Mini Storage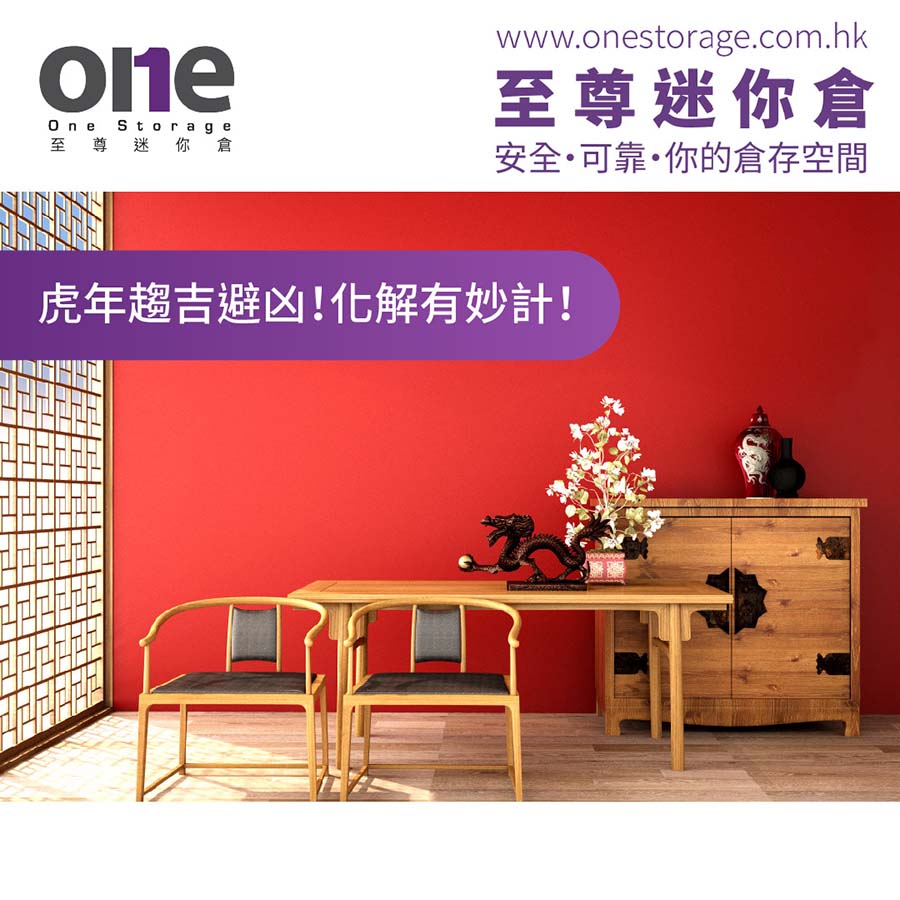 Many people believe that the theory of Feng Shui numerology can help them enhance their fortune, but in fact, in addition to enhancing their fortune, they should also pay attention to how to make good use of Feng Shui to avoid future dangers. It's time to take a look!
(Fengshui numerology is not an exact science, the content is for reference only)
Five Yellow Entering the Middle Palace
This year's 2022 Year of the Tiger's Five Yellows moved into the Central Palace for the purpose of "Zheng Guan Sha". Such Guan Sha has a considerable impact, representing disasters, viruses, and longevity.
In the home, the influence of the five yellows entering the middle palace is also great, and the palace where the five yellows are present (that is, this year's middle palace) is not suitable for long-term daily work and rest. If the hall or bedroom is unfortunately in the five-yellow position, you can use a music box or copper gourd to resolve it.
Sanbi enters due east
Sanbi represents bankruptcy, loss of wealth, vulnerable hands and feet, and physical problems. It is also the source of right and wrong. If the bedroom or study is located in the due east this year, family members are prone to quarrels or disputes over trivial matters. At the same time, it may also cause problems such as bankruptcy and limb damage. If you want to resolve Sanbi, it is recommended to place a red wishful knot or a red spring.
For the sake of the family, I want to change the layout of the home, but the items in the home may not be able to match, and the storage space is not enough, what can I do? !
Don't be afraid, find One Storage Extreme Mini Storage! We have nearly 30 branches in various districts of Hong Kong, which can be withdrawn and deposited around the clock, and also have a around-the-clock security system! There is no problem with reorganizing your home for any reason! We must help you!
The Year of the Tiger is the easiest way to avoid bad luck! The limited offer launched by One Storage Extreme Mini Storage is also ready for you!

Sign up for a 12-month lease now and enjoy a special discount, plus 1 month of free warehouse rental*! 40% off 12+1*, hurry up and make an appointment!
For concessionary registration enquiries: https://m.me/onestorage
-----------------------------
Renovation | Short term rental | One Storage Can Help | Mini Storage

-------------------------------------
Kennedy Town | Tai Po | Chai Wan | Siu Sai Wan | Wong Chuk Hang | San Po Kong | Yau Tong | Kwai Chung | Kwai Hing | Kwai Fong | Tsuen Wan | Tsing Yi | Fo Tan | Tuen Mun
Click here for Express Whatsapp: https://cutt.ly/51188503
*Terms and conditions apply, please contact our staff for details.
*Terms and Conditions: Offer is subject to availability while stocks last. This offer is only applicable to new registered customers of Supreme Mini Storage. In case of any dispute, the decision of Supreme Mini Storage shall be final. Registrants have read this Disclaimer page and agree to the Personal Data and Privacy Statement and are willing to receive promotional information.