A guide to living in Fo Tan! |New real estate, moving, decoration, express delivery, mini storage|One Storage Mini Storage
Release Date : 16-11-2021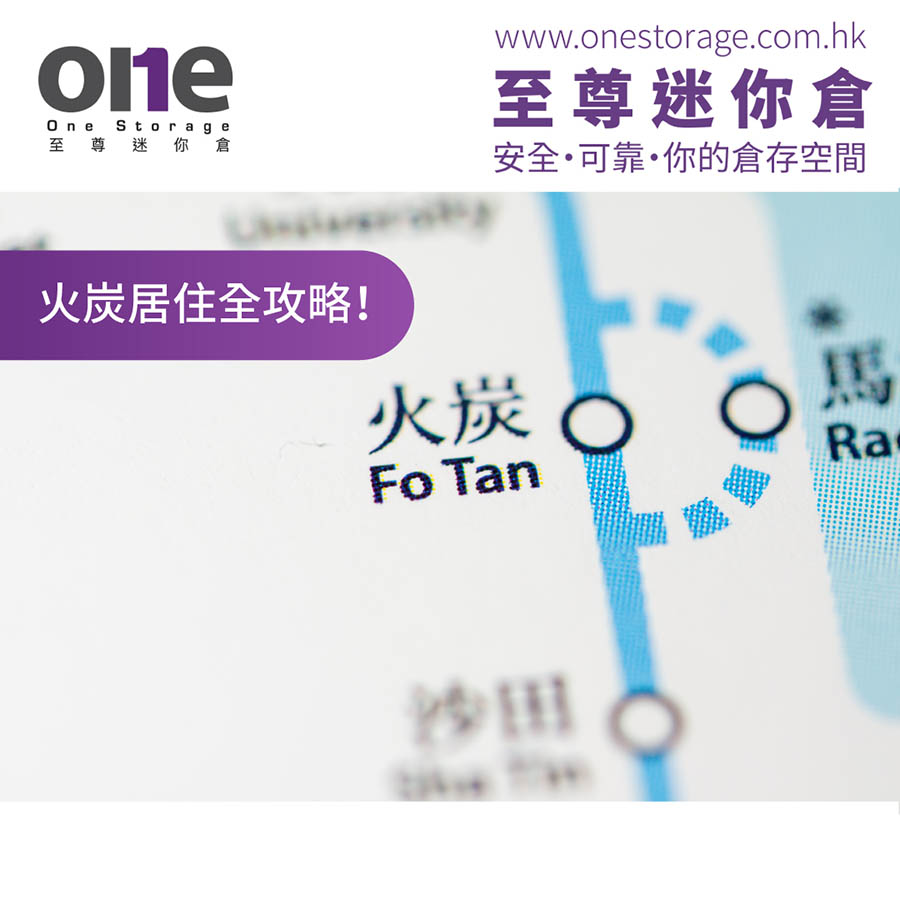 Good side of the renovation platform
Courier and logistics service package
Perhaps Fo Tan used to give people the impression that it was remote, far from the city and not easily accessible. However, with the addition of various transport routes and the advent of the Tuen Mun Ma On Shan Line, the perception of Fo Tan is now changing from being a remote area or an industrial town to a good place to live or invest in property. However, there are many factors to consider when deciding whether to live in an area, and the decision cannot be made based on basic perceptions or impressions alone.
With this in mind, we at One Storage have created a comprehensive guide to living in Fo Tan, starting with new developments, relocation, renovation, express delivery and mini storage!
New property in Fo Tan
After 13 years, Fo Tan will finally welcome a new large-scale residential project in 2021 - Sing Kai Embankment. The project is located at 1 Au Pui Wan Street and is quoted at a price that is comparable to other residential developments along the railway line. There are a total of four residential towers, together with a shopping mall and clubhouse, offering a total of approximately 1,335 units with a variety of flat sizes ranging from 1 to 3 bedrooms and a saleable area of 330 to 950 square feet. The core of the project is the 2-bedroom units with a saleable area of approximately 460 to 580 square feet, accounting for approximately 34% of the total number of units, while the 3-bedroom and 1-bedroom units each account for approximately 28% of the total number of units, with the remaining units being character units, open-plan and 4-bedroom units.
Located next to the MTR Fo Tan Station, StarCorp - The Embankment is conveniently located with a number of bus and minibus routes nearby, providing easy access to other towns such as Ma On Shan and Sha Tin.
There is also a 100,000 sq ft shopping mall and other smaller shopping malls nearby, offering a wide range of shops such as supermarkets, restaurants, pharmacies and electrical appliances. There are also large shopping malls such as Shatin New Town Plaza and large parks such as Shatin Central Park in the vicinity of the project, which are convenient for meeting more daily and recreational needs, as well as for going out to the countryside for picnics, camping, etc., which is more convenient than many other places in Hong Kong, and offers more choices for entertainment and leisure.
Good side of the renovation platform
After learning more about the new developments in Fo Tan and the supporting facilities, you may be interested in some of the "Buttons" or estates for sale in Fo Tan and want to be a new home owner? But buying a flat or moving to a new home is not only about choosing the location, it is also about decorating your new home, so we would like to recommend different decoration platforms for your reference.
Master Easy
The basic process is to contact the platform, arrange the measuring and quotation, sign the contract and finalise the project. EcHouse is a relatively simple interface, providing a matching service between customers and decorators.
EcHouse
In addition to the basic matching service, EcHouse Homeasy also provides more information such as examples of renovations in different units, a list of partner renovation companies and even a simple home renovation course.
Free quotations are also available online with basic information, and the platform also offers pre- and post-matching services such as quote analysis, witnessing and signing contracts and regular inspections.
Good Tutor
The website is relatively simple and offers free quotations and articles on case studies, decoration styles, etc. There are many different case studies with relevant square foot prices and finished products, which can be used as reference and budget.
The platform promises and focuses on arranging appointments within 24 hours, free on-site measuring within 3 days and providing quotations within 5 days. The platform also requires more detailed information and requirements from the client, so it will provide more personalised options and proposals. The platform will also provide support during the project and material convenience, as well as support during the maintenance period after completion of the project.
Recommended Removal Companies
Apart from renovation, it is also important to find a removal company to move the furniture and miscellaneous items from your old home to your new one.
Moving Man
Moving Man has provided very detailed prices for different services (half truck, one truck, two trucks, different packing materials, etc.) online so that you can easily make a budget. The company also offers furniture removal services for families with large furniture. The company also offers different contact and quotation channels such as online, telephone and app.
Hong Kong Removals
Hong Kong Removals is also a company that offers a wide range of removal services, basically you can get a basic quote over the phone for simple or single items, or a free on-site estimate for larger items. The online quotation function is relatively detailed, so customers can indicate clearly on the online form what kind of furniture or items they are looking for, so that they can get a more detailed quotation or arrangement. The company also has an app-based quotation service, which allows you to send them pictures of the goods you want to move directly to get a more comprehensive quote.
Courier and logistics service package
Although it is quite convenient to get in and out of Fo Tan nowadays, people are used to shopping on the internet, and some people who want to be environmentally friendly may even become "bargain hunters" and buy second-hand products from different platforms on the internet, so it is worth paying attention to the courier and logistics service packages of Fo Tan. We have also provided information for your reference.
Doppelgänger
The estimated delivery time is 1 to 3 working days, while Fo Tan customers can also pay attention to its pick-up service, which is located at the unloading area of Sui Wo Court Shopping Centre and is available on Mondays, Wednesdays and Fridays from 5:00pm to 8:00pm. A customer service hotline is also available from 09:30am - 12:30pm and 13:30pm - 18:30pm Monday to Saturday.
Shun Fung Courier
For delivery, there are express, standard and full truck pick-up services, and for pick-up, there are smart counter pick-up and shop pick-up services. The courier company also has shops in Shatin Meko Industrial Building in Fo Tan and Yue Cheong Centre in Shatin. It also has a customer service hotline which is available from 08:00am to 20:30pm from Monday to Friday and from 08:00am to 20:00pm on Saturdays, Sundays and public holidays.
Collective Transport
The service is also available for basic delivery and pick-up. There are partners in Hoi Fai Industrial Centre, Fo Tan and Wah Lok Industrial Centre, Fo Tan who provide pick-up service. There is also a customer service hotline which is open from 11:00am - 14:00pm and 15:30pm - 19:00pm Monday to Friday, 11:00am - 16:30pm on Saturdays and closed on Sundays and public holidays.
Mini Storage Recommendations
Whether you need storage when moving or renovating your home, or you need storage or temporary storage for a short period of time, mini storage is always there to help. We are ready to provide you with information on mini storage in Fo Tan.
One Storage
For those who live in Fo Tan, it's easy to find mini storage. One Storage has four branches in Fo Tan, namely
Wah Wai Branch (located at Flat C, 3/F, Wah Wai Industrial Building, 1-7 Wo Heung Street, Fo Tan)
Fu Cheong Branch (Unit H-J, 6/F, Fu Cheong Centre, 5-7 Wong Chuk Yeung Street, Fo Tan)
Hip Hing Branch (Room D, 14F, Hip Hing Industrial Centre, 27-31 Au Pui Wan Street, Fo Tan)
Cosmos Branch (Room AB, 3/F, Cosmos Industrial Centre, 19-25 Shan Mei Street)
All of them are located in the heart of Fo Tan, in the heart of the factory buildings, easily accessible and easily accessible.
In fact, One Storage is not only convenient for those in Fo Tan. We have nearly 30 One Storage Mini Storage outlets in Hong Kong, located in Hong Kong, Kowloon and the New Territories, which are conveniently located and easily accessible to customers with different needs in any area. With 24-hour pick-up and delivery support, and strict compliance with all fire safety regulations and mini storage requirements, it's not only convenient but also reassuring!
Customers can also use the space calculator available on the One Storage website. Simply enter the items and dimensions you want to store and the system will calculate the size of storage required. Whether you're renovating, moving house and want to store your belongings temporarily, or you're a fan and want to store all your football shirts, or even your camping gear for a holiday with your kids, One Storage is the perfect storage option for you.
And it's not just for those in Fo Tan, One Storage has a special offer for everyone!
Enjoy a special discount on a 12-month lease plus a free month of storage*! Get 60% off 12+1*, register now!
One Storage|Mini Storage|Fo Tan Living Guide|Clear out the storage space
Kennedy Town | Tai Po | Chai Wan | Siu Sai Wan | Wong Chuk Hang | San Po Kong | Yau Tong | Kwai Chung | Kwai Hing | Kwai Fong | Tsuen Wan | Tsing Yi | Fo Tan | Tuen Mun
*Terms and conditions apply, please contact our staff for details.
*Terms and Conditions: Offer is subject to availability while stocks last. This offer is only applicable to new registered customers of Supreme Mini Storage. In case of any dispute, the decision of Supreme Mini Storage shall be final. Registrants have read this Disclaimer page and agree to the Personal Data and Privacy Statement and are willing to receive promotional information.