One Storage|Mini Storage|Fotan|Extra! The mini storage will give you a supreme blessing bag* worth up to $500!
Release Date : 08-10-2021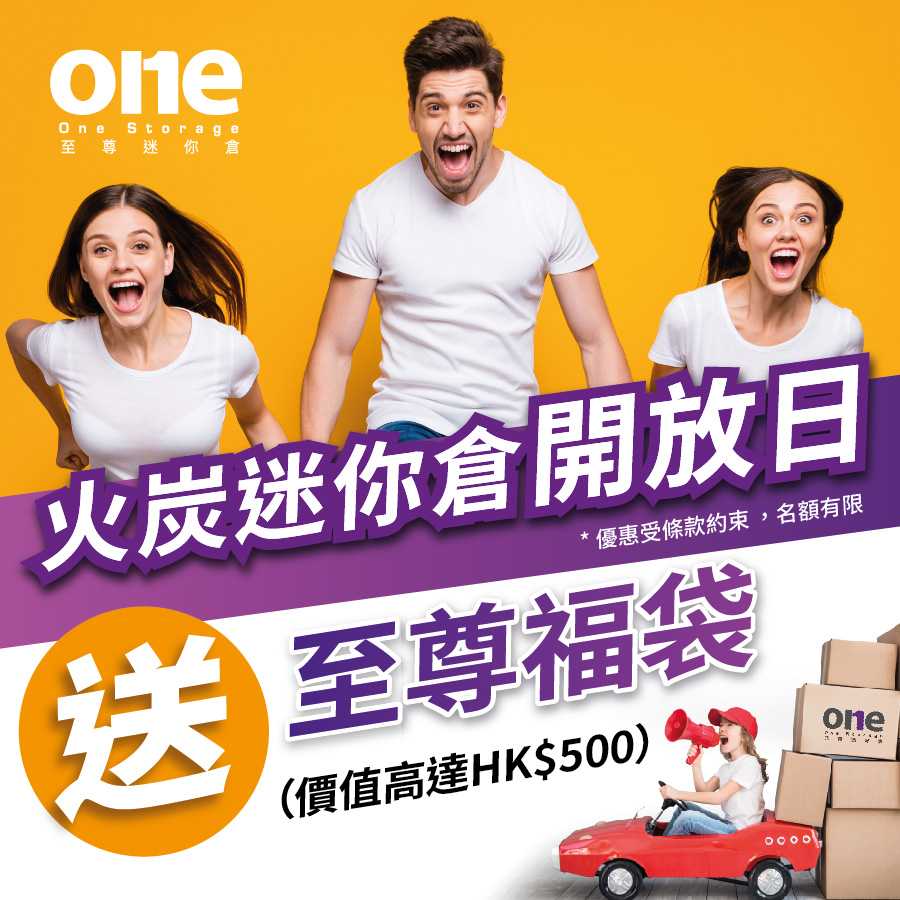 One Storag Supreme Mini Storage has finally arrived in Fo Tan! With a small housing location, renting a mini-storage can easily solve storage troubles and easily free up more space! One Storag is affordable, with 24-hour deposit and withdrawal, freely in and out as customers like.
The opening of the new One Storage Fo Tan branch is just around the corner. The Fo Tan Warwick branch is close to the residential area and the MTR Fo Tan Station, which is extremely convenient for friends in Fo Tan and will give you more space!

The Fotan Warwick branch will open on October 16 (Saturday)! Learn more about our supreme mini-storage, as well as on-site discounts. Visit the new Huawei store in Fotan, register on-site for new customers, and get a free supreme blessing bag worth up to $500*!
Interested guests, remember to visit the Fotan Warwick branch!

Welcome to make an appointment to visit: https://m.me/onestorage

📍Venue: Room C, 3rd Floor, Warwick Industrial Building, 1-7 Wo Heung Street, Fotan, Shatin
📍Time: October 16, 2021 (Saturday), 10:00-17:00

----------------------------

One Storage-Your best storage choice!
✅24-hour self-withdrawal, easy access at any time
✅7 x 24-hour smart security access system
✅High-definition security monitoring and alarm system
✅Comply with the fire safety guidelines of the Fire Services Department
✅All branches are equipped with a constant temperature air-conditioning system that operates around the clock

----------------------------

📌 You can choose from nearly 30 branches in Hong Kong|There is always one nearby
Kennedy Town | Tai Po | Chai Wan | Siu Sai Wan | Wong Chuk Hang | San Po Kong | Yau Tong | Kwai Chung | Kwai Hing | Kwai Fong | Tsuen Wan | Tsing Yi | Fo Tan | Tuen Mun

📱 Whatsapp: https://cutt.ly/51188503
☎️ Enquiry Hotline: 21112636

----------------------------

*The offer is bound by terms, the terms and conditions are as follows:
(1) Participants must be new customers of Supreme Mini Storage.
(2) Participants must be at least 18 years old and hold valid identification documents. When receiving gifts, they must register their name, phone number and the first 4 digits of their ID card.
(3) Participants can immediately sign the designated contract and prepay related fees, and get lucky bags on the spot.
(4) Each participant is limited to one supreme lucky bag (worth $500 each)
(5) Each participant is limited to receive the Supreme Lucky Bag once.
(6) The number of lucky bags is limited, while stocks last.