Men love Gundam, there is a way to store it|Figure storage|One Storage|Mini Storage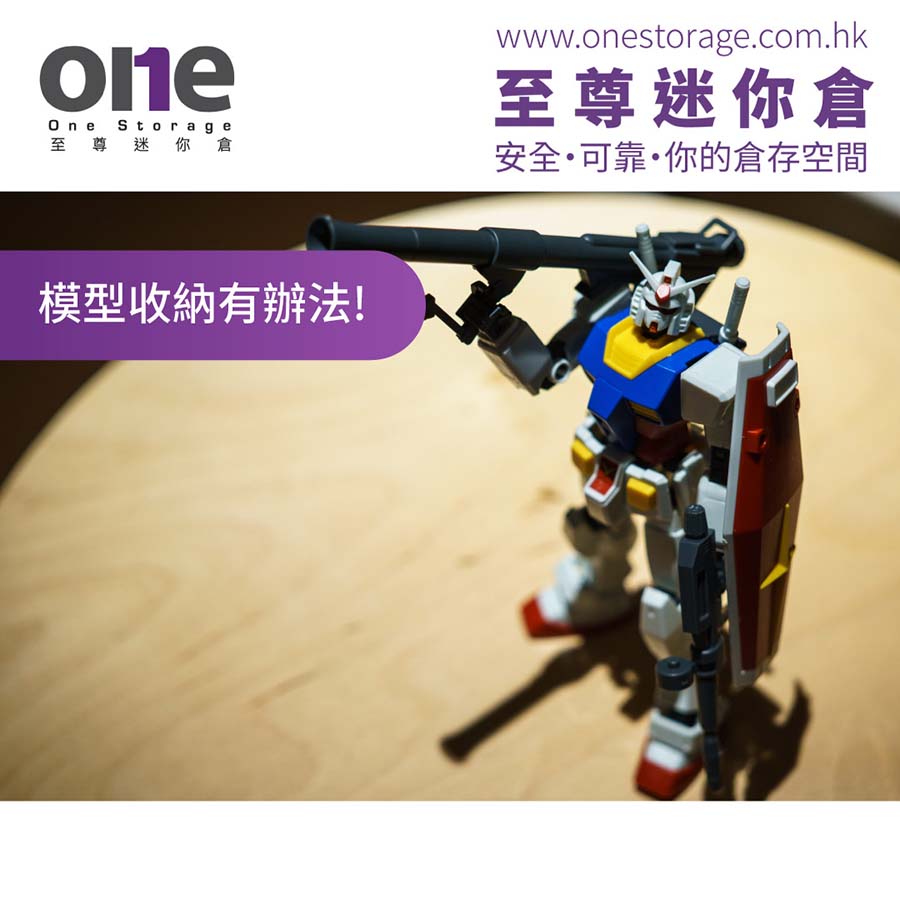 The stylish gunpla is really attractive to many boys, but in fact, as the so-called "salted fish and vegetables, each has its own love", there are many fans of model cars, figure models or anime dolls.
After buying it, I want to go home. Of course, if you want to collect it well, let us One Storage Supreme Mini Storage bring you four key points of collecting model toys:
Avoid direct sunlight
Toys, models, etc. are mainly made of plastic. In fact, they are easily affected by sunlight and become brittle and discolored. Therefore, it is best to store them in a location that will not be exposed to direct sunlight.
Sealed collection model reduces dust accumulation
If there is no sealed collection, a layer of dust will soon build up on the model toy, and the dust at the joints or internal parts is quite difficult to remove.
Pay attention to humidity and temperature
Humidity and temperature also affect the hardness of the plastic and the state of the paint, so choose a storage location.
Air to circulate
Air circulation can naturally reduce the situation of excessive humidity. Placing an appropriate amount of moisture-proof and moisture-absorbing bags in the storage location can also avoid excessive humidity.
There are so many precautions, I believe that not everyone can be satisfied with their home, but they are reluctant to damage the collection. What can I do?
Find our One Storage Extreme Mini Storage! One Storage has nearly 30 branches, and there is always one near you! There is a 24-hour withdrawal service, allowing model "fans" to withdraw or store treasures anytime, anywhere. At the same time, each warehouse is equipped with an air conditioning system, so that all your collections will not be affected by changes in humidity and temperature. Storing in a mini warehouse can effectively prevent your collections from being damaged by sunlight, dust and other factors.
Now, One Storage Super Mini Warehouse Fo Tan Hip Hing branch is offering a 40% discount, a rare opportunity! What are the model "fans" in Fotan District waiting for? Hurry up and find a better place to store your treasures!
For concessionary registration enquiries: https://m.me/onestorage
-----------------------------
Renovation | Short term rental | One Storage Can Help | Mini Storage

-------------------------------------
Kennedy Town | Tai Po | Chai Wan | Siu Sai Wan | Wong Chuk Hang | San Po Kong | Yau Tong | Kwai Chung | Kwai Hing | Kwai Fong | Tsuen Wan | Tsing Yi | Fo Tan | Tuen Mun
Click here for Express Whatsapp: https://cutt.ly/51188503
*Terms and conditions apply, please contact our staff for details.
*Terms and Conditions: Offer is subject to availability while stocks last. This offer is only applicable to new registered customers of Supreme Mini Storage. In case of any dispute, the decision of Supreme Mini Storage shall be final. Registrants have read this Disclaimer page and agree to the Personal Data and Privacy Statement and are willing to receive promotional information.