Three tips to help you "dress up" for Halloween! |Halloween Costume Storage|One Storage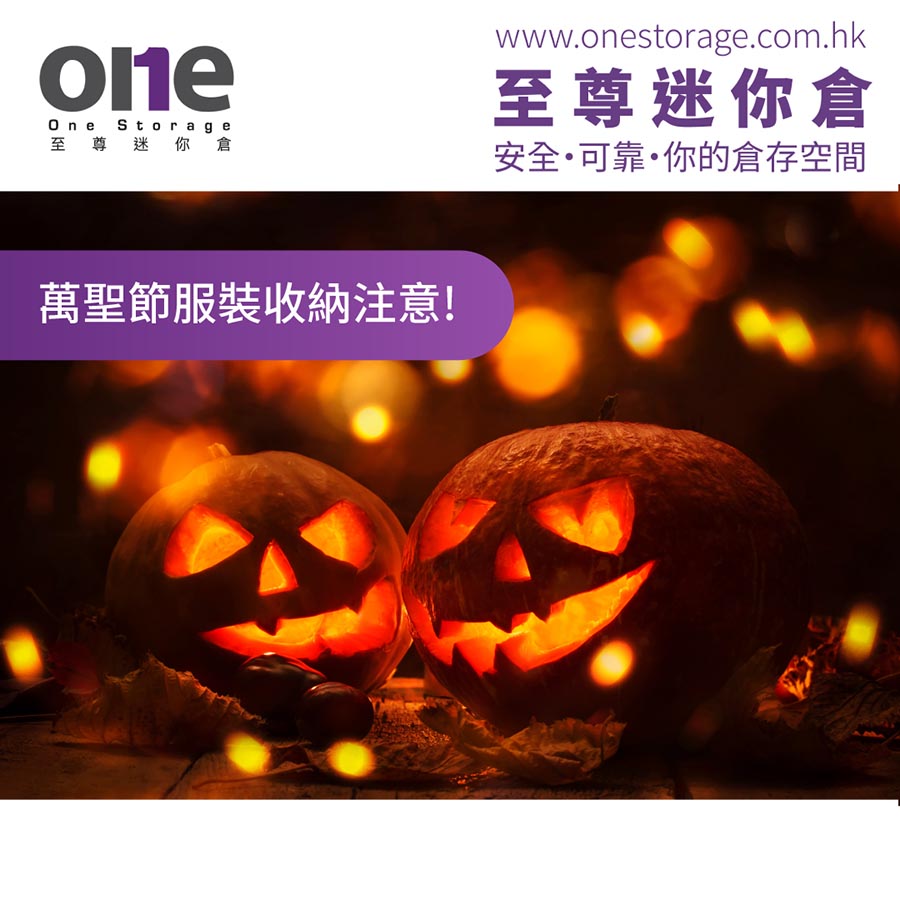 Happy Halloween! It seems that trick-or-treating is not so popular nowadays, with both adults and children preferring to "dress up as ghosts and horses" to welcome Christmas. Some people like to dress up as scary cartoon or movie characters in order to scare people around them! Others like to play the role of heroes and goddesses from movies to steal the spotlight!
In fact, it doesn't matter what you're playing as as long as you're having fun, but to be serious and professional, you need a lot of props. If you don't store them properly, you'll end up with a helmet missing and a glove left over when you want to dress up again next year.
In view of this, we at One Storage would like to give you three storage tips!
Choose containers that are easy to stack and sturdy: Halloween costumes may only be used once or twice a year, so it's important to choose containers that are easy to stack and sturdy if you want to keep them for a long time.
Label all items and keep them in separate containers: Apart from the long shelf life, Halloween costumes are often themed sets, so it's important to sort and label them for future use.
Use vacuum-sealed bags or bubble wrap for protection: many Halloween costumes are carefully crafted and come with a variety of accessories that can easily be damaged by normal storage methods. If necessary, vacuum-sealed bags or bubble wrap can be used to store them in a variety of ways.
Got your three tips and you're ready to party? Wait, there's one more useful tip for you, and that's to ask us at One Storage to help you with your Halloween costumes!
One Storage has nearly 30 shops throughout Hong Kong! With 24-hour pick-up and storage services, you can pick up or store your Halloween costumes from early in the morning to late at night, and you are guaranteed to follow all fire regulations and mini storage guidelines to keep your costumes and belongings safe!
One Storage is now offering a 60% discount at our Kwai Chung Lee branch and Kwai Chung Kwai Fung branch! For those of you in Kwai Chung, ask One Storage to help you store your Halloween costumes and have a fun and relaxing Halloween!
-----------------------------

-----------------------------
Nearly 30 One Storage Mini Storage units|Costume Storage|Halloween
Kennedy Town / Chai Wan / Siu Sai Wan / Wong Chuk Hang / San Po Kong / Yau Tong / Kwai Chung / Kwai Hing / Kwai Fong / Tsuen Wan / Tsing Yi / Fo Tan / Tuen Mun / Tai Po
Shop Addresses by District
Enquiry Hotline: 2111-2636
*Terms and conditions: Specified warehouse type and prepayment of specified rent are required, quantity is limited, price varies according to size and latest promotion. Please contact us for details. Only applicable to first-time new customers and cannot be used in conjunction with other promotions, the decision of Supreme Mini Storage is final.