Kwai Chung Live Information! |Real Estate, Decoration, Moving House, Transportation and Living Facilities, Mini Storage|One Storage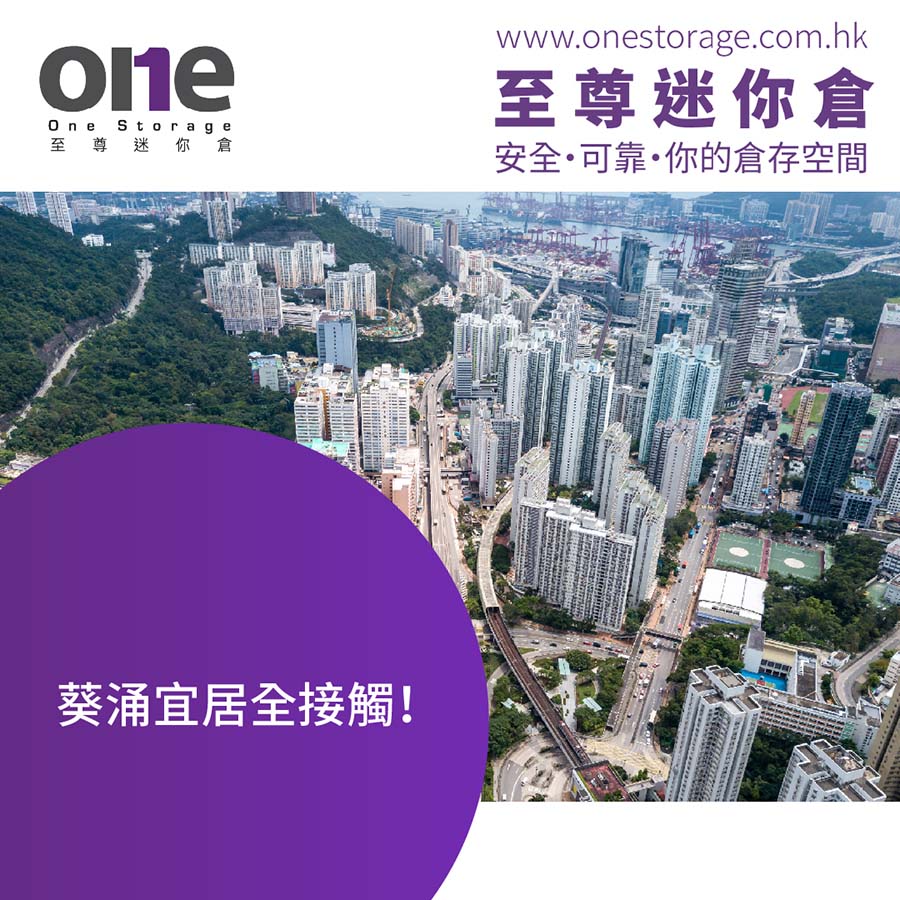 District Introduction - Kwai Chung
Renovation Considerations Tips
Mini Storage Introduction
Speaking of Kwai Chung, many people should think of Kwai Chung Container Terminal, a transshipment port that is also very famous in the world. But in fact, in addition to the famous container terminal, Kwai Chung also has a livable side! Want to know more? Let's get to know Kwai Chung together!

District Introduction - Kwai Chung
Kwai Chung is located in the southwest of the New Territories, and Kwai Chung itself can be subdivided into Upper Kwai Chung, Central Kwai Chung and Lower Kwai Chung. The residential areas are Upper Kwai Chung and Lower Kwai Chung. Different public and private housing estates are located in these two districts. The Kwai Chung area is dominated by industrial areas.
Kwai Chung has always been an industrial and commercial hub of Hong Kong, and the Kwai Chung Container Terminal ranks sixth in the world in terms of throughput! Many trading companies have their Hong Kong offices in this area.
Kwai Chung was not fully developed in the early years of Hong Kong, and it had to wait until Tsuen Wan was gradually developed as a city. Due to the rapid increase in the demand for residential land in Tsuen Wan, the surrounding residential areas expanded to Kwai Chung. At the same time, in the 1970s, after the government decided to build a container terminal in Kwai Chung, Kwai Chung finally had a more comprehensive development. In 1985, Kwai Chung and Tsing Yi formally formed the Kwai Tsing District. After the construction of Chek Lap Kok Airport, more supporting infrastructure such as the Lantau Link has been built around it, which has made the development of the entire Kwai-Tsing District faster, and its construction facilities have also undergone many changes.
As mentioned above, Kwai Chung was originally part of the Tsuen Wan District in Hong Kong's early years, so it did not have an independent downtown area with different cultural and recreational facilities. However, with Kwai Chung becoming its own district and meeting the needs of nearby residents, many cultural and recreational facilities have been added to the Kwai Fong Station area, such as Kwai Tsing Theatre, Kwai Shing Swimming Pool, Kwai Chung Sports Ground and two shopping malls that can meet most of the needs of food, clothing, housing and transportation. - Metropolis Plaza and Kwai Chung Plaza.
It can be seen that Kwai Chung has experienced many years of changes and transformations. The surrounding area has gradually gained opportunities for development, and it has become very livable. Many friends have begun to consider moving to Kwai Chung! In this case, the following information you should not miss!
Kwai Chung Properties
Kwai Chung actually has a lot of top residential properties. For those who are interested in living in Kwai Chung, you must know the following real estate information!

Kwai Chung Properties1-Horzion Place
Moon Bay Horzion Place is located at 100 Kwai Luen Road, Ha Kwai Chung. The project consists of 2 residential buildings and provides 372 units, of which the main unit size is 500 to 600 square feet, and the rest are large three-bedroom units. There are units on the top that can see the container terminal and the Rambler Channel, and also provide club services, such as swimming pools, massage pools, jogging tracks, home theaters, etc. Dingmu provides shuttle bus connections to and from Kwai Fong Station, Metropolis Plaza and Kwai Chung Plaza, and is located in the 65 school net.

Kwai Chung Property 2-The Apex
The Apex is located at No. 33 Wo Yi Hop Road, Kwai Chung. The project consists of two 50-storey residential buildings, providing a total of 924 residential units with a gross floor area ranging from 607 square feet to 997 square feet. It also has a 24-hour clubhouse, providing facilities and services such as swimming pools, fitness rooms and parking lots.

Kwai Chung Development 3-Feng Yu Edition 178
Feng Yu Edition 178 is located at No. 178, Hing Fong Road, Ha Kwai Chung. The project is a single-family residential building with a height of 23 floors. It provides a total of 136 residential units with a usable area ranging from 222 square feet to 398 square feet. The project provides open-plan to 2 housing units.

In addition to residential units, the project also provides different facilities and services on different floors, such as car parks, shops, recreational facilities for residents, and plant areas.
Renovation Considerations Tips
After learning about the real estate information, want to move to a new house? Get some decorating tips, too. Fear not, we are ready for you!
Decoration Consideration Tips 1 - Reserve Space for Storage
If you are only partially renovating your new home, you should reserve a space for storage in your new home. So that you and your family can have a place to temporarily store items during the renovation period for easy storage. At the same time, you should also take some security considerations into the space, such as choosing a room with a door lock or some lockable storage boxes for storage purposes, which can protect yourself and reduce misunderstandings.

Renovation Considerations Tip 2 - Consider Your Child's Needs
Families with children should keep in mind that the needs of children are very different from those of adults and will change at different stages of development. It is important to anticipate that some furniture and items may no longer be needed in the next few years, or To add. Sizes such as beds and desks should take into account their growing needs. You can also co-design a room with them and let them express their favorite wall colors, curtain prints, or room themes.

Renovation Considerations Tip 3 - Maintain Daily Life
Why do many people feel so stressed when renovating their home? It's because many people disrupt their daily habits to deal with decoration matters. It is true that the decoration will disrupt your daily life, but you still need to try your best to maintain the rhythm of your life, such as maintaining your work and rest, getting up and going to sleep at a regular time, and keeping three meals on a regular basis.

Moving Tips
After understanding the real estate first, and then understanding the decoration, it is time to know some moving tips, and of course I have prepared them for you!

Moving Tip 1 - Discard Items You No Longer Use
Everyone has some old things in their homes that are no longer needed, kitchen utensils that have been in dust for many years? Outdated clothes? I don't know why you bought fitness products in the first place? Don't spend money and time on bringing these items that you no longer use to your new home. Try to use the moving house as an opportunity to give, sell, or discard these items to others, and don't force them to keep them all the time.

Moving Tip 2 - Use the Right Gadgets
Have some shoe boxes, food packaging tins, etc. left at home? Can be used to hold up some small bits and pieces! Coupled with their boxy shape, they're perfect for helping you pack things up and pack them into boxes! At the same time, you can also use iron wire or fish wire to bundle the wires of various home appliances, and then pack them well. In this way, you will not be afraid of the wires of various electrical appliances getting tangled together!
Moving Tip 3 - Make good use of your luggage
Of course, cardboard boxes are mainly used for packing, but if there are some luggages that are not commonly used at home, this is also a good tool for storage and packing. Because it can resist a certain impact, it also has handles and rollers, so that everyone can move more easily during transportation! You can put items that need to be moved frequently into the suitcase, and there is no hassle like moving cardboard boxes!

Mini Storage Introduction
After years of development and changes, Kwai Chung has long been not only a logistics center, but also a livable all-round town. There are all kinds of shopping malls and cultural and entertainment facilities. The transportation has also been much more convenient before! It's really livable! And friends in Kwai Chung, if you need a mini storage that is easy to use, there are also here!

Kwai Chung has two branches of our One Storage Extreme Mini Storage, ready to serve you!
Lee Lee Branch (Unit D, 2/F, Lee Lee Industrial Warehouse Building, 16 Ta Chuen Ping Street, Kwai Chung, New Territories)
Guifeng Branch (Unit A, 6/F and Unit B, 8/F, Guifeng Industrial Building, 9-15 Kwai Cheong Road, Kwai Hing, New Territories)
Our One Storage Super Mini Storage has branches in Hong Kong, Kowloon and the New Territories, with a total of 37 stores! The warehouse has all-day air conditioning and constant temperature and strictly follows the fire protection and safety requirements of the mini warehouse. It is to ensure the safety of customers and their items. I hope you can store the warehouse with peace of mind and feel the new space that the mini warehouse brings to you. ! At the same time, our One Storage supports customers to withdraw and deposit throughout the day, allowing you to easily and freely arrange the time, and it is up to you to decide when you want to withdraw!

Friends from Kwai Chung District? Want to feel the more space that mini storage can bring to you? Don't miss the limited offer from One Storage!
-------------------------------------
Click to check our latest offer now
Talk to us: https://m.me/onestorage
-------------------------------------
✅ 24-hour easy access at any time
✅ 7x24 smart security access system
✅ HD security monitoring and alarm system
✅ Comply with latest Fire safety guidelines
✅ Constant temperature air-conditioning system
Hong Kong Island:
Siu Sai Wan | Chai Wan | Tin Hau | Kennedy Town | Wong Chuk Hang
Kowloon:
Yau Tong | Kwun Tong | San Po Kong
New Territories:
Kwai Chung | Kwai Hing|Kwai Fong | Tsuen Wan | Tsing Yi | Fo Tan | Tai Po | Tuen Mun
Express Whatsapp: https://cutt.ly/51188503
*Terms and conditions apply, please contact our staff for details.
*Terms and Conditions: Offer is subject to availability while stocks last. This offer is only applicable to new registered customers of Supreme Mini Storage. In case of any dispute, the decision of Supreme Mini Storage shall be final. Registrants have read this Disclaimer page and agree to the Personal Data and Privacy Statement and are willing to receive promotional information.