One Storage Mini Storage|Mini Storage-Kwai Chung Ta Chuan Ping Street, a favorable limited discount of 27 square feet, a monthly fee of $800 for a mini storage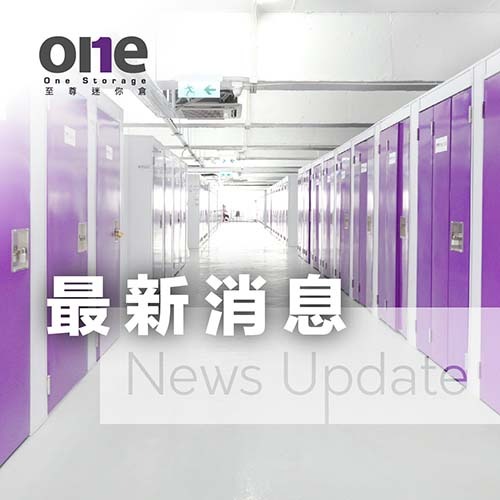 Mini Storage-A 27-square-foot mini storage monthly fee at Ta Chuan Ping Street, Kwai Chung is $800
There are many issues to consider when renting a mini-storage for the first time. What kind of mini storage size is best for you? Do you need temperature and humidity control? Fortunately, the experts at One Storage can make it easy for you to find a suitable storage solution. Use this article to understand the basics of mini storage, and feel free to ask our friendly and knowledgeable team for help. What is a mini storage?
Mini-storage provides individuals with space for mini-storage rental and storage of personal or corporate items. Storage space-also known as mini storage-is usually leased on a monthly basis. Unlike full-service storage services, customers can only have limited access to their items, and make full use of storage providers to store and manage their items.
Mini-warehouses give you more control. You can go to your mini-storage at any time and store and retrieve things. Common reasons for renting a mini-storage storage of property while moving to a new home, transitions between leases, temporary housing needs, and relocation while immigrants are studying are some of the most common reasons for renting a mini-storage. Life transition Whether it is divorce, retirement, family members, relocation, business needs, when life changes suddenly, mini storage can reduce the burden.
Cleaning Up The best way to avoid moving to a high-rise home or office while keeping your space cluttered is to move the items you want to keep with you but don't necessarily need them frequently to the warehouse. Storage of vehicles Bicycles, children's toy cars, scooters, trailers, grocery shopping carts, etc. can all be safely stored in the mini storage. Home renovation Remodeling a home or office may take several weeks or months, and it may require you to remove furniture and electrical appliances. It is a convenient solution to temporarily transfer these items to a mini-storage. Commercial storage Small and medium-sized enterprises and contracts often use commercial mini-warehouses as additional space, where they can store inventory, objects, documents, computers, office furniture, etc. Going to school storage Freeing up dormitory space, going home during summer vacation, or studying abroad for a few months, these are the reasons why college students rent mini-storages near the university campus.
Reasons for using mini storage Whether you are preparing to move, prepare to deploy, or clean up your home, renting a self-service mini storage may be your best choice. Mini Storage Recommendation-How to choose the mini storage that suits you? There are several factors you need to consider when you choose a mini-storage. Understand the time of entry and exit of the mini-storage. Find the most suitable size of the mini-storage. What to put in the warehouse. What to pay attention to in the storage facilities. Security-When you store your items in the mini-storage, you trust the owner of the store to keep your items safe. Because of this, safety should be a consideration when choosing a place to store items. The extra space for storage utilizes security measures such as lighting facilities, CCTV monitoring and electronic door locks.
Some of our locations take a further function of security, such as individual alarm units, smart shot cards and so on. Cleanliness-When looking for a mini-storage, please consider the cleanliness of the location of the mini-storage building you are looking for. Storage facilities, take measures to keep their facilities clean. In the extra space, we take extensive measures to maintain the quality of our facilities. The degree of hygiene. Customer Service-In the additional storage space, our One Storage employees are dedicated to helping you solve your mini storage needs. We are proud of the professionalism, knowledge and positive work attitude of our team. If you want to inquire more about mini-storage leasing, please click here for mini-storage inquiry
*The offer is subject to terms and conditions.
For details, please check the Kwai Chung Yili branch: Room D, 2nd Floor, Yili Industrial Warehouse Building, 16 Da Chuan Ping Street, Kwai Chung.
Our Supreme The self-storage facility of the mini-storage provides a wide selection of mini-storages, supplemented by excellent facilities and functions. Enjoy security cameras and electronic door locks, as well as various additional benefits. Whether it is to make room for your baby or organize your office, we make it easier for the mini-warehouse to serve residents and businesses. Ready to learn more about Mini Storage HK, the best self-storage facility? Give us a call and reserve your space today. Features temperature control storage warehouse personal and corporate document storage electronic door locks moving truck rental excellent customer service alert system CCTV monitoring short-term and long-term rental mini storage convenient payment method
📌 Terms and Conditions*: The rent must be specified for the specified size, the quantity is limited, the price Depending on the region, area, and latest promotion, the displayed price is for reference only. The quantity and promotion period are limited, and the price is limited. Please contact us for details. Only applicable to new customers who register for the first time, and cannot be used in conjunction with other discounts. Supreme Mini Storage reserves the right of final decision.