Kwun Tong|New real estate, moving house, decoration, express delivery, mini storage|One Storage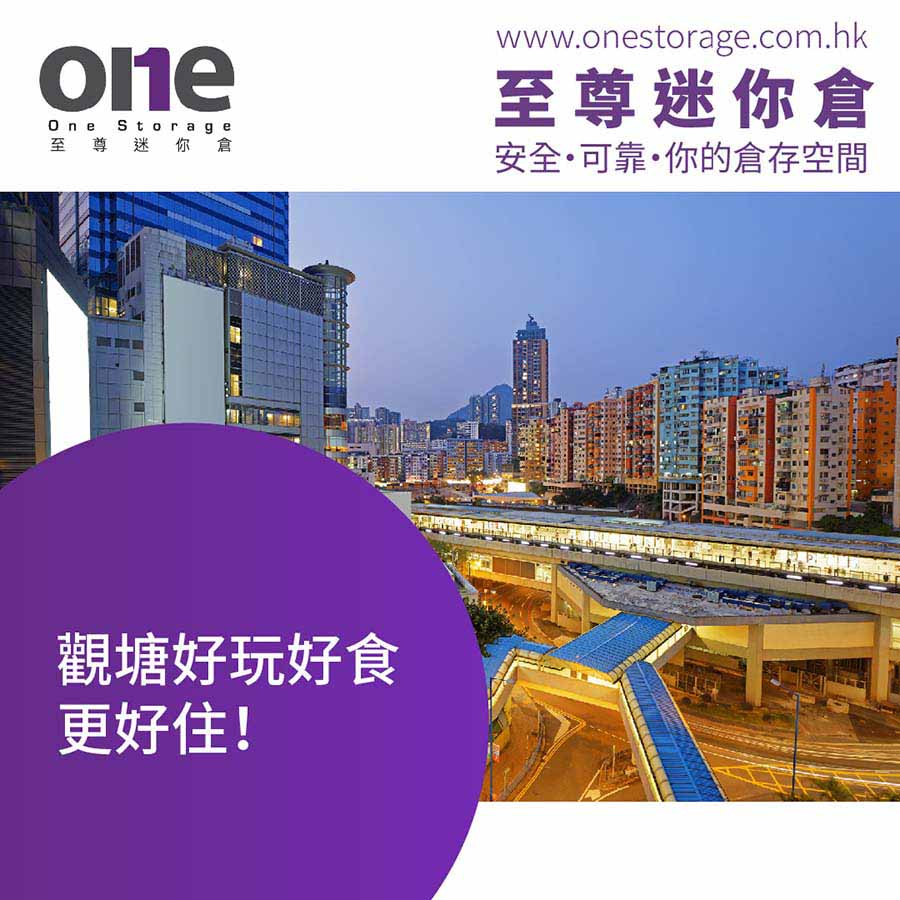 Kwun Tong District has been in the limelight in recent years. On the one hand, new buildings have been completed. On the other hand, it is a concentrated place for industrial buildings to be used. Make Kwun Tong a place that is suitable for food, shopping and entertainment, as well as a livable place. Why not take this opportunity to learn more about Kwun Tong District with our One Storage Extreme Mini Storage?
District Introduction-Kwun Tong
The earliest historical records of Kwun Tong can be traced back to the Northern Song Dynasty. At that time, Kwun Tong was an official salt quarry, also known as "Guanfuchang".
In the early days of Hong Kong's development, Kwun Tong was still called "Kwun Tong", and the term "Kwun Tong" was still used to write the names of the minibus stops in the area. From 1953 to 1954, Hong Kong began to carry out a large-scale reclamation plan in Kwun Tong, in order to cooperate with the development of the land into a major industrial production area. At that time, the name "Kwun Tong" had already been used, and the subway opened to traffic in 1979 and had "Kwun Tong Station", making the name "Kwun Tong" the most common and orthodox name in the area. However, some minibus route signs and road markings still use the old name of "Kwun Tong" in Chinese.
Before the 1950s, Kwun Tong was actually a pretty deserted bay. After 1957, after the completion of the reclamation project of Kwun Tong to the sea, the land that is now used as a factory has also become the current Kwun Tong Industrial Zone. In the early Kwun Tong Industrial Zone, there were only overhead wires, and it was only updated to the current underground wires in 1960. In order to cooperate with being an important industrial town, the names of roads in the Kwun Tong factory area have a special industrial flavor. It's a positive compliment.
Kwun Tong is also the first city in Hong Kong to adopt the concept of a satellite city. The area reclaimed from the Kwun Tong area is expected to be one of the major industrial areas in East Kowloon, while the north of Kwun Tong Road is a residential area. Provide housing and employment space for residents. Famous shopping circles in the district include APM and Millennium City. Before the demolition of Yumin Square, which has a history of many years, it was a large old-style market in the district. Now it is becoming a reconstruction project of Kwun Tong city center and transformed into a core business. and residential areas.
After entering the 1990s, the manufacturing industry in Hong Kong gradually declined, resulting in a large number of vacant factory buildings. Many factory buildings around Kwun Tong Road were rebuilt or converted into commercial and warehouse purposes. Now, the identity of Kwun Tong has also begun to undergo a major change, from the former industrial center to the current new town of fun and delicious food, and some new residences have begun to be built in the area, attracting many people to move in!
Follow our One Storage Ultimate Mini Storage now to learn more about Kwun Tong!
Kwun Tong Property New Information

I have just said that Kwun Tong is becoming more and more livable. Now, of course, I want to introduce the real estate and living information in the local area!
Kwun Tong Property 1-Bal Residence

Bal Residence is a stand-alone design project located at 18 Heng On Street, Kwun Tong, with an estimated key completion date of 31 December 2023. The building is 26 storeys high and provides a total of 156 strata residential units. The usable square feet of each unit ranges from 300 to 350 square feet, and there are one to three bedrooms in terms of partitions. The main housing type is mainly one-room households, accounting for more than 90% of the total supply.
Kwun Tong Property 2-Grand Central

Grand Central in Kwun Tong consists of two phases. Phase 1 consists of 2 residential buildings with a height of 48 to 52 and a saleable area of ​​452 to 1,543 feet, providing a total of 1,025 units; Phase 2 also consists of 2 residential buildings The building, with a height of 49 and 50 floors, has a usable area ranging from 333 to 1,502 square feet, providing a total of 974 units, and the two phases can provide a total of 1,999 units. The project is also one of the key redevelopment projects of Yue Man Square in Kwun Tong. The base is set as a 4-storey shopping mall with a total area of ​​about 200,000 square feet, which can easily meet the needs of daily living and eating.
Kwun Tong Property 3-On Peak Mountanderson

Mountanderson is located on Anderson Road, Kwun Tong. The project consists of four residential buildings with heights ranging from 10 to 20 floors, providing a total of 334 strata units, with room intervals ranging from one to three bedrooms, with a usable area ranging from 339 to 907 square feet, with an expected key completion date of July 15, 2023.
-------------------------------------
Click to check our latest offer now
Talk to us: https://m.me/onestorage
-------------------------------------
✅ 24-hour easy access at any time
✅ 7x24 smart security access system
✅ HD security monitoring and alarm system
✅ Comply with latest Fire safety guidelines
✅ Constant temperature air-conditioning system
Hong Kong Island:
Siu Sai Wan | Chai Wan | Tin Hau | Kennedy Town | Wong Chuk Hang
Kowloon:
Yau Tong | Kwun Tong | San Po Kong
New Territories:
Kwai Chung | Kwai Hing|Kwai Fong | Tsuen Wan | Tsing Yi | Fo Tan | Tai Po | Tuen Mun
Express Whatsapp: https://cutt.ly/51188503
*Terms and conditions apply, please contact our staff for details.
*Terms and Conditions: Offer is subject to availability while stocks last. This offer is only applicable to new registered customers of Supreme Mini Storage. In case of any dispute, the decision of Supreme Mini Storage shall be final. Registrants have read this Disclaimer page and agree to the Personal Data and Privacy Statement and are willing to receive promotional information.