Western District|Western District Mini Storage|Real Estate|Renovation|Moving|Transportation and Living Facilities|One Storage|Mini Storage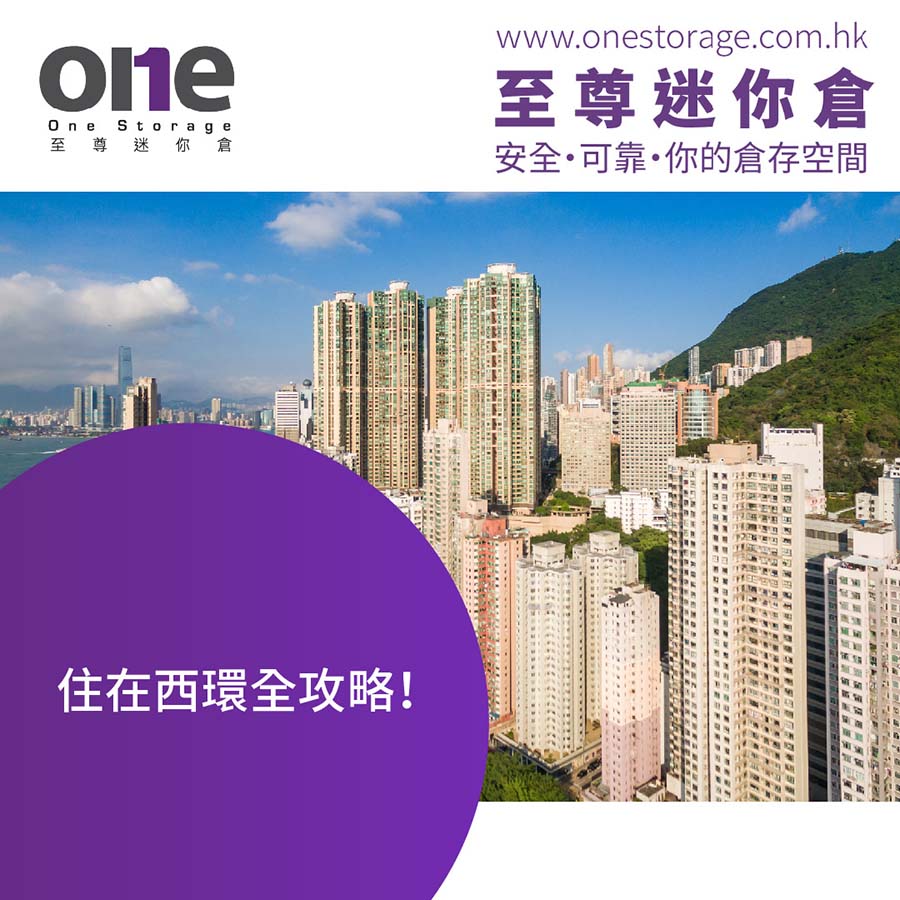 Introduction to the area - Western District
Some people say that it originated from the common zoning of Victoria City in the 19th century (four rings and nine covenants), of which Western District was one of the rings, while the first, second and third covenants were Kennedy Town, Shek Tong Tsui and Sai Ying Pun respectively; the other theory is that it originated from the old name of Kennedy Town (Sai Wan), which became Western District by its harmonious sound.
Although the Western District includes Kennedy Town, Shek Tong Tsui and Sai Ying Pun, it is said that many residents in the district would separate the three areas rather than call them all Western District. Those who do not live in Western District are more likely to be unclear about the overall scope of Western District, and will probably only refer to the area around Sai Ying Pun.
Kennedy Town, however, is a newly reclaimed area along the coast, which was later called Kennedy Town. In the early days, most of the waterfront streets in the north of Hong Kong Island were called "Praya" in English, and in Chinese they would be called "海旁", so the roadside along the coast of Kennedy Town would be called Kennedy Town Waterfront. So by definition, both 'waterfront' and 'praya' refer to a strip of land on the waterfront.
Shek Tong Tsui was developed around 1880 as a granite mine. After mining was completed, the site was turned into a sunken cave as a result of mining. After that, it is said that the topography of Shek Tong Tsui resembles a mouth protruding into the sea, hence the name "Shek Tong Tsui".
Western District Developments
With the history of Western District and the famous universities in Hong Kong nearby, I believe many families would like to move to this district, which has the right living facilities and a strong cultural atmosphere. So what are you waiting for? Come and find out more about the properties in Western District!
Western District Property 1 - The Merton
The Merton is located in Kennedy Town, 38 New Praya, Kennedy Town, and was opened in December 2005. The project consists of three buildings, each ranging from 53 to 62 storeys, and is built on the waterfront with views of Victoria Harbour.
Western District Property 2 - Manhattan Heights
Located at 28 Kennedy Town, Manhattan Heights is a single block residential development offering 476 units. The flats range from 434 sq ft to 715 sq ft in saleable area and are located close to Kennedy Town MTR station. The primary school network is 11 and the secondary school network is Central and Western.
Renovation process
Once you have found the right property, you will need to find a decorator to do the renovation. Let us introduce you to the general renovation process!
Renovation process 1. Demolition of old renovations
The first step is to demolish the old decorations. You should have a clear explanation with all the technicians before the demolition to confirm the target of demolition.
Decoration process 2. Plumbing and electrical installation
After the demolition, you should check the location of the electrical switches and water outlets, because once the tradesman starts laying all the electrical, water, gas and broadband cables, he may have to start all over again if he finds anything that needs to be replaced.
Decoration process 3. Plastering work
After the plumbing and electrical work is completed, the plasterer will start to work on the flooring and walls.
Decoration process 4. Painting
Painters will paint the walls after the home has been finished, including plastering, plastering and painting. Some carpenters may also need to use paint to fill gaps, and the woodwork may be swept with paint to protect it from water and corrosion.
Carpentry 5. Large furniture
Once the painting work is almost completed, we can arrange for the furniture to be delivered to the unit and start assembling it, as well as installing the flooring, wooden doors and door frames.
Decoration process 6. Miscellaneous
The final stage of the decorating process is to deal with other minor miscellaneous items such as light fittings, toilets, cooker hoods, etc.
Finishing process 7. Cleaning
Once the interior decoration process is complete, it is important to remember to clean up afterwards. The house is bound to be covered in dust and paint smells after the renovation and you should definitely do a major clean. Also, remember to check all the details of the new renovation in your home and follow up and request a visit if you find any problems.
Packing tips for moving house
When you move house, it means you have to pack, so how easy is it to get caught up in it? What are the best ways to pack and store different items?
Packing tips 1 - Books
It is advisable to pack books neatly in cardboard boxes, but try not to exceed 25kg per box. This is safer for anyone who has the opportunity to move the boxes (a removalist, yourself, a friend, etc.) and reduces the risk of sprains or injuries during the process.
Packing tips 2 - Clothing
Clothes should be folded and placed in suitcases, plastic boxes and red and white basket bags.
Packing tip 3 - Cutlery or fragile glass items
It is advisable to wrap fragile items in old newspaper or bubble wrap to avoid the risk of breakage.
Packing tip 4 - Electrical appliances, furniture and large items
You should use a removal company to wrap and remove the items for you as much as possible, as it is more difficult to handle them yourself.
Packing Tip 5 - Piano
You should clearly explain to the removal company the type and size of the piano, as it is not possible to handle the removal of the piano yourself.
Introduction to Mini Storage
The West End is a culturally rich area, far removed from the hustle and bustle of the city, and those who want to experience its special blend of old and new will want to move to the area. But there's another reason why Western District is so appealing! It's the availability of affordable, quality service and reputable mini-storage! Living in Western District, near the sea, there is inevitably moisture and salt in your home space, so if you have a collection of sneakers, toys or handbags, you will want to know how a mini storage unit can help you store them properly!
We have One Storage in Western District, ready to serve you!
Kennedy Town - Cheung Hing Branch (9/F, Cheung Hing Industrial Building, 12P Smithfield Road, Kennedy Town)
We have nearly 30 One Storage outlets in Hong Kong, Kowloon, New Territories and Hong Kong! We have a 24-hour air-conditioning system to ensure that your belongings and treasures are kept in a dry, cool and comfortable environment. We are also fully compliant with fire and safety regulations to ensure the safety of your belongings at all times.
Once you know which one suits you best, come and see our staff at any time to arrange a rental arrangement.
Don't worry about keeping your belongings in the West End, One Storage has a special offer for you!
-------------------------------------
Click to check our latest offer now
Talk to us: https://m.me/onestorage
-------------------------------------
✅ 24-hour easy access at any time
✅ 7x24 smart security access system
✅ HD security monitoring and alarm system
✅ Comply with latest Fire safety guidelines
✅ Constant temperature air-conditioning system
Hong Kong Island:
Siu Sai Wan | Chai Wan | Tin Hau | Kennedy Town | Wong Chuk Hang
Kowloon:
Yau Tong | Kwun Tong | San Po Kong
New Territories:
Kwai Chung | Kwai Hing|Kwai Fong | Tsuen Wan | Tsing Yi | Fo Tan | Tai Po | Tuen Mun
Express Whatsapp: https://cutt.ly/51188503
*Terms and conditions apply, please contact our staff for details.
*Terms and Conditions: Offer is subject to availability while stocks last. This offer is only applicable to new registered customers of Supreme Mini Storage. In case of any dispute, the decision of Supreme Mini Storage shall be final. Registrants have read this Disclaimer page and agree to the Personal Data and Privacy Statement and are willing to receive promotional information.