San Po Kong residence information |estate, decoration, moving, express delivery|One Storage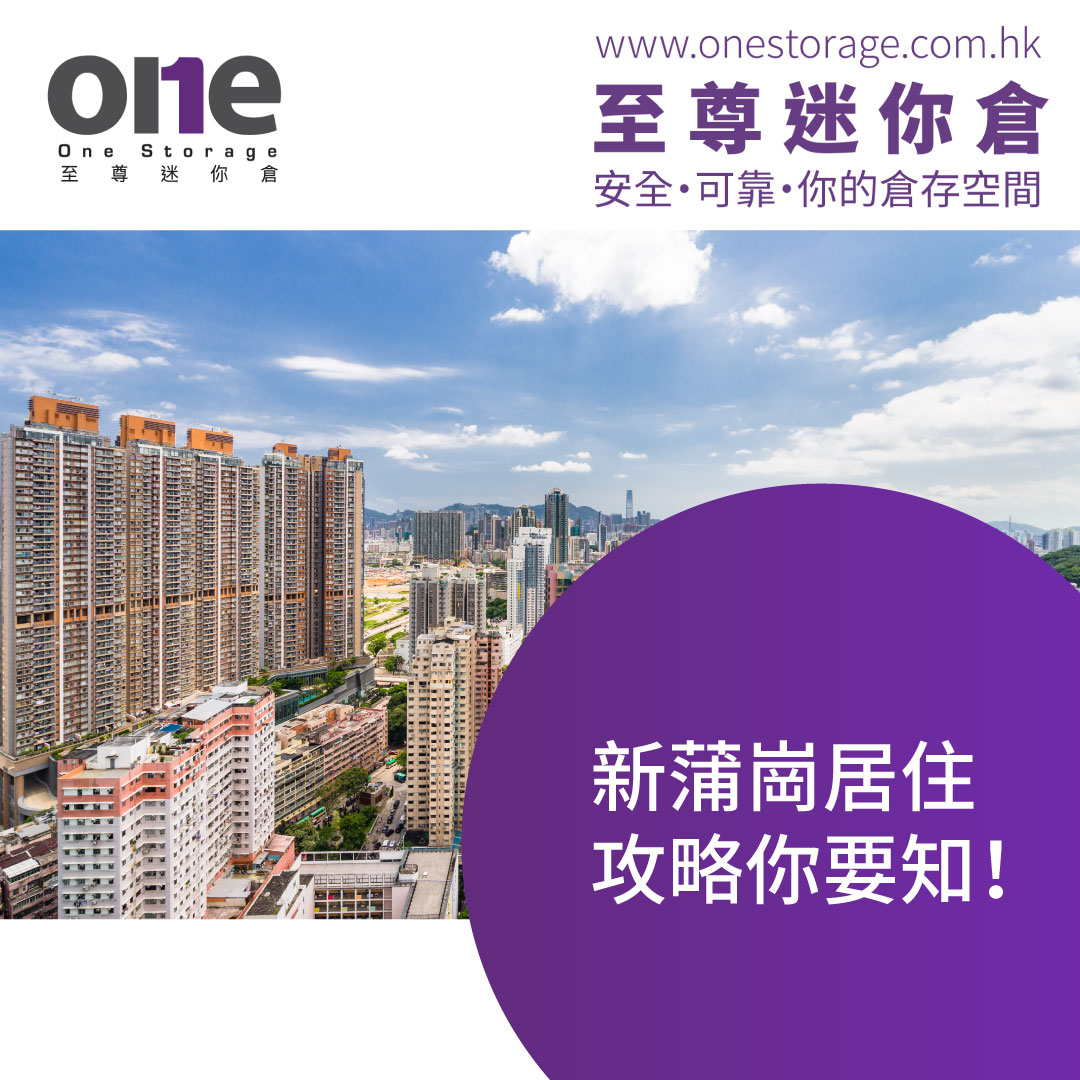 Moving company/platform recommendation
Courier and logistics service packages
The transformation of San Po Kong, what you need to know about residence strategy! |New real estate, decoration, moving, express delivery, mini storage|One Storage Supreme Mini Storage
Have you ever been to San Po Kong? It seems that a lot of development and art-related news have repeatedly mentioned this name recently. Why not let our One Storage Supreme Mini Storage show you more?
Xin Po is located in the southeast of Wong Tai Sin District. The term "Pu Gang" is a combination of Pu Tian and Shan Gang, and it is said to be derived from the old Po Kong Village in the district. The name "Xin Po Kong" is reported to be part of the land surrounding the old Kai Tak airport as a new industrial zone in the early 1960s, and named after the demolished Po Kong village at that time.
There are different large factory buildings in San Po Kong, which used to be definitely a core industrial town, but behind the industry, the naming of nearby streets is quite interesting. The streets are named after numbers, including Shuangxi Street, Sanzhu Street, and Simei Street, Wufang Street, Liuhe Street, Qibao Street, Bada Street. In the past, there was Kai Tak Playground in the area. The playground opened on January 31, 1965. There are motor games such as Ferris wheel and roller coaster, as well as a theater and a performance stage!
Of course, these are all things in the past. With the economic development and industrial transformation of Hong Kong, core industrial towns like San Po Kong must also transform and face new development directions. With the increase in housing supply in the surrounding area, the living facilities have gradually increased. Slowly, San Po Kong has become a good place for settlement and investment in many people's minds.
That being the case, our One Storage Supreme Mini Storage intends to provide a comprehensive strategy including new real estate, decoration, moving, express delivery and mini storage!
San Po Kong Properties
Kai Zuan Court is located in the Diamond Hill Comprehensive Development Area, which is the area of ​​the original Da Hom Village and Xia Yuan Ling squatter area. Kai Zuan Court is composed of three residential buildings, which are Kai Chi Court (Block 3) and Kai Tao Court (Tower 4) and Kai Wu Court (Tower 5), the three residential buildings are 39 storeys high, providing a total of about 2112 units, the unit area ranging from about 152 feet to 406 feet.
The distribution of various types of size units is as follows:
184---186 feet 259 units (12%)
274---287 sq. ft. 800 units (38%)
374---392 sq. ft. 486 units (23%)
437---481 sq. ft. 567 units (27%)
The project also has some basic needs such as retail facilities, basement parking, loading and unloading, and the project is also close to shopping centers such as Hollywood Plaza and Wong Tai Sin Center. Basic living and entertainment needs can be met.
The transportation facilities of the project are close to the Diamond Hill MRT station. At the same time, there are a large number of minibuses around the project. The bus routes pass by, and basically can easily reach the 18 districts of Hong Kong.
Moving company/platform recommendation
Decoration matching platform introduction
After considering moving the house, decoration is indispensable. How can you only have to move house services as time goes by? There are also more new-style decoration matching platforms that you can learn more about:
Hellotoby
Hellotoby's platform matching service also includes matching of decoration and design services. After answering a few questions online, it will provide free basic quotations from 3 decoration companies. There are also different decoration package proposals. The platform will also be matched after the matching is completed. There will be professional engineering consulting services and other related services provided.
Hellotoby provides many examples of decoration projects and related details on its website, which can be used as reference from the house type and finished products. At the same time, it also has user reviews to help consider and compare.
EcHouse Real Estate
EcHouse Real Estate also provides matching services. As long as you provide basic information online, you can get a free quotation. At the same time, it also provides a series of ancillary services such as quotation analysis, regular inspections and witness signing.
At the same time, it provides a large number of decoration examples of different units on the Internet. There are detailed information from the housing estate, design style, decoration type, area and budget cost, etc., which can be used as a reference.
Decorator
Renovation Guy is a platform that provides different decoration matching services. The use process is to answer questions and fill in the form, and then will provide free scale quotation services, and will get their respective quotations from 3 decoration companies, and finally will be accompanied by a consultant to sign and give With opinions.
The platform also has a "renovation Q&A" function, which answers the decoration-related questions raised on its website in real time. At the same time, the website provides other relevant information such as news, past cases and prices, and decoration-related courses.
Courier and logistics service packages
If you want to make online shopping easier, the most important thing is to pay attention to the courier and logistics service arrangements near your place of residence, and learn more about it together:
SF Express
SF Express has always provided a variety of different types of delivery methods and self-pickup services. In terms of self-pickup, there are smart cabinet self-pickup and storefront self-pickup. You can choose the service that suits you. The courier company has three smart cabinet pick-up points throughout San Po Kong, and a business point in the Fuhe Industrial Building in San Po Kong. Friends who live in San Po Kong can use it as a reference.
Duobao Consolidation
Duobao Container Lines is also a company that provides express delivery and consolidation services. It has delivery and self-pickup services for customers to choose from. It has a self-pickup point in Yifa Industrial Building, No.35 Dayou Street, Sanpugang, and lives in Xinpu. Friends of the post can refer to and consider.
Mini storage promotion
There is a reliable and trustworthy mini-storage company near your home, which is really helpful for moving, decoration, and short-term storage. It is better to learn about the information of the mini-storage near San Po Kong:
One Storage Supreme Mini Storage
As a former core industrial area, San Po Kong's environment is very suitable for the development of mini-storage. Therefore, it is not difficult to find reliable mini-storage. One Storage Supreme Mini Storage already has several branches near San Po Kong:
San Po Kong Lijia Branch (Room CD, 9th Floor, Lijia Industrial Building, No. 8 Wufang Street, San Po Kong, Kowloon)
San Po Kong Jie King Branch (Room B, 9th Floor, Jie King Industrial Building, 114 King Fuk Street, San Po Kong, Kowloon)
The branch is close to the nearby traffic points and is very convenient. It is really easy for friends living near San Po Kong to find a useful mini-storage!
In fact, our One Storage Supreme Mini Storage is always providing the most considerate service to every customer. Currently, One Storage Supreme Mini Storage has a total of about 30 branches in various districts in Hong Kong. They are located next to various traffic points. The rides are different. The transportation is easy to reach, so friends in any area are suitable for renting, and there will never be embarrassing situations in which you have to run around with big bags.
At the same time, all relevant fire protection regulations and mini-storage guidelines are strictly followed. One Storage is equipped with an air-conditioning system in each warehouse to ensure that customers feel at ease and full of confidence in our mini-storage services. Customers can also deposit their own inventory items at any time, so that you will not have any trouble if you want to take out your items no matter it is late at night or early in the morning!
You can also use the space calculation tools provided on the One Storage official website to provide information about items. The system can also help you budget the size of the warehouse you need, and easily find the most suitable warehouse. Whether you want to create more space for your home, or want to collect brand-name sneakers, or even store different souvenirs for traveling with your family, One Storage Supreme Mini Storage is definitely your reliable partner!
Facing troubles with storage space? We will help you solve it together! Don't miss out the limited discounts currently offered by One Storage Supreme Mini Storage!
Now successfully register for 12 months to enjoy a special discount, plus 1 month of free warehouse rent*! 40% off 12+1*, hurry up and register for an appointment!
One Storage Mini Storage|New Building, Moving House, Decoration, Express Delivery, Mini Storage|Clear Storage Space
Kennedy Town | Tai Po | Chai Wan | Siu Sai Wan | Wong Chuk Hang | San Po Kong | Yau Tong | Kwai Chung | Kwai Hing | Kwai Fong | Tsuen Wan | Tsing Yi | Fo Tan | Tuen Mun
Discount registration query: https://m.me/onestorage
Click here for the express Whatsapp: https://cutt.ly/51188503
*The offer is subject to terms and conditions, please contact the staff for details.
*Terms and Conditions: The discounts are limited, while stocks last. The discounted prices are for reference only. Please check with the staff for details. This offer is only applicable to newly registered customers of Supreme Mini Storage. In case of any dispute, Supreme Mini Storage reserves the right of final decision. The registrant has read this disclaimer webpage and agrees to the "Personal Information and Privacy Statement", and is willing to receive promotional information.