Moving into Tai Po is easy! |Real Estate, Renovation, Moving, Mini Storage|One Storage|Mini Storage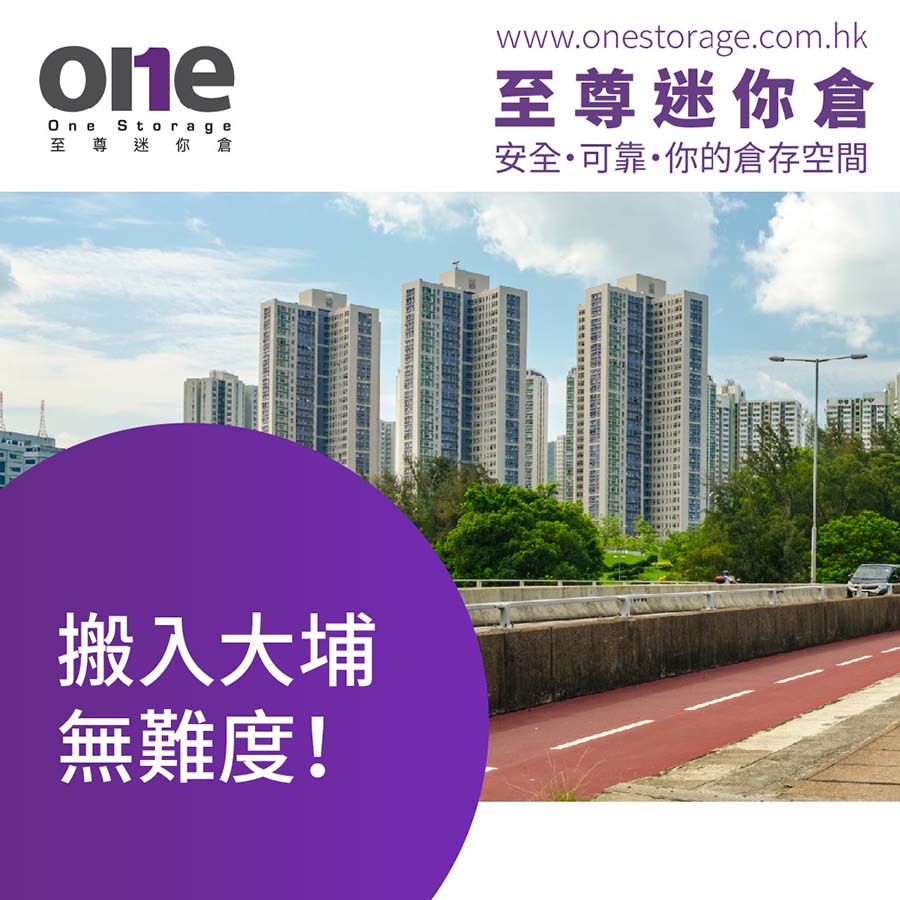 3 important points for decoration
3 important considerations when moving house
Hong Kong has a total of 18 districts, and each district has its own characteristics, and Tai Po district should be one of the districts that best integrates living facilities and natural environment. At the same time, Tai Po is also one of the most historic districts in Hong Kong. District, let's learn more together!
About Tai Po
Tai Po was originally called "Da Bu" in ancient times, but it was not changed to "Da Po" until the Qing Dynasty. Tai Po District is a place where people lived in Hong Kong in the very early days. Stone Age artifacts from 30,000 years ago and about 5,000 years ago have been found in the area!
In the Tai Po area and widely known to Hong Kong people, Tolo Harbour was originally called "Da Bu Hai" in ancient times, and its main industry was the production of pearls. The pearling industry is on the decline.
In the early stage of Hong Kong's development, Tai Po District actually includes today's Tai Po District, North District, Yuen Long District, Tuen Mun District and Sha Tin District at the same time. The latter districts were gradually divided in the later urban development.
The economic activities of Tai Po at that time were mainly farming or fishing. However, time has changed, and agricultural land has gradually turned into industrial or residential use. Therefore, local agriculture has gradually decreased, and the fishing industry has also declined with the change of the times. Now there are seven marine fish breeding areas designated by the government. Falls on Tap Mun, Kier Lau Wan, Sham Wan, Tiger Wat, Yung Shue Au, Yim Tin Tsai and Yim Tin Tsai East.
Today's Tai Po is a fully functional city. There are Tai Po Industrial Estate and Hong Kong Science Park in work and production areas, a large number of shopping malls in daily life, and different countryside places for entertainment.
Because of this, Tai Po is also a comfort space for many people. If you also want to move into Tai Po and increase your understanding of Tai Po, you should not miss the following!
Tai Po District Properties
In fact, Tai Po has been an ideal place for many people to live for many years, so there are also many real estates. It is better to know more information so that you can have a better plan.
Tai Po District Property 1-Tianzhuan The Regent
The Regent is located at No. 8 Shantang Road, Lai Chi Shan, Tai Po. The entire project consists of 17 residential buildings, providing a total of 1,620 strata units. The unit types range from one to four bedrooms, and the usable area generally ranges from 334 to 1,388 square feet. There are standard units and characteristic units (the characteristic units are terrace units, garden-connected units and roof-connected units).
Tai Po District Property 2 - Sea Sun Bay II Centra Horizon
Pak Shek Kok Hoi Ri Wan II Centra Horizon is a residential complex on Innovation Road near Pak Shek Kok Science Park at No. 18 Innovation Road, Tai Po, Hong Kong. The project provides a total of 12 residential buildings with 16 to 18 storeys in height and a total of 1,408 units. Units with saleable area generally range from 243 to 2,828 square feet.
Private housing estates in Tai Po District

There are many other housing estates with different characteristics in Tai Po District. You can also pay attention and refer to:
- Tai Po Centre Tsui Ping Garden
- Suntec Plaza Rich Yingmen
- Tsui Lam Court Fortune Centre
- Tai Po Garden Leisure Villa
3 important points for decoration

Even if you have already selected a housing estate and want to move into Tai Po, you still need to renovate the unit before you can move in. If you want a smoother process, you may wish to take a look at our suggestions:
3 points for attention in decoration 1-Pay attention to the position of the main wall

If the project needs to remove the wall, you must consult the property management office and obtain the structural drawings before starting the construction, because the main wall is the load-bearing main body of the whole house. Danger.
Decoration 3 major precautions 2 - pay attention to the doors and windows

If there is no big problem with the doors and windows themselves, it is generally recommended to keep them, just repaint and renovate. However, if the wood of the doors and windows is peeled or deformed/the paint film on the steel surface is cracked or the main body is corroded, it must be replaced, removed and redone.
3 major precautions for decoration 3-Pay attention to waterproofing works

The rainy season in Hong Kong is long and there are also typhoons from time to time, so the waterproofing work must be done adequately.
3 important considerations when moving house

Renovation is complete! But there is still one more step to move into the house happily. In fact, there are a lot of things to pay attention to when moving a house. Let's learn more together!
3 major considerations for moving house 1 - Communicate with the moving company

Before moving, you must communicate with the moving company. You need to clearly understand the quotation, clearly predict the expenses required for the move, and reach a consensus with the moving company. At the same time, according to different types of buildings and special matters, such as: whether it is necessary to ascend or descend stairs, turn elevators or platforms, and restrictions on loading and unloading areas, etc., the relevant service charges will be different, and you must explain it to the handling company in advance.
3 major precautions for moving house 2-packing items should be organized
Prepare all the necessary supplies in advance, such as: carton, sealing tape, Maker and 𠝹 knife and other tools. After that, you should arrange the order of packing things in advance, or which items do not need to be put into the box; you can also consider sending unnecessary items to the box. Give it to someone else or a charity, or even resell it to reduce the time and expense of moving.
3 major precautions for moving house 3-Pay attention to discarded items
It is best to notify the moving company before disposing of large items, because some large pieces of furniture are not allowed to be disposed of casually according to the law. The moving company may incur costs by sending the discarded large pieces of furniture to landfills for customers. Chance to charge you.
Tai Po Attractions

Life also needs some entertainment. Living in Tai Po has a large number of cultural and entertainment facilities for people to use. How can you miss it? Come check out the attractions below!
Tai Po Attraction 1 - Hong Kong Railway Museum
The Hong Kong Railway Museum was formerly known as the Old Tai Po Market Railway Station (completed in 1913). It used to be one of the stations of the Kowloon-Canton Railway. Later, due to the KCRC's full use of electrified trains in 1984, the Old Tai Po Market Railway Station opened on April 4 of the same year. It was closed on the 6th, and was later designated as a monument and converted into a museum.
In the museum, there are several vehicles full of history, as well as a manual and a motorized engineering vehicle. In addition, the museum also stores a lot of tools used in those years, related train models and displays of signal systems used in the past.
Tai Po Attraction 2 - Tai Po Kau Nature Reserve
Tai Po Kau Nature Reserve is a special area (with special ecological value) located in the south of Tai Po Kau, Tai Po District, New Territories, Hong Kong. It covers a total area of ​​460 hectares and is the first special area in Hong Kong.
There are more than 100 native and exotic tree species in the nature conservation area, and it is also a relatively mature plantation area in Hong Kong. The entire nature conservation area has four different forest trails of red, blue, brown and yellow for people to appreciate the trees. The starting point and the ending point are located at the same point, and there is also a nature education trail that is strictly prohibited from lighting.
Mini Storage Introduction
Dapu not only has good living facilities, but also has a very useful mini-storage. Faced with the short-term storage before moving house or the trouble of storing things after moving in, the mini-storage can help you. And Da Po's mini warehouse information has been prepared for you early in the morning:
Friends living in Tai Po can easily find a reliable mini storage because One Storage has a branch in the local area!
Taiping Branch
Unit A&B, 4F, Tower 2, Taiping Industrial Centre, 55 Ting Kok Road, Tai Po
The One Storage Extreme Mini Storage is definitely a good partner for you to temporarily store your items, store newly bought clothes and even collect your favorite sneakers, because our One Storage Extreme Mini Storage has branches in various districts in Hong Kong, with a total of nearly 30 stores! Never worry about the location being inconvenient to rent. There is a 24-hour constant temperature air conditioner in the warehouse, and it also supports guests to deposit and store items at any time. Whether it is short-term or long-term rental, you can use it to your heart's content!
Combined with the space calculation tool on the official website of One Storage, you can easily calculate the required size of the warehouse, and you are not afraid of waste. Whether you want to temporarily store furniture, or the usual kitchen utensils, you need a place to store hiking supplies, One Storage Extreme Mini Storage is definitely the most worthy of your trust!

What are Da Po friends waiting for? ! Don't miss the limited offer from One Storage Extreme Mini Storage! Come and create more space for your home!
-------------------------------------
Click to check our latest offer now
Talk to us: https://m.me/onestorage
-------------------------------------
✅ 24-hour easy access at any time
✅ 7x24 smart security access system
✅ HD security monitoring and alarm system
✅ Comply with latest Fire safety guidelines
✅ Constant temperature air-conditioning system
Hong Kong Island:
Siu Sai Wan | Chai Wan | Tin Hau | Kennedy Town | Wong Chuk Hang
Kowloon:
Yau Tong | Kwun Tong | San Po Kong
New Territories:
Kwai Chung | Kwai Hing|Kwai Fong | Tsuen Wan | Tsing Yi | Fo Tan | Tai Po | Tuen Mun
Express Whatsapp: https://cutt.ly/51188503
*Terms and conditions apply, please contact our staff for details.
*Terms and Conditions: Offer is subject to availability while stocks last. This offer is only applicable to new registered customers of Supreme Mini Storage. In case of any dispute, the decision of Supreme Mini Storage shall be final. Registrants have read this Disclaimer page and agree to the Personal Data and Privacy Statement and are willing to receive promotional information.