World Reading Day! Want to read more than just patience, but also space? |Book Storage|One Storage|Mini Storage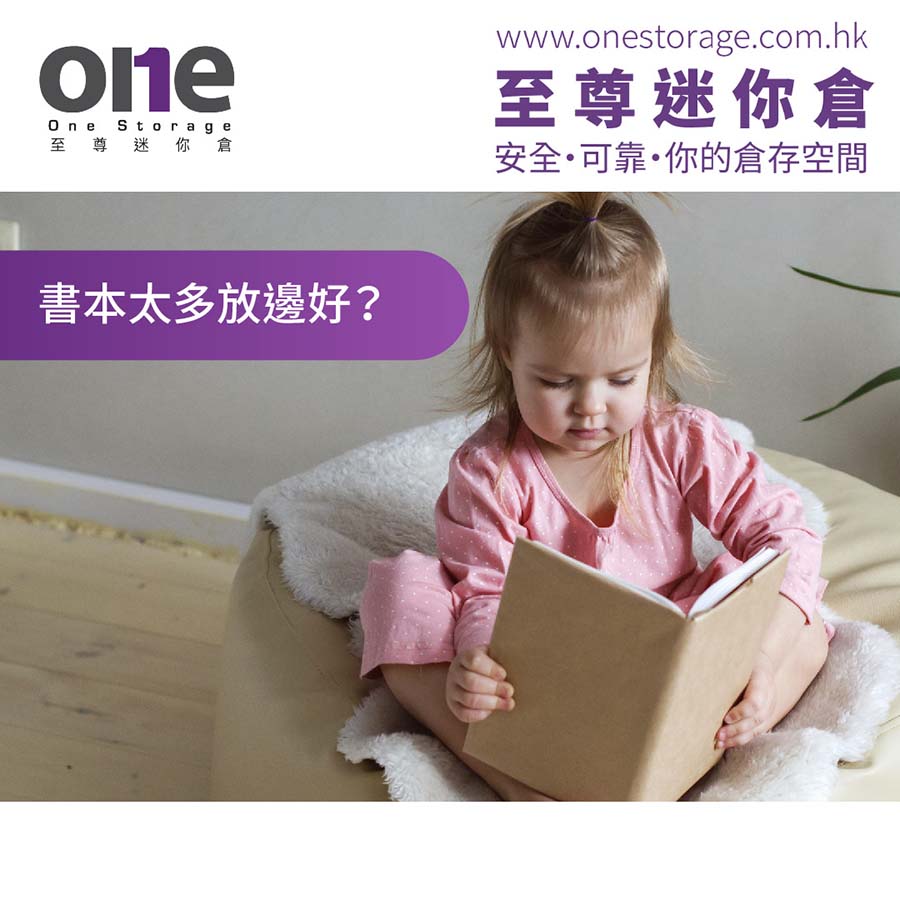 In 1995, UNESCO designated April 23 as World Reading Day, hoping to promote the culture and atmosphere of reading and writing to the public through World Reading Day!
Why is World Book Day on April 23? It is because the two world-renowned writers - Cervantes and Shakespeare both died on the same day, but the achievements of great authors do not pass away with their lives, but are immortalized by their words, so UNESCO named On April 23, World Book Day honors all authors and texts.
In Hong Kong, I believe that there are many people who love books. You can see from the annual book fair. Even if it is not World Book Day, there are still many people who love to read and collect books. Although it is good to love books, there are too many books. people worry.
How to collect books? Let's take a look!
According to book size
In fact, different books can be arranged from high to low, so that the books will have a downhill shape on the cabinet, which looks very neat and beautiful. Because the sizes of different books are different, if you arrange them at random, there will be different heights, which looks very chaotic! So placing it according to the size of the book can help solve this!
According to reading frequency
There are always a few books that you read more often, but you don't want to put them back on the bookshelf every time you read them because of the trouble, but these books are very messy on the table? In fact, you can collect books according to the different frequencies you read books, and plan a "frequent reading" location for easy access by yourself! This will keep your books neat and tidy without being too cumbersome!
However, there is not enough living space in Hong Kong. If you know the method, you may not be able to collect books well? In addition, Hong Kong is very humid, afraid of books turning yellow? Don't be afraid, find our One Storage Extreme Mini Storage is a good way!
One Storage has a total of 37 branches in Hong Kong, hoping to facilitate friends from all districts! The warehouse is also equipped with an all-weather constant temperature system and meets the requirements of fire prevention and safety. The items will not be damaged by moisture, even if you store books! It may not be possible to turn on the air conditioner for books every day at home, but store them in the One Storage Extreme Mini Storage, so you don't have to worry about your favorite books turning yellow or getting worms!


Don't have enough space at home to store books? Take a look at the current limited offer on One Storage Extreme Mini Storage!
-------------------------------------
Click to check our latest offer now
Talk to us: https://m.me/onestorage
-------------------------------------
✅ 24-hour easy access at any time
✅ 7x24 smart security access system
✅ HD security monitoring and alarm system
✅ Comply with latest Fire safety guidelines
✅ Constant temperature air-conditioning system
Hong Kong Island:
Siu Sai Wan | Chai Wan | Tin Hau | Kennedy Town | Wong Chuk Hang
Kowloon:
Yau Tong | Kwun Tong | San Po Kong
New Territories:
Kwai Chung | Kwai Hing|Kwai Fong | Tsuen Wan | Tsing Yi | Fo Tan | Tai Po | Tuen Mun
Express Whatsapp: https://cutt.ly/51188503
*Terms and conditions apply, please contact our staff for details.
*Terms and Conditions: Offer is subject to availability while stocks last. This offer is only applicable to new registered customers of Supreme Mini Storage. In case of any dispute, the decision of Supreme Mini Storage shall be final. Registrants have read this Disclaimer page and agree to the Personal Data and Privacy Statement and are willing to receive promotional information.