No clutter in the bedroom! Enjoy a sleep day! |Home Furnishings|One Storage|Mini Storage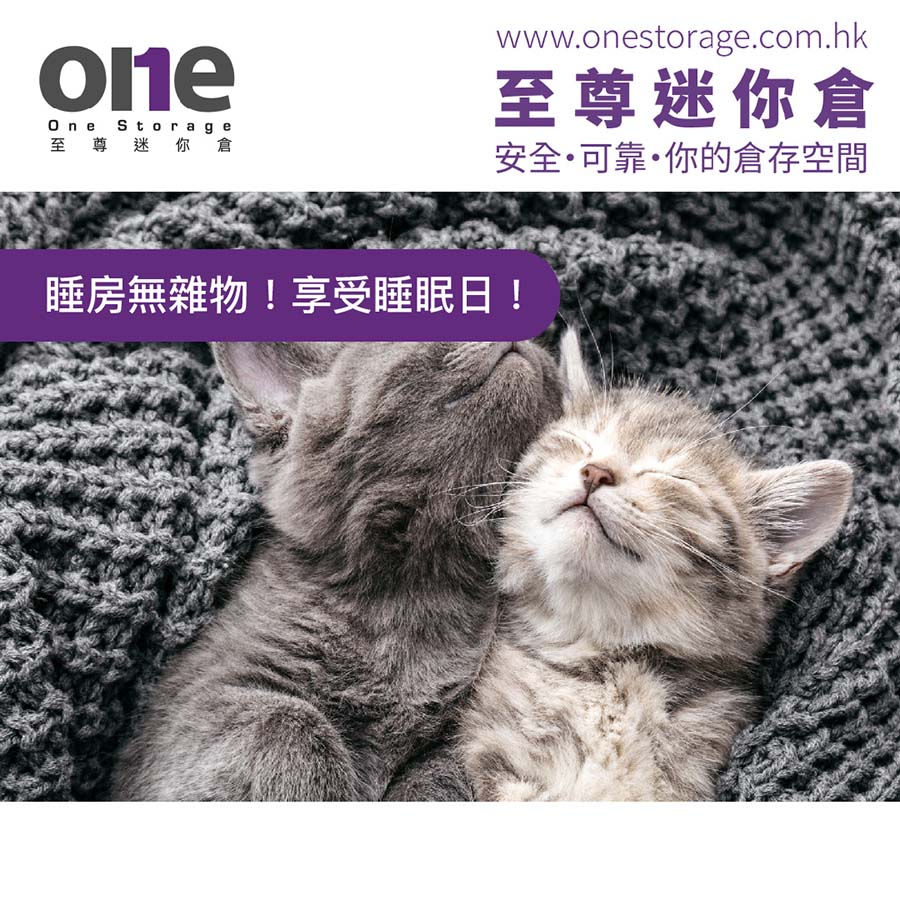 I believe that the wish of many Hong Kong people is to sleep a little more, and it is best to sleep until they wake up naturally! Then this year's March 18 - World Sleep Day, you have to pay attention! This day is an event initiated by the World Association of Sleep Medicine (WASM) in 2008 to make people aware of the importance of sleep, and is now promoted by the World Sleep Society (WSS).
In fact, the day is not fixed every year, but the Friday before the spring equinox.
How can we "feast"? In addition to falling asleep, in fact, cleaning the bedroom is also a good way! A bedroom full of clutter, how can people sleep at ease and sleep comfortably? However, many people may not have their own hands and tails and put their clutter everywhere, but because Hong Kong has always been short of space, the clutter has to be placed in the bedroom, or even on the bed or chair.
In fact, many people know the importance of sleep, but just do not have the space and time. If you want to clear the space and get a good night's sleep? Why don't you find One Storage Extreme Mini Storage Helper!
We have a total of 37 branches in Hong Kong, which is convenient for friends from all districts! The design of the mini warehouse strictly follows the requirements of fire prevention and safety. Guests can put all household sundries in the warehouse and give themselves a satisfactory and tidy bedroom! The warehouse is also equipped with a 24-hour air-conditioning and constant temperature system to ensure that guests' items are kept dry at all times, so you can rest assured! Guests can safely store their items in the mini-storage and enjoy a perfect sleep when they get home!

It is safest to choose One Storage Extreme Mini Storage from the warehouse! Don't miss out on this limited offer from One Storage Extreme Mini Storage!
-------------------------------------
Click to check our latest offer now
Talk to us: https://m.me/onestorage
-------------------------------------
✅ 24-hour easy access at any time
✅ 7x24 smart security access system
✅ HD security monitoring and alarm system
✅ Comply with latest Fire safety guidelines
✅ Constant temperature air-conditioning system
Hong Kong Island:
Siu Sai Wan | Chai Wan | Tin Hau | Kennedy Town | Wong Chuk Hang
Kowloon:
Yau Tong | Kwun Tong | San Po Kong
New Territories:
Kwai Chung | Kwai Hing|Kwai Fong | Tsuen Wan | Tsing Yi | Fo Tan | Tai Po | Tuen Mun
Express Whatsapp: https://cutt.ly/51188503
*Terms and conditions apply, please contact our staff for details.
*Terms and Conditions: Offer is subject to availability while stocks last. This offer is only applicable to new registered customers of Supreme Mini Storage. In case of any dispute, the decision of Supreme Mini Storage shall be final. Registrants have read this Disclaimer page and agree to the Personal Data and Privacy Statement and are willing to receive promotional information.