A Guide to Living in Diamond Hill, Wong Tai Sin! |Real Estate, Decoration, Moving House, Transportation and Living Facilities, Mini Storage|One Storage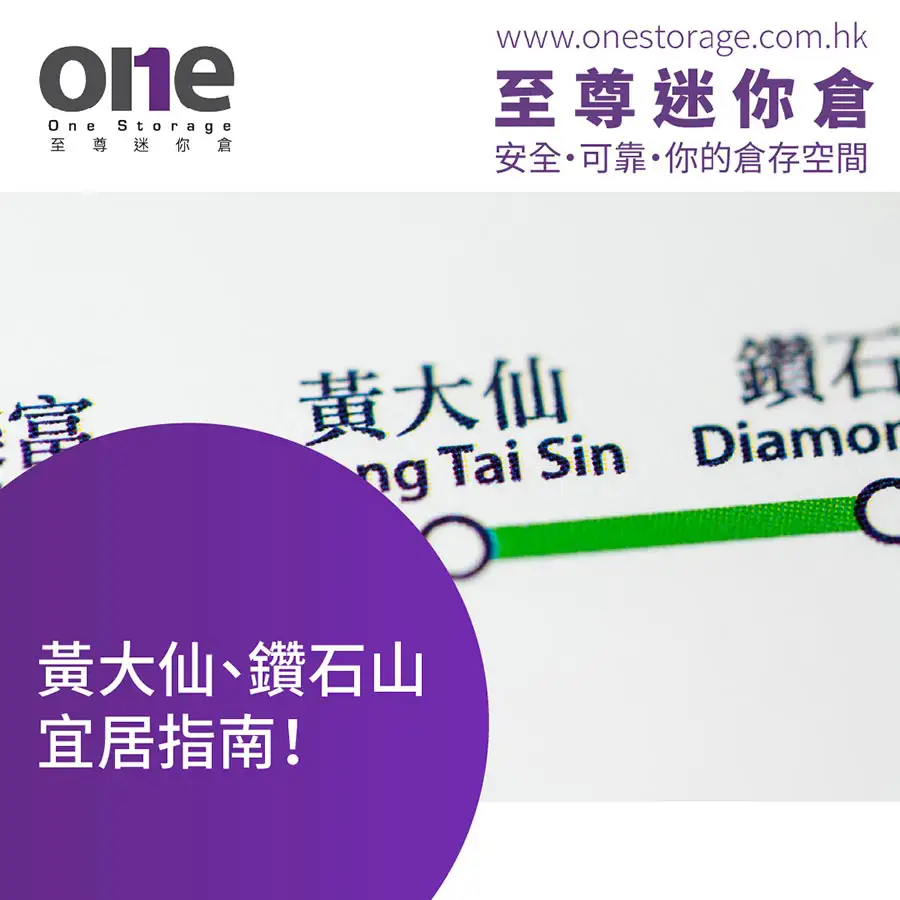 District Introduction - Wong Tai Sin
Area Introduction-Diamond Hill
Wong Tai Sin and Diamond Hill Properties
Preparation before moving house
Mini Storage Introduction
Wong Tai Sin should be regarded as one of the most famous districts in Hong Kong. The name itself is culturally colored, coupled with the world-famous Wong Tai Sin Temple, many friends from different countries come here! However, in addition to being famous as a scenic spot, in fact, Wong Tai Sin District - especially Diamond Hill, is also a place where quite a lot of Hong Kong people will choose to buy a property.
District Introduction - Wong Tai Sin
Wong Tai Sin District is located in the east of Kowloon District, backed by one of Hong Kong's famous symbols - Lion Rock, which has many different residential areas, such as Zhuyuan, Wong Tai Sin, Diamond Hill, Tsz Wan Shan, Axe Hill, Lok Fu, etc. At the same time, Wong Tai Sin District is an inland area of ​​Hong Kong. With the geographical environment of the Kowloon Peninsula surrounded by the sea on three sides, Wong Tai Sin District is the only administrative area in Hong Kong without a coastline.
The old name of Wong Tai Sin was "Bamboo Garden", but the current "Bamboo Garden" mostly refers to a residential area in Wong Tai Sin District, and no longer refers to the entire Wong Tai Sin. The reason why Wong Tai Sin got its name is said to be because of a red pine Wong Tai Sin Temple in the district.
As early as 1921, Wong Tai Sin Temple had set up an altar in Zhuyuan Village at that time, and its name was "Chisong Immortal Hall", and it was still at the same address after many years. In 1979, Hong Kong officially built the early MTR system, and Wong Tai Sin became one of the first four districts with MTR stations in Hong Kong. It can be seen that the Wong Tai Sin district was already populated by many people at that time, and it was later expanded into the entire Kwun Tong. Wire. In the 1990s, the Tate's Cairn Tunnel, which is about 4 kilometers long and connects Kowloon and the New Territories, was officially opened to traffic, making it easier to travel between Kowloon and the New Territories. At the same time, in 2020, the MTR's Tuen Ma Line will open to traffic, and Diamond Hill Station serves as a transit station for several lines, making Wong Tai Sin District one of the central points of the Hong Kong MTR's transportation network.
Area Introduction-Diamond Hill
The Diamond Mountain is actually a mountain in the Wong Tai Sin area. The original Diamond Mountain peak is about 182 meters above sea level, and the adjacent one is even higher than the Axe Mountain. However, after years of quarry mining, there are only about It is 100 meters above sea level and has been developed into a major residential area in Wong Tai Sin District.
However, although Diamond Mountain was used as a mine for quarrying stones in the past, it was not a quarry for mining diamonds, but why did it get this name? There are many different explanations for this in the market. It is said that the current mainstream view is that the word "drilling" in the name is actually a verb, which means to drill and drill out of the rock.
The quarry at Diamond Hill was in operation in the 1960s and 1990s, but now the mountain has been leveled by Dazhi, and the former quarry site has been rebuilt in two phases. Village, and the part that was later closed is now the School Village and Po Kong Village Road Park.
During the time when Hong Kong film was developing smoothly (1950s to 1960s), there were many different studios in Diamond Mountain, such as Daguan Studios, Yonghua Studios, Cathay Pacific Studios and Golden Harvest Studios. The Plaza Hollywood, which was built nearby, was named to reflect and respect the history of Hong Kong cinema.
There are sufficient community, cultural and educational facilities in the area. There are Po Kong Village Road School Village and many primary and secondary schools around it, as well as various cultural and recreational facilities such as Po Kong Village Road Sports Centre, Chi Lin Nunnery, Nan Lian Garden Pond, Fung Tak Park and Axe Hill Road Sports Ground, etc.
There used to be the last large squatter estate in Hong Kong, Tai Hom Village, but it was completely remodeled a few years ago and used for the expansion of the Tuen Ma Line and the construction of public housing and HOS housing.
Wong Tai Sin and Diamond Hill Properties
Wong Tai Sin and Diamond Hill are both residential areas with many years of history. There are sufficient cultural and recreational facilities in the area, making them quite livable! It's always right to know the real estate information in the local area!
Wong Tai Sin and Diamond Hill Property 1-Now Chong Shan Lions Rise
The project is located at No. 8 Mu Lin Street, Wong Tai Sin, Kowloon. It was completed in 2012. The project consists of five 31-storey residential buildings, providing a total of 968 residential units.
The project also has an exclusive clubhouse, with a total area of ​​more than 130,000 square feet of facilities and gardens, including about 35,000 square feet of residential clubhouses that provide more than 20 different cultural and recreational facilities, such as fitness rooms, spas, outdoor and indoor swimming pools and Children's playroom and other services. The clubhouse also has two banquet halls that can be rented for different events.
Wong Tai Sin and Diamond Hill Property 2-Diamond Hill Aspen Crest
The project is located at No. 68, Wan Fung Street, Wong Tai Sin. It is a single-block residential building with a total of 234 units, with unit sizes ranging from 198 square feet to 654 square feet, with a focus on small units below 300 square feet. The project clubhouse also has supporting facilities such as swimming pool, fitness room, multi-purpose activity room and garden.
Preparation before moving house
If you want to move into a new home, you are also ready to move. In fact, there are some things you need to prepare before moving!
Preparation before moving house 1 - stop the service of the old residence and transfer
Before moving out of the old house, you should contact the gas company, water bureau, electric power company and telephone company to stop the service in the old house, and apply for the service and transfer of the new house.
Prepare before moving house 2-Property insurance
You can contact the insurance company to check whether there are refundable property insurance premiums, deposits and prepaid fees. If necessary, you should also contact the insurance company to manage the insurance related matters of the new home.
Prepare before moving house 3 - change delivery address
Nowadays, everyone is used to online shopping for home delivery. Remember to change the delivery address of all websites to avoid trouble and misunderstanding.
Decoration information
Want to live in your new home happily and at ease? In addition to moving the house, you should also pay attention to the decoration. Let's take a look at the following small information!
Decoration information 1 - pay attention to the main wall
To decorate, especially if you plan to demolish the wall, it is best to consult the property management office and obtain structural drawings. Because it is necessary to properly identify the main wall, the main wall is the main bearing point of the house or even the building. Once a problem occurs, if it is accidentally removed, it will not only destroy and shake the structure of the building, but also affect the safety of the building.
Renovation Information 2 - Replacement of Door Locks
After buying a house, you must replace a new door lock, which can not only protect the safety of your family and property, but also eliminate the possibility of any misunderstanding.
Decoration information 3-check waterproof
After the renovation, you must carefully check whether there is any water leakage problem in the home and the quality of the waterproof treatment. Because Hong Kong often rains, if there is a water leakage problem in the wall or other places in the home, it will definitely cause great trouble, and the waterproof treatment must be redone in the future.
Mini Storage Introduction
Wong Tai Sin and Diamond Hill are residential areas full of history. With years of development and construction, they already have very complete cultural, recreational, sports and recreational facilities. Coupled with the expansion of subway lines, the transportation is convenient, and it can even be called extending in all directions! With sufficient facilities and transportation facilities, it really is one of the livable areas in Hong Kong! For those of you who live in Wong Tai Sin and Diamond Hill, if you need a mini storage that is easy to use, there are also nearby!
There are two branches of our One Storage near the area, ready to serve you!
Lijia Branch (Unit CD, 9/F, Lijia Industrial Building, 8 Ng Fong Street, San Po Kong, Kowloon)
King King Branch (Unit A, 3/F, King Fook Industrial Building, 114 King Fook Street, San Po Kong, Kowloon)
Our One Storage always hopes to serve you. There are branches in Hong Kong, Kowloon and the New Territories to provide you with all-day warehouse rental services. There is always one of the 37 branches for your convenience! The design of the warehouse is absolutely in accordance with various mini-storage fire and safety requirements, and the safety of guests and storage items should be guaranteed at the same time. I hope you can store it at ease and feel the convenience brought by the mini-storage easily! At the same time, our One Storage provides different storage types, allowing you to easily rent suitable storage types and use up all the space without wasting!

Friends of Wong Tai Sin and Diamond Hill? Want to feel the convenience of mini storage? Don't miss the limited offer from One Storage!
-------------------------------------
Click to check our latest offer now
Talk to us: https://m.me/onestorage
-------------------------------------
✅ 24-hour easy access at any time
✅ 7x24 smart security access system
✅ HD security monitoring and alarm system
✅ Comply with latest Fire safety guidelines
✅ Constant temperature air-conditioning system
Hong Kong Island:
Siu Sai Wan | Chai Wan | Tin Hau | Kennedy Town | Wong Chuk Hang
Kowloon:
Yau Tong | Kwun Tong | San Po Kong
New Territories:
Kwai Chung | Kwai Hing|Kwai Fong | Tsuen Wan | Tsing Yi | Fo Tan | Tai Po | Tuen Mun
Express Whatsapp: https://cutt.ly/51188503
*Terms and conditions apply, please contact our staff for details.
*Terms and Conditions: Offer is subject to availability while stocks last. This offer is only applicable to new registered customers of Supreme Mini Storage. In case of any dispute, the decision of Supreme Mini Storage shall be final. Registrants have read this Disclaimer page and agree to the Personal Data and Privacy Statement and are willing to receive promotional information.