Yau Tong Living Guide! |New real estate, moving house, decoration, express delivery, mini storage|One Storage|mini storage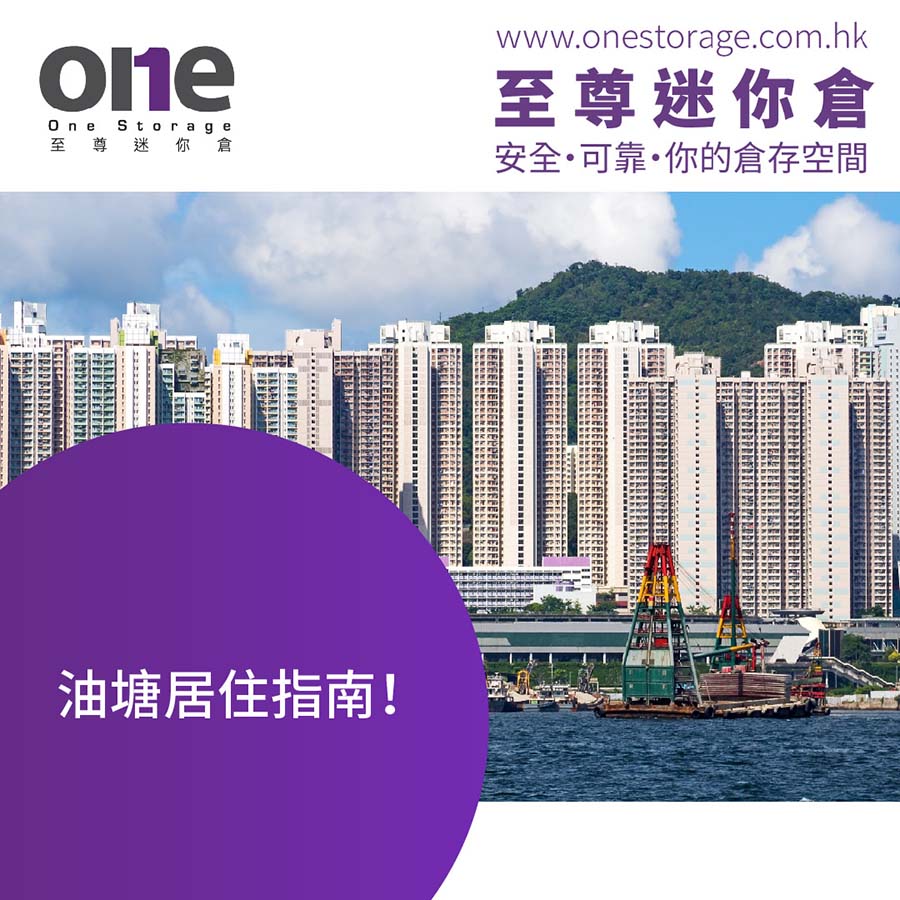 Points to note on renovation works
Points to note during the moving process
Yau Tong is located in the south-eastern part of Kowloon and is administratively part of the Kwun Tong district. The northern part of Yau Tong is a residential area with mainly public housing and Home Ownership Scheme (HOS) flats, while the southern part of Yau Tong is still an industrial development area, but part of it has been planned as a private residential area. As a result, there is a considerable supply of housing in Yau Tong, so we at One Storage are ready to show you more about living in Yau Tong!
District Introduction - Yau Tong
Before 1940, Yau Tong was actually a suburban area with no special development. It was only in the 1960s that a public housing area was designated along Lei Yue Mun Road, and later on, Yau Tong Estate and Ko Chiu Road Estate were built and an industrial area was established along the coast.
Yau Tong has always been regarded as a relatively remote area, probably because it is relatively far from the centre of urban development in Kowloon. Even when the MTR Kwun Tong Line was opened, there were no plans for Yau Tong to be built. However, with the opening of the Eastern Harbour Crossing and the Tseung Kwan O Line, Yau Tong became more accessible and large housing estates and private residential developments began to be built.
The early public housing estates in Yau Tong were demolished and redeveloped around the 1990s, and industrial buildings were left vacant due to the decline of Hong Kong's manufacturing industry. As a result, there are now many more residential areas in Yau Tong.
There is an interesting story about the origin of the name of Yau Tong, which was formerly known as Yau Tong. In fact, in the earliest official documents, Yau Tong was referred to by the English name Yau Tong, so it is difficult to know whether it was Yau Tong or Yutong.
It is also said that the construction of an oil depot in Cha Kwo Ling began in 1947, and that the depot was expanded in 1954, so the name 'Yau Tong' was gradually changed to 'Yau Tong'.
According to some old photographs and film clips, most of the bus routes in the Yau Tong area in the 1960s started as "Yau Tong", but when the MTR Tseung Kwan O Line was opened in 2002, "Yau Tong" station became the official station name. Therefore, it can be proved that both names are or have been used, only that most people now use the name "Yau Tong".
Yau Tong Properties
As mentioned above, Yau Tong is a very residential area, so of course you want to know more about it, and we at One Storage have something for you!
Yau Tong Property 1 - Sunset Terrace maya
Located at 8 Shung Shan Street, Yau Tong, Hong Kong, the development offers a total of 2 blocks of 33 storeys with 326 units, ranging from 456 to 1,838 sq ft in saleable area, with mainly 2 and 3 bedrooms. The project features electronic furniture such as lighting, air-conditioning and curtains that can be controlled by smartphones and tablet computers. The residents will also be able to access their homes remotely when they are away from home through the webcams provided. The mailboxes are also equipped with electronic sensors so that residents can receive instant notification of new mail via the in-home video intercom.
Yau Tong Property 2 - Montego Bay
Located at 18 Shung Shun Street, Yau Tong, Hong Kong, Montego Bay offers a total of 4 residential towers with 688 units ranging from 230 to 2,000 square feet in saleable area and a variety of room types from open plan to 4-bedroom units, with a focus on 2-bedroom units. Most of the units are sea-facing, offering residents views of Victoria Harbour and the Lei Yue Mun Channel from various angles.
Points to note on renovation works
When you want to move into a new place, you have to start the renovation process after you have purchased the flat. There are some important points you should pay attention to!
Renovation point 1 - Understand the diagrams
To ensure that the renovation project is exactly what you want it to be, you should communicate clearly with the renovation company and the master when understanding the plans.
Point 2 - Construction specifications
You should ask the renovation company to set out in detail the specifications and standards of construction, such as the angle and spacing of flooring, the standard of waterproofing, the condition of aluminium window edges, etc.
Point 3 - Identify the dimensions
It is important to check with the decorator and the contractor the dimensions of various materials, such as the size of the aluminium windows, the thickness of the glass, the size of the bricks, etc., to avoid future disputes over the size of the items and even the progress of the project.
Key point 4 - Understand the characteristics of materials
The characteristics and nature of different materials will produce different effects. For example, art paints are painted differently from ordinary paints, so if you do not understand the characteristics of the materials, you may not be able to achieve the desired effect.
Points to note during the moving process
Your new home is finished and you are ready to settle in! No, we still have to move! I'm sure you don't move around a lot, so there may be some things you should be aware of when you move, but don't worry, we've got tips for you!
Tips for moving house 1 - Pay attention to the lucky day and time
Many people who believe in feng shui and fortune telling may need to pay attention to auspicious dates and times, but in reality, they also need to match the moving company's schedule with their own, so it is important to check and explain the moving schedule in advance so that it can match the auspicious dates and realistic factors at the same time!
Note 2 - Get to know the environment of your new home first
You should know the surroundings of your new home in advance, and inform the removal company of all the things you need to pay attention to.
Note 3 - Remember to pack your keys
If you don't have a key for your new home, you should make sure you have one in advance to avoid not being able to open the door until the removal company has completed the move.
Introduction to Mini Storage
Yau Tong is a great place to live without the hustle and bustle of the city, so it's only natural to want to move to the area. But there is another factor that makes Yau Tong so attractive. For those of you with limited living and storage space, there will be times when you need mini storage in your daily life!
That's why it's great to have a mini storage unit near your home, and Yau Tong has a reliable One Storage mini storage unit!
Wah Fai Branch (Unit A, 1/F, Wah Fai Industrial Building, 4 Sze Shan Street, Yau Tong)

We have nearly 30 One Storage Mini Storage shops in various parts of Hong Kong, so we can help you in every district! Not only do we operate 24 hours a day, but we also have a 24-hour electronic security and air-conditioning system to ensure that all your belongings, whether they are household items such as tables, appliances or valuable collectibles, are in good condition and safe.
One Storage also has a useful space calculator on its website! You can follow the step-by-step instructions to work out the type of storage you need! Once you have a clear idea of what you need, you can ask our staff to arrange a rental arrangement to make your home lighter and your life more spacious!

In the New Year, we hope that you will not only live comfortably, but also rent well!
For concessionary registration enquiries: https://m.me/onestorage
-----------------------------
Renovation | Short term rental | One Storage Can Help | Mini Storage

-------------------------------------
Kennedy Town | Tai Po | Chai Wan | Siu Sai Wan | Wong Chuk Hang | San Po Kong | Yau Tong | Kwai Chung | Kwai Hing | Kwai Fong | Tsuen Wan | Tsing Yi | Fo Tan | Tuen Mun
Click here for Express Whatsapp: https://cutt.ly/51188503
*Terms and conditions apply, please contact our staff for details.
*Terms and Conditions: Offer is subject to availability while stocks last. This offer is only applicable to new registered customers of Supreme Mini Storage. In case of any dispute, the decision of Supreme Mini Storage shall be final. Registrants have read this Disclaimer page and agree to the Personal Data and Privacy Statement and are willing to receive promotional information.