Christmas decoration collection trick! |Christmas decoration|One Storage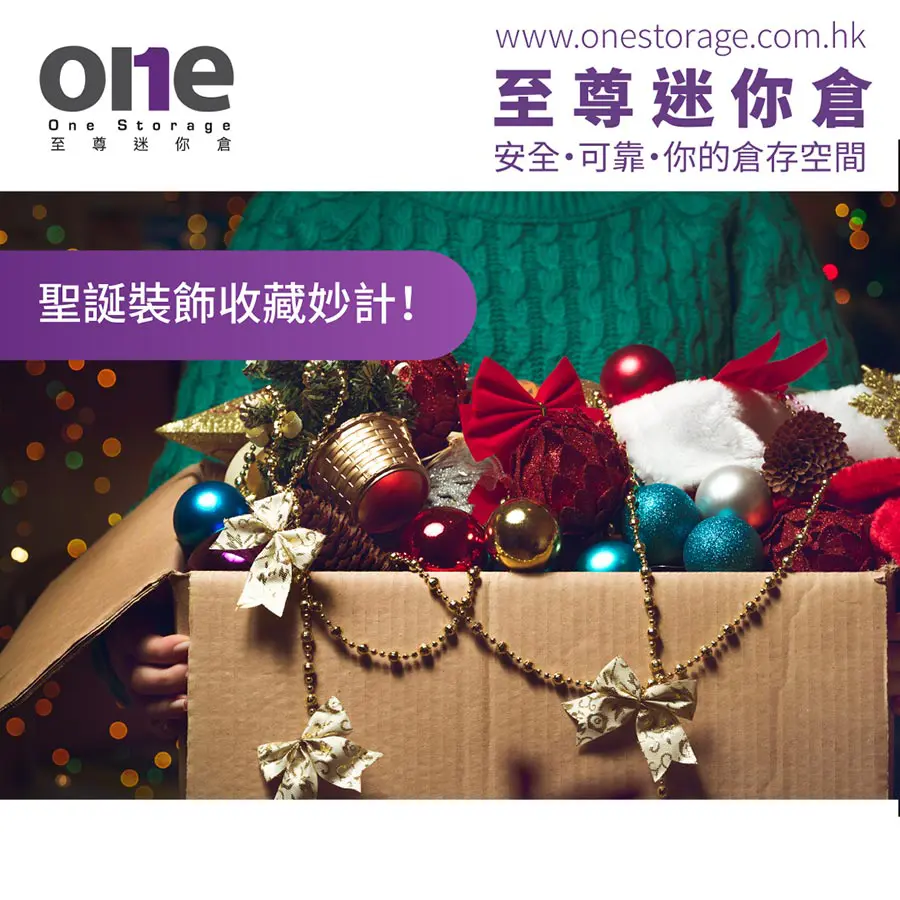 After Christmas, of course, you have to decorate your home with different Christmas decorations to have the atmosphere! If you don't want to buy new decorations every year, you have to learn to store them well. Let's take a look at the tips that our One Storage supreme mini-storage will share with you!
Christmas tree storage
If you are buying a real Christmas tree, it should be difficult to put it away and wait for a few years to use it again. So we are actually referring to the plastic or paper Christmas tree that most Hong Kong families will buy.

Basically, these Christmas trees can be separated and stored, so remember to leave their own packaging box for easy restoration after use. At the same time, the edges can be sealed with adhesive tape to achieve dust and insect-proof effects.

Christmas ornament storage
There are many types of Christmas ornaments, and different storage boxes can be used to store them effectively. If you are afraid that it is difficult to classify, you can put a label on the box. It is not recommended to wrap it in old newspapers or magazines, because the ink stains on it will stain the relevant decorations. Pure white paper towels or storage bags are a better choice.
Christmas wreath storage
The Christmas wreath cannot be folded and stored separately, so the best way is to wrap it in a dust bag first, and then hang it vertically in the closet, or put it in a large space under the bed.
However, we still have one of the best ways to share with you, which is to rent a mini storage to solve the Christmas decoration storage problem, and the most trustworthy one must be our One Storage supreme mini storage!
One Storage Supreme Mini Storage has nearly 30 branches in 18 districts in Hong Kong, which are all convenient. It also supports 24-hour deposit and withdrawal, so you can store your holiday decorations easily and worry-free!

Christmas decoration is used to decorate the home, not to add storage troubles! Pay attention to the limited discounts offered by One Storage Supreme Mini Storage!

Now successfully register for 12 months to enjoy a special discount, plus 1 month of free warehouse rent*! 40% off 12+1*, hurry up and register to make an appointment
-----------------------------

-------------------------------------
Kennedy Town | Tai Po | Chai Wan | Siu Sai Wan | Wong Chuk Hang | San Po Kong | Yau Tong | Kwai Chung | Kwai Hing | Kwai Fong | Tsuen Wan | Tsing Yi | Fo Tan | Tuen Mun
*Terms and conditions apply, please contact our staff for details.
*Terms and Conditions: Offer is subject to availability while stocks last. This offer is only applicable to new registered customers of Supreme Mini Storage. In case of any dispute, the decision of Supreme Mini Storage shall be final. Registrants have read this Disclaimer page and agree to the Personal Data and Privacy Statement and are willing to receive promotional information.