One Storage|Mini storage | Hong Kong bicycle warehouse storage space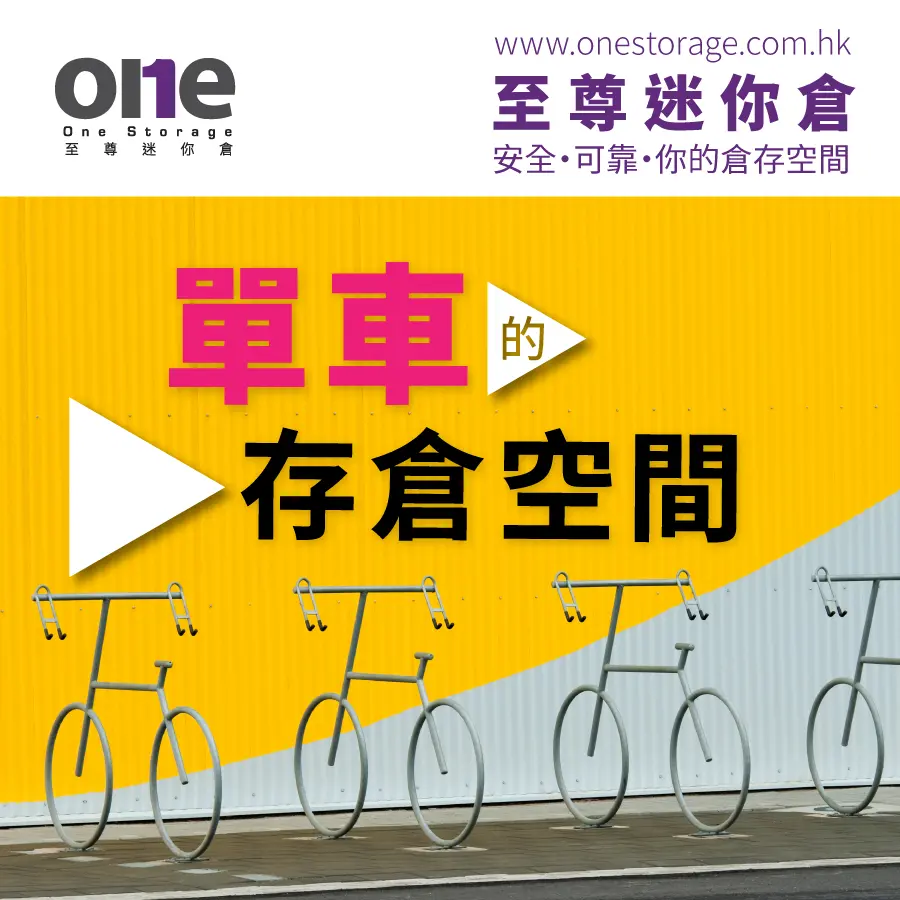 What else can be stored in mini storage?
In recent years, with the increasing number of cycling trails and the rise of energy and carbon reduction, the trend of cycling is on the rise, with many people getting used to cycling in Yuen Long, Tai Po and Sai Kung on holidays. With the cycling trend, many people will buy their own stackable bikes. However, for many people, bicycle storage has always been a problem! This is because storing bicycles has always required attention to many details: for example
Regular cleaning and oiling
No matter how careful and tidy you are, you will inevitably get some stains (such as sand, gravel, oil, etc.) on your bike on the way. It's important to get rid of these stains as soon as possible, as they not only affect the appearance of the bike, but can also cause damage to the frame.
Also, different joints of the bike such as the axle, pedals and chain need to be lubricated regularly to reduce rust and maintain flexibility. A thin layer of lubricant is just right!
Balance when storing
It's not just a matter of finding a place to put your bike. When placing your bike, you need to pay attention to whether the weight of the bike is balanced, as uneven forces at an early stage can cause damage and wear to the frame.
All of this may not be easy to take care of at home, so you may be able to afford a bike, but have no place to put it! What should I do, my wife asks?
Well, the Bicycle Warehouse - One Storage, with 30+ branches in Kowloon, New Territories, Hong Kong, near Tsuen Wan, Tuen Mun, Fo Tan and other places with bike trails, and close to MTR stations, is a great place for many people to store their bikes!
Tom, who lives in Fo Tan, cleared out a room in his home that was originally used for storing miscellaneous items, containing several professional bicycles and small furniture that had not been used for a long time, filled with books. Due to the lack of space in the house, owning your own bike became a bit of an issue with your wife!
After all, you can get away with clutter, but there's no place to store your bike! Eventually, after a friend introduced him to the Mini Storage in Fo Tan, Tom rented a bike storage unit and put his bike in it.
If you want to take your kids on vacation and ride your bike in Tolo Harbour, just use the mini storage to get your card and you can get in and out 24 hours a day, set up and adjust your bike and get ready to go tomorrow!
Before Tom rented the mini storage, like many others, he considered putting his bike directly in the attic of his shop to save time and energy, but knowing that the mini storage has 24-hour dehumidification, Tom signed up for a 16-foot mini storage unit for his bike and, of course, other miscellaneous items and toys for the kids. After all, if his beloved bike gets rusty and moldy, it's more than worth it! When you put your bike in mini storage, you don't have to worry about mold and mildew due to humidity.
Tom is also very pleased with the professional management of One Storage's associates! Once again, One Storage has solved a customer's problem! Very happy! If you would like to ask more questions about mini storage rentals, please click here for more information on mini storage.

Translated with www.DeepL.com/Translator (free version)