Camping and Hiking Tips|Store your equipment|One Storage|Mini Storage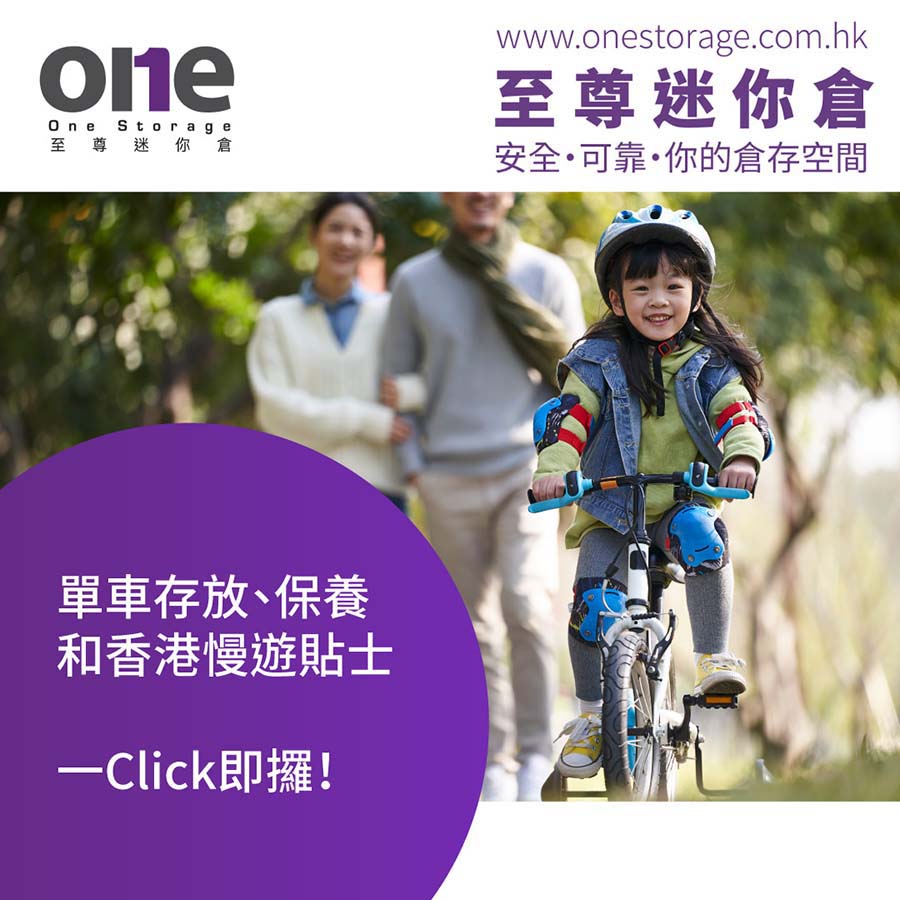 Introduction to camping and hiking equipment
The storage method of camping and hiking equipment and the magical use of mini storage
Many Hong Kong people will sigh during holidays. People really have nothing to do during the holidays in Hong Kong. At most, they watch movies and eat takeaways at home every day. But is this really the case? In fact, many tourists from other places think that the geographical environment of Hong Kong is quite unique. Although there are different urban areas that provide convenient and quick daily life needs, on the other hand, they also have a variety of different natural features.
I believe that in fact, there are some small hills or country parks near the homes of many people, but we have never paid attention to them. If you are willing to spend a little more time on the outlying islands in the nearby sea, you can even discover some rare landforms and beautiful scenery in the world.

However, in recent years, many people have become more interested in the natural beauty of Hong Kong, and have begun to be active in hiking, camping and other activities. Therefore, our One Storage Supreme Mini Storage has also prepared some relevant information, hoping to make you have a happier and more enjoyable experience. carefree!
Hiking location introduction
Hong Kong is suitable for hiking and there are countless places for outings. Let us introduce some basic information for you, so that you can travel with friends at any time! At the same time, remember to be fully prepared and do what you can!
Hiking location 1-Lion Rock, Wangfu Rock
Lion Rock and Wangfu Rock should be one of the most famous hiking spots in Hong Kong, even if you have no experience in hiking related activities, you should know them. The Lion Rock is 495 meters high. As long as you are in the New Territories and Kowloon, you can easily see the Lion Rock from a glance. As one of the popular routes for mountain hikers, Lion Rock has relatively clear directions, and most sections of the road are paved with steps. After climbing to the top of the Lion Rock, the sight of Kowloon and the New Territories is really refreshing! The Wangfu Stone on Lion Rock is also very famous, and friends in Sha Tin must know it, and may also know the stories behind it.
Hiking location 2-Longji
The Dragon's Back, which belongs to the eighth section of Hong Kong Island Trail, is located in Shek O. Because of the continuous ups and downs of Shek O's mountains, it resembles the bones of a dragon, hence the name Dragon's Back. In 2004, Longji was voted as the best urban hiking trail in Asia by the Asian edition of Time Magazine! How can hiking enthusiasts not check it out? The beautiful scenery along the way is changeable, and you can enjoy the scenery of Shek O and Stanley at the same time!
Hiking location 3-Dadongshan
Da Dong Shan, located in South Lantau Island, is as high as 869 meters above sea level! You can squeeze into one of the three high mountains in Hong Kong, and there are other hiking hotspots around! Nearby you can reach Phoenix Mountain, Erdong Mountain and Lianhua Mountain. If it takes about 3 hours to go up Dadongshan from Mui Wo, it is recommended to watch the sunset after reaching the top of the mountain. At the same time, there are high and low stone houses on the top of the mountain, which is also a characteristic attraction of Dadongshan! If you want to see Miscanthus in Dadongshan, the best time is from November to December every year. You can admire Miscanthus at the right time. It is very charming under the light of sunlight, just like a golden wheat field!
Hiking location 4-Donglong Island
Starting from Sanjia Village, you can reach Donglong Island in half a clock boat ride. And Donglong Island is also known as "Tonglong Island" because there are sea caves that are quite rare in Hong Kong! In addition to sea caves, the ability to see complete cliffs and a large sea view is also a major selling point. There are fort ruins and rock carvings of considerable historical value nearby! Later, you can also visit Nantang Wharf. There are different supplies nearby, so you can decide your next destination!
Tips for Safe Hiking
Of course it is good to go to the suburbs for physical and mental activities, soak up the breath of nature and fresh air! But now everyone is hiking, but not everyone knows how to protect their safety. Have fun, but more peace of mind, so let's take a look at the safety tips we prepared!
Safety Tips 1-Pay close attention to your physical condition
You must bring enough food and drinking water to hike. Don't forget to replenish water and eat regularly. Don't force it. If there is water shortage or low blood sugar, it will be very dangerous! If you feel unwell, don't hesitate to turn back or call for help immediately.
Safety Tips 2-Pay attention to your surroundings
When hiking and outings, you should try to walk on a flat and safe road. Avoid walking near slopes or streams. At the same time, you should not climb rocks or step out of cliffs for the purpose of "punching" in the shadows. It is easy
Mistakes are injured and even life-threatening.

Safety Tips 3-Think clearly about the route
There are so many places for hiking and outings in Hong Kong. Many of them are fascinating and I want to experience it for myself, but in fact, the difficulty of different routes is different, and some of them require both hands and feet. They are definitely not suitable for novices. Therefore, you must make a good investigation or consult a professional when you start, and try to choose a route that suits your abilities. At the same time, avoid deviating from the original route or hiking at night. In the case of poor mobile phone signal reception and getting lost, it is difficult to seek assistance in the event of an accident.
Safety Tips 4-It is best to travel together and explain clearly to your family
Find a few friends to travel with yourself and take care of each other. In case of an accident, you can help and seek assistance. At the same time, you should also explain to your family clearly your destination, the time required, etc., in case you need it.
Introduction to camping and hiking equipment
There are many uses for camping and hiking, and some of them may not have been used for all of them. Let us introduce them to everyone!
Appliance Introduction 1-Camp Screen
There are different types of camps, depending on the weather, the number of people and the weight to choose. If you need to accommodate more people, you need to choose a larger-capacity camp screen, but also consider that the larger the camp screen area, the heavier and heavier it will be. Balance weight and capacity at the same time. At the same time, it is best to use mosquito nets and waterproof camp screens in summer to deal with rain and mosquitoes.
Utensils introduction 2-cooking utensils
It is necessary to use lighter and safer stoves and fuels outdoors than at home. However, the firepower is relatively low, so outdoor cooking will take longer. Avoid preparing foods that are difficult to cook or take longer. At the same time, the utensils used for outdoor cooking will also be different from the kitchen utensils at home. They are usually lighter and can be combined into one body for easy carrying.
Appliance introduction 3-map and compass
The compass is used together with the map to help find directions and positioning outdoors. However, maps and compasses were originally a must for outdoor outings, but now many people forget to take them when traveling because they have mobile phones. Although the mobile phone has comprehensive and powerful functions, it is better to have the habit of traveling with a map and a compass, because once the signal connection is poor or the battery of the mobile phone is exhausted, traditional methods must be used to find the way.
Appliance introduction 4-headlight
The headlight can make you do not need to hold a flashlight and make full use of your hands for different tasks. It will be useful at night, when looking for objects or unfortunately accidents happen.
Appliance introduction 5-whistle
The whistle can be used to make a sound, it is very useful for notifying the people walking around, or for warning or reporting the location when an accident occurs.
Tool introduction 6-Hiking stick
The trekking pole can be used to balance the body. It is very helpful on some difficult roads. At the same time, it also spreads the force of the lower limbs evenly to the upper limbs.
The storage method of camping and hiking equipment and the magical use of mini storage
There are a lot of camping and hiking supplies, how can we store them properly? Here are some good methods, and further suggestions on how to make good use of the mini storage for storage!
Storage method 1-camping storage box
Choose some camping storage boxes specially designed for storing camping supplies. The inner compartment is more practical than ordinary boxes and is more suitable for storing related equipment.
Storage method 2-centralized placement
Camping supplies are not often used, so do not place them with general household items. It is best to place all camping supplies together for easier management and access.
Storage method 3-choose utensils that are convenient for storage
Many camping supplies have special designs that can be stacked and separated. Choose a utensil that is convenient for storage and it will not cause storage troubles.
Storage method 4-regular cleaning and inspection
Because it is not commonly used, hiking and camping supplies are prone to no electricity or malfunctions. Therefore, it must be cleaned and inspected regularly to avoid problems when needed.


The magic of mini storage
Camping is of course a beneficial activity for the body and mind, but it also requires a lot of supplies. As the saying goes, "If you want to be good at work, you must first sharpen your tools." I want to buy more useful and safer related supplies, but I am afraid that there is not enough space in the home. No less? In fact, you should try to rent a mini storage! Put the things that are not commonly used, such as hiking and camping supplies, in the mini storage, so you don't have to worry about storing things anymore!
One Storage Supreme Mini Storage is convenient for you to rent at any time, and you don't have to be afraid to go to the "long mountains and long rivers", because we have nearly 30 branches in Hong Kong, and there is always one by your side!
At the same time, the One Storage Supreme Mini Storage strictly follows the fire protection regulations and relevant mini storage guidelines to ensure the safety of the items stored by customers. We also support all-day deposits. Whenever you want to go for an outing or hiking, you can immediately pick up related items. Convenient for all hiking "enthusiasts"!

Hiking is a kind of relaxation and enjoyment, don't let the problem of storage affect you! Now One Storage Supreme Mini Storage has launched a limited offer! I can definitely help you!

Now successfully register for 12 months to enjoy a special discount, plus 1 month of free warehouse rent*! 40% off 12+1*, hurry up and register for an appointment!
For concessionary registration enquiries: https://m.me/onestorage
-----------------------------
Renovation | Short term rental | One Storage Can Help | Mini Storage

-------------------------------------
Kennedy Town | Tai Po | Chai Wan | Siu Sai Wan | Wong Chuk Hang | San Po Kong | Yau Tong | Kwai Chung | Kwai Hing | Kwai Fong | Tsuen Wan | Tsing Yi | Fo Tan | Tuen Mun
Click here for Express Whatsapp: https://cutt.ly/51188503
*Terms and conditions apply, please contact our staff for details.
*Terms and Conditions: Offer is subject to availability while stocks last. This offer is only applicable to new registered customers of Supreme Mini Storage. In case of any dispute, the decision of Supreme Mini Storage shall be final. Registrants have read this Disclaimer page and agree to the Personal Data and Privacy Statement and are willing to receive promotional information.