No place to store new board games? |Toys Collection|One Storage|Mini Storage
Release Date : 04-07-2022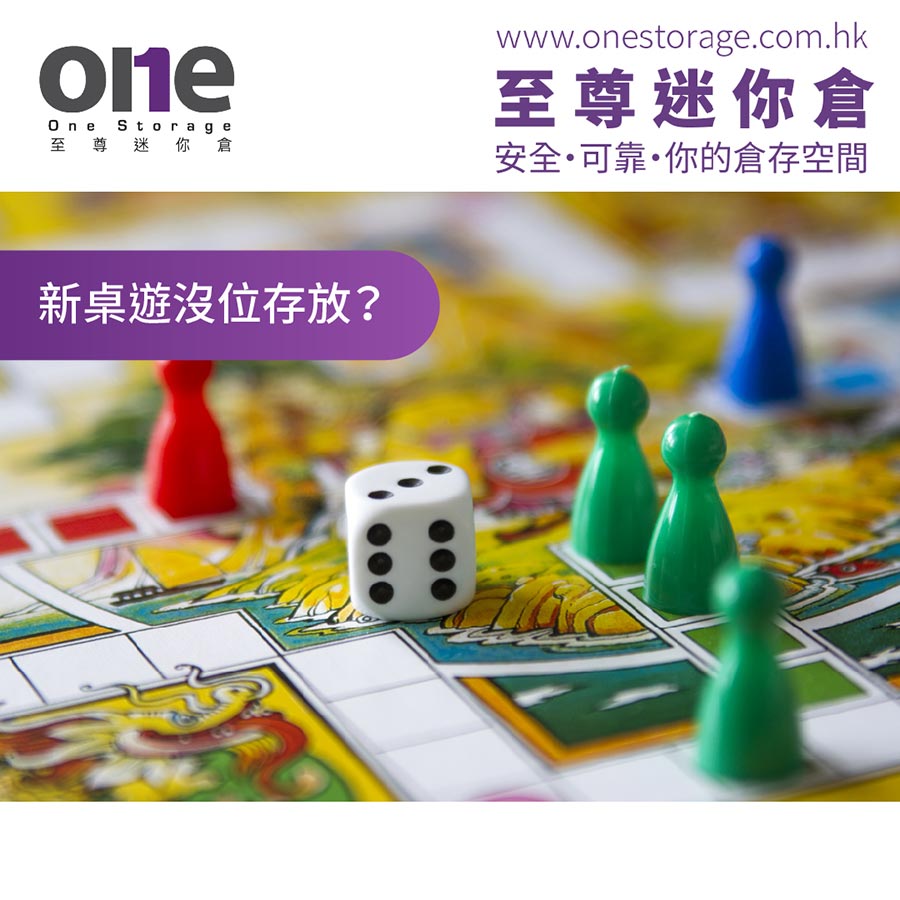 Everyone used to be very excited about electronic products and games. For a while, playing video games with friends and confidants was the best entertainment, but gradually with the technology has completely become an important part of our daily life. Face to face, the table games played in person are slowly returning to everyone's field of vision!
Take advantage of the current epidemic to subside! Hurry up and learn about board games and enjoy the fun with your confidants! Here are some common types of board games:
party game
The name of the party game is suitable for playing at a party. The rules are simple and focus on happy interaction. It is most suitable for creating a happy atmosphere and playing with old and new friends in various occasions.
camp game
Most of these board games will be divided into different camps at the beginning of the game. The fun of the game is that at the beginning, everyone will not know who their friends are. In the development of the game, they must use various words and actions to observe and find their companions. Working together increases the odds!

abstract game
This type of game will not have a very clear theme or story, and the tools in the game will be more abstract, such as number cards, color cards, etc. Usually, the gameplay of this type of game is relatively straightforward, with no hidden information, storyline or element of luck, and the outcome is directly determined like a chess game.
strategy game
The feature of this type of game is that there are perfect and complete rules for players to think about, and rationally use all the rules, skills and different decisions to win, which is suitable for friends who love to use their brains. However, the full play time of strategy games is generally longer, so remember to be prepared!
Having learned so much about board games, I'm ready to fight with my friends at any time! Coupled with the constant innovation of board games, I really want to buy again after buying a pair! Had a great time with friends! But after having a good time, what should I do if there is no place to store the new board game? There is not enough living space in Hong Kong. How can I store a new board game?
One Storage has a lot of branches, a total of 37 stores! There are both air-conditioning and constant temperature in the warehouse, as well as a security system! Whether it is board games or household items, it is suitable to store in One Storage Extreme Mini Storage! You are more welcome to deposit at any time, and play whenever you want!

Space is limited but board game fun is endless! The promotion launched by One Storage Extreme Mini Storage hopes to help everyone!
-------------------------------------
Hong Kong Island: Siu Sai Wan|Chai Wan|Tin Hau|Kennedy Town|Wong Chuk Hang
Kowloon: Yau Tong|Kwun Tong|San Po Kong
New Territories: Kwai Chung|Kwai Hing|Kwai Fong|Tsuen Wan|Tsing Yi|Fo Tan|Tai Po|Tuen Mun
Click here for Express Whatsapp: https://cutt.ly/51188503
*Terms and conditions apply, please contact our staff for details.
*Terms and Conditions: Offer is subject to availability while stocks last. This offer is only applicable to new registered customers of Supreme Mini Storage. In case of any dispute, the decision of Supreme Mini Storage shall be final. Registrants have read this Disclaimer page and agree to the Personal Data and Privacy Statement and are willing to receive promotional information.