No place to storage company documents? One Storage can help! |One Storage|Mini Storage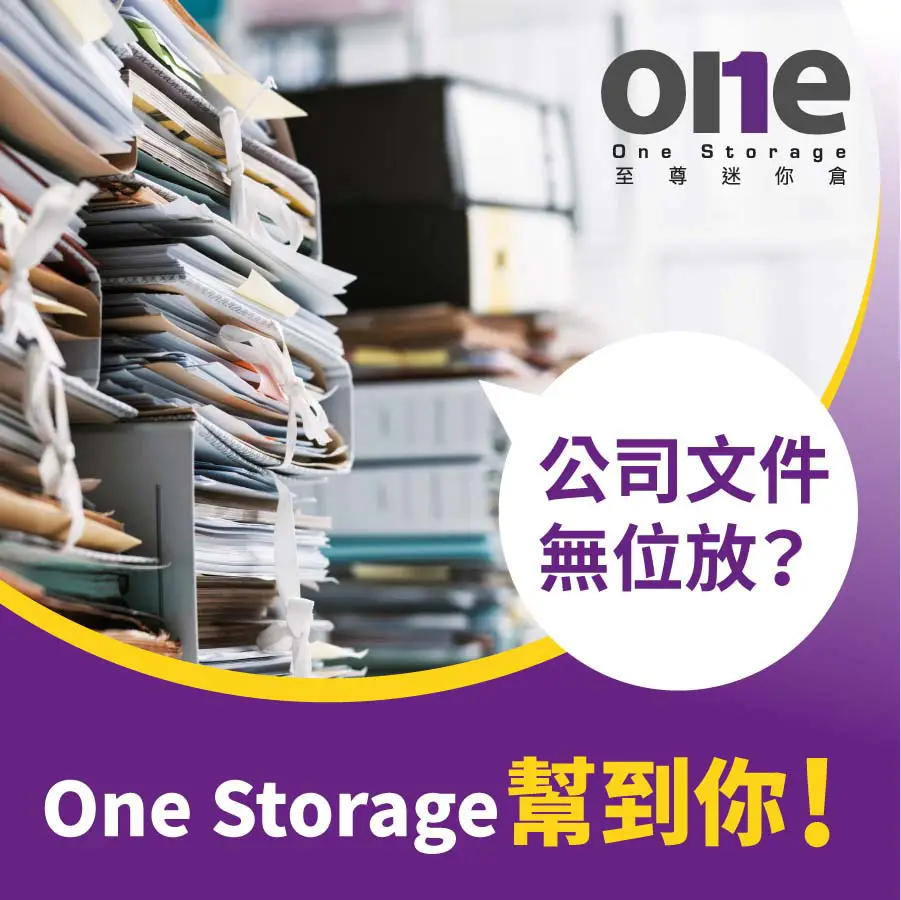 More convenient document storage management system
Adjust the space according to your company's needs
No more worrying about personnel changes
Please help the company to find mini storage? If you are looking for business storage or document storage, you have to look at the end!
As far as company office is concerned, the more spacious the office is, the more comfortable the working environment will be. However, the amount of company/corporate documents will only increase with time, and even if some of the documents are electronic, it is difficult to keep seven years of documents.
Piles and piles of company documents, placed in the company, will only make the staff's working space smaller and smaller, and the efficiency of work is not to be mentioned. When important documents are lost due to lack of space in the company, no matter whose responsibility it is, it is a great loss! Not to mention the risk of expanding the company or moving the office to handle company documents!
Of course, using business mini storage has the following benefits.
More convenient document storage management system
While increasing office space, the document storage management system is optimized to store and retrieve documents quickly, efficiently and correctly, reducing labor and material resources and simplifying the work!

Adjust the space according to your company's needs
You can store goods/documents according to your company's needs, and at the same time, you can easily monitor the incoming, outgoing and inventory processes.

No more worrying about personnel changes
No more transition headaches when you change or leave a position responsible for handling company document storage.

Business mini storage is certainly beneficial to both your company and your employees, and we at One Storage have the professional packages to help you in the office!
One Storage Premier Mini Storage - Business Professional Services
Our document storage not only provides round-the-clock electronic security system to protect customers' documents. We also provide a 24-hour air-conditioning system to prevent damage to the quality of paper or objects due to weather conditions. Of course, the most important thing is to provide the most suitable space for business users, whether it is for documents or goods, no need to worry about space!
Many rental discounts
We can offer a wide range of rental discounts to save your company money and have more options to suit your needs.

Wide selection of sizes
From half-unit storage to move-in storage, you can choose! The most options for you in the office!

Flexible Length of Service
From short term rentals of one month to long term rentals of three years, we can accommodate the administrative needs of the office and the requirements of the company. You can rest assured that your company is in good hands and your employees are at ease!

Want to free up office space and stop worrying about mountains of paperwork?
Ask us now about One Storage's document storage offer, which is just like a strange egg, satisfying your company's three major storage wishes!
Rent for a year, enjoy 1 month free rent!
And Receive a supermarket voucher for a gift!
Discount registration query: https://m.me/onestorage
-------------------------------------
Click to check our latest offer now
Talk to us: https://m.me/onestorage
-------------------------------------
✅ 24-hour easy access at any time
✅ 7x24 smart security access system
✅ HD security monitoring and alarm system
✅ Comply with latest Fire safety guidelines
✅ Constant temperature air-conditioning system
Hong Kong Island:
Siu Sai Wan | Chai Wan | Tin Hau | Kennedy Town | Wong Chuk Hang
Kowloon:
Yau Tong | Kwun Tong | San Po Kong
New Territories:
Kwai Chung | Kwai Hing|Kwai Fong | Tsuen Wan | Tsing Yi | Fo Tan | Tai Po | Tuen Mun
Express Whatsapp: https://cutt.ly/51188503
*Terms and conditions apply, please contact our staff for details.
*Terms and Conditions: Offer is subject to availability while stocks last. This offer is only applicable to new registered customers of Supreme Mini Storage. In case of any dispute, the decision of Supreme Mini Storage shall be final. Registrants have read this Disclaimer page and agree to the Personal Data and Privacy Statement and are willing to receive promotional information.