Ten ways to store camping supplies | Camping supplies | One Storage | Mini Storage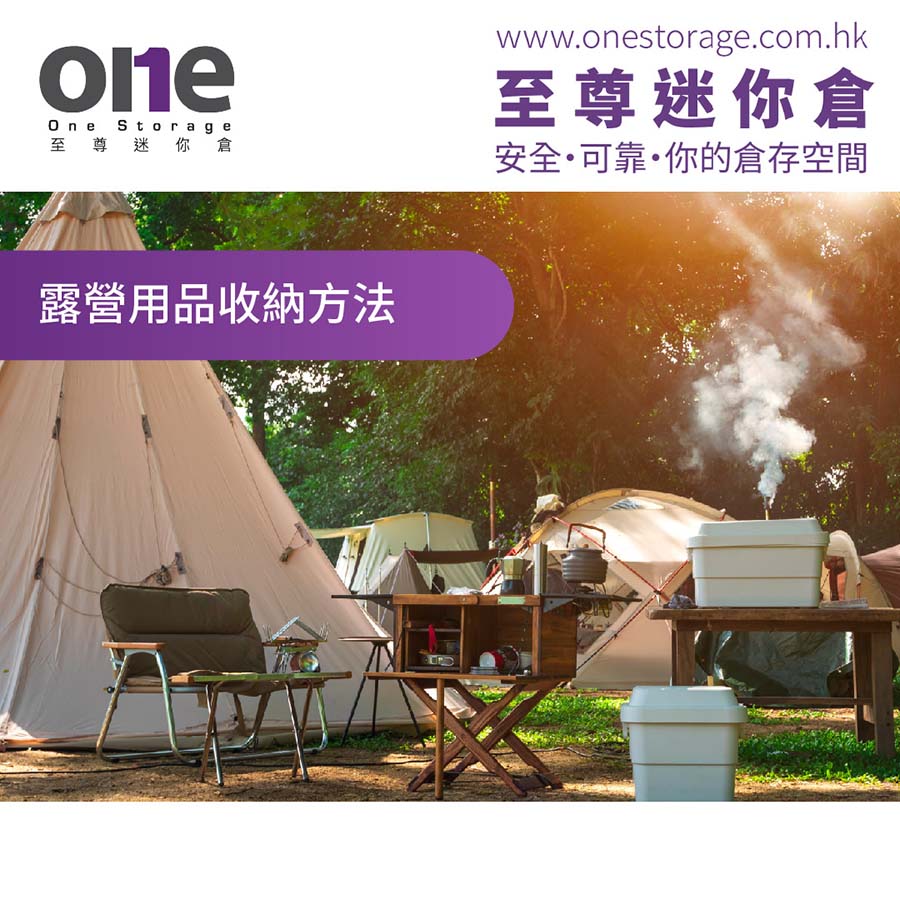 Make good use of storage supplies/tools
Make good use of storage supplies/tools:
Make good use of shelves fixed to the wall
Camping supplies are often not only a wide variety, but also large in size. The floor space may not be enough to store all items, but since it is not often used, it is also a good way to make good use of the space above the home wall and place camping items on the shelf on the wall.
Make good use of camping storage boxes
There are many camping storage boxes on the market that are specially designed for storing camping supplies. Making good use of the inner compartment can store a large number of camping supplies in one go.
Make good use of camping storage bags
For some camping supplies that are lighter and have more opportunities to use at the same time, such as tableware, kitchen utensils, compasses and flashlights, the storage bag is suitable for storing them at one time, moving and carrying them at any time.
Make good use of the platform
Hong Kong lacks storage space. At present, many flats with high floors will be equipped with platforms. Infrequently used items such as camping supplies are best placed on the platform.
Storage skills:
Centralized placement of camping supplies
Camping supplies are different from general household clutter and are not used frequently. Therefore, leaving a space to place all camping supplies in a centralized manner can effectively avoid messing with daily necessities.
Sort according to the characteristics of the items
Camping supplies are big and small, with different uses and shapes, and they need to be sorted according to different types. Such as sleeping bags, tents and other large appliances are inconvenient to be placed too high, on the contrary, relatively light appliances such as tableware and kettles can be placed in the upper position.
Additional Notes/Methods:
Try to choose stackable utensils
At present, many camping supplies are designed to be stacked and stored, so that you can make good use of them, so that there are cups in cups and bowls in bowls, thus saving a lot of space.
Choose utensils with a foldable design
Larger appliances such as tents, shelves, etc., if they are designed with a folding function, will be more convenient to store, so pay attention when choosing.
Regular cleaning and inspection of utensils
Although camping supplies are not commonly used, they also need to be cleaned and inspected regularly to avoid problems such as compass failure and rust on tent supports when needed.
Use mini storage for storage
No one can create something out of nothing. If there is really not enough space, there are also many mini-storages in the market that provide storage services. Items that are not commonly used, such as camping supplies, are quite suitable for storing in the mini-storage.
If you are looking for storage space for your camping supplies, the One Storage Extreme Mini Storage is the perfect fit for you!

One Storage has nearly 30 branches in Hong Kong, Kowloon and the New Territories. It is convenient to rent wherever you live. At the same time, you can withdraw and store it all day, so you can go camping anytime, anywhere! Guests can also make use of the space calculator provided by One Storage online, and have a better budget for storing supplies in several large warehouses!
-------------------------------------
Click to check our latest offer now
Talk to us: https://m.me/onestorage
-------------------------------------
✅ 24-hour easy access at any time
✅ 7x24 smart security access system
✅ HD security monitoring and alarm system
✅ Comply with latest Fire safety guidelines
✅ Constant temperature air-conditioning system
Hong Kong Island:
Siu Sai Wan | Chai Wan | Tin Hau | Kennedy Town | Wong Chuk Hang
Kowloon:
Yau Tong | Kwun Tong | San Po Kong
New Territories:
Kwai Chung | Kwai Hing|Kwai Fong | Tsuen Wan | Tsing Yi | Fo Tan | Tai Po | Tuen Mun
Express Whatsapp: https://cutt.ly/51188503
*Terms and conditions apply, please contact our staff for details.
*Terms and Conditions: Offer is subject to availability while stocks last. This offer is only applicable to new registered customers of Supreme Mini Storage. In case of any dispute, the decision of Supreme Mini Storage shall be final. Registrants have read this Disclaimer page and agree to the Personal Data and Privacy Statement and are willing to receive promotional information.