Car model development story! Make sure you have enough space to collect more models! |Toys, Model Collection|One Storage|Mini Storage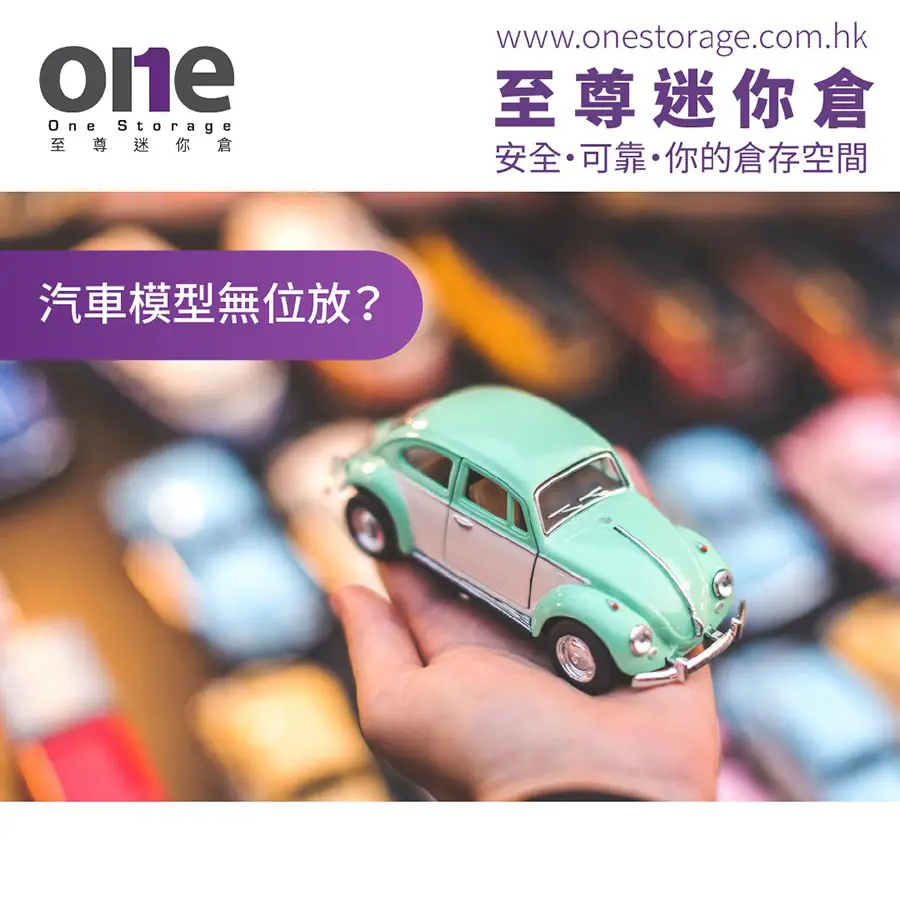 Earlier, the opening of the cross-sea section of the East Rail Line became a hot topic in the city. However, cars have always been very attractive to many friends. We have introduced models of railways and trains before, but in fact, model cars are also loved by many people. Collection, this time let us introduce the development story of the car model.
The original purpose of the car model
Car models were not originally used as toys or collections. Early car models were actually made by various car manufacturers for sample or promotion. Most of these car models use wood or clay as raw materials, and are generally larger in size, usually about 60-70% of the real car.
Common scale of car models
As mentioned above, the earliest car models were produced by professional manufacturers of various car manufacturers. The purpose is also related to exhibiting products and understanding the size ratio of each part, so the general size is very large, 1:1, 1:4, 3:8 or 1:10 etc are common.
But then it gradually turned into a toy, and the above dimensions became too large. Therefore, different small-sized car models gradually appeared, and 1:38 and 1:43 gradually became some popular sizes. And some sizes that are so small that children can even hold and play with one hand, such as 1:60 and 1:87, have also successfully entered the market of children's toys.
In fact, many different types of models are collected in Hong Kong, with different sizes and brands, in order to enjoy the excitement surrounding the different beloved models. And car models are the favorite of many boys. People may not have dozens of famous cars at the same time, but it is not a big problem to have dozens of famous car models at the same time. But Hong Kong is becoming more and more expensive, and it is possible that not only real cars, but also car models can not be stored? In fact, have you ever thought that mini storage can easily solve your problem? One Storage Extreme Mini Storage has always been ready to provide you with high-quality storage services.
One Storage has a total of 40 branches in Hong Kong, serving customers all over Hong Kong. The warehouse is equipped with an all-weather air-conditioning and constant temperature system and a security system. Regardless of all kinds of toy collections, it can be easily put into the mini warehouse, which not only has a suitable space for collection, but also achieves a perfect balance of living space!
-------------------------------------
Click to check our latest offer now
Talk to us: https://m.me/onestorage
-------------------------------------
✅ 24-hour easy access at any time
✅ 7x24 smart security access system
✅ HD security monitoring and alarm system
✅ Comply with latest Fire safety guidelines
✅ Constant temperature air-conditioning system
Hong Kong Island:
Siu Sai Wan | Chai Wan | Tin Hau | Kennedy Town | Wong Chuk Hang
Kowloon:
Yau Tong | Kwun Tong | San Po Kong
New Territories:
Kwai Chung | Kwai Hing|Kwai Fong | Tsuen Wan | Tsing Yi | Fo Tan | Tai Po | Tuen Mun
Express Whatsapp: https://cutt.ly/51188503
*Terms and conditions apply, please contact our staff for details.
*Terms and Conditions: Offer is subject to availability while stocks last. This offer is only applicable to new registered customers of Supreme Mini Storage. In case of any dispute, the decision of Supreme Mini Storage shall be final. Registrants have read this Disclaimer page and agree to the Personal Data and Privacy Statement and are willing to receive promotional information.