Complete collection of living facilities in Chai Wan and Siu Sai Wan! |One Storage|Mini Storage
Release Date : 11-03-2022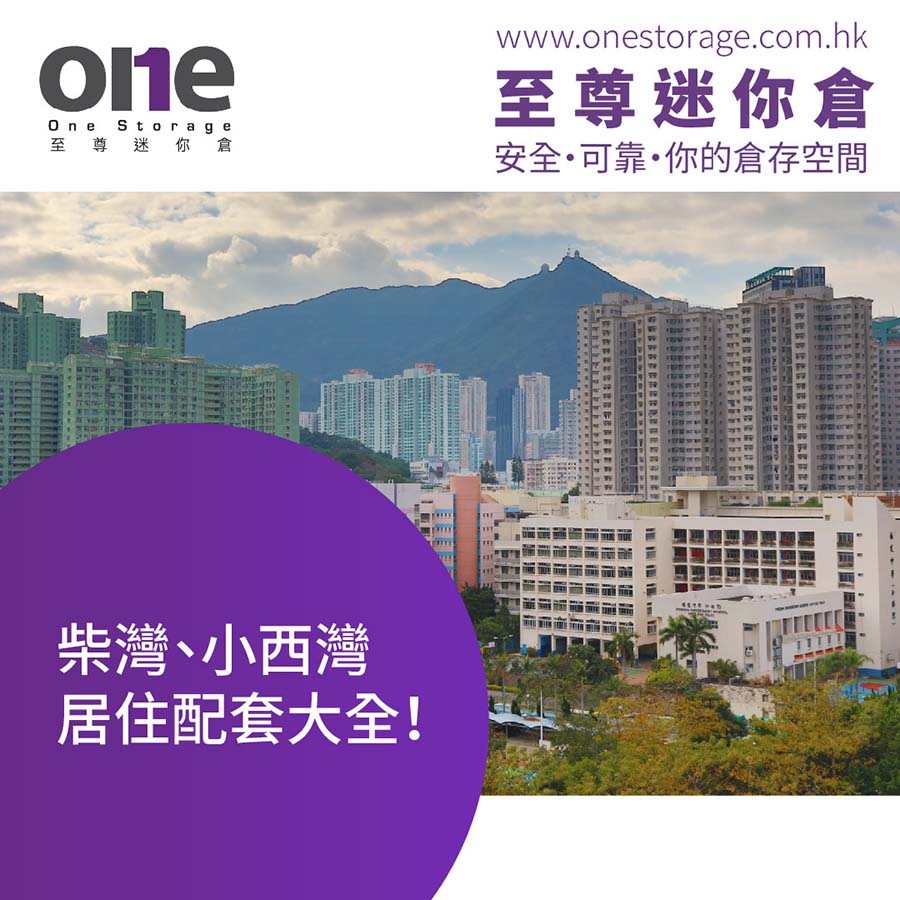 Local real estate introduction
Chai Wan and Siu Sai Wan are relatively early development areas on Hong Kong Island. How much do you know about this area? In fact, there is a relationship between the two, let us learn more together!
Chai Wan is an outer bay. It is located near Lei Yue Mun and is the easternmost valley of Hong Kong Island. It is surrounded by mountains on three sides and faces the estuary. In the early years, the bay and the surrounding area were named Chai Wan because of the abundance of wood used for firewood.
Siu Sai Wan was originally a small bay on the east side of Chai Wan. Before the reclamation, it was named Matang because of the Matang Hill and Matang Au to the south. East location), it was called "Little Chai Wan" because of its proximity to Chai Wan. Since Chai Wan used to have another name called Sai Wan, and the Hakka pronunciation of "Chai" is somewhat similar to the Cantonese "West" sound, so "Xiao Chai Wan" gradually became known as "Xiu Sai Wan".
Chai Wan existed as a resettlement area in the early years, and later developed into a new industrial area. In order to resettle the population of the original resettlement area, Siu Sai Wan has also gradually evolved from an area mainly for fishing and agriculture into a residential area.
Up to now, Dang District has a long history as a residential area, so the number of residents has been increasing. I believe that in the future, it will gradually become an area where more people decide to settle down. In order to let friends who want to buy or live in the local area have more information, we decided to make an integration for everyone, so that you can better budget in all aspects.

Local real estate introduction
When there are a large number of private housing estates and HOS housing estates in the district, which provide a large number of units to meet families with different needs, the following are some basic integrations that you can use as a reference:
Private housing estates:
-New Jade Garden -Gaowei Court -Bayview Garden -Wynn Center -Jinyuan Mansion -Ren Lok Building
-Jianye Building -Blue Bay Peninsula -Xinghua Village
HOS estate:
-Shan Cui Court -Yicui Court -Wang Tak Residence -Yin Cui Court -Kong Cui Terrace -Le Cui Terrace
- King Cui Court - Lok Xuan Terrace - Xing Cui Court - Yue Cui Court - Xiao Cui Court - Jia Cui Court
-Fu King Garden -Fu Yee Garden -Fu Xin Garden
Decoration Tips
Whether you decide to move an old house to a new house, or want to buy a new house, it is of course a good thing, but before you can move in, you always need to decorate it well, and many friends will have a lot of troubles in their minds when they hear about the renovation. So, let's give some tips!
Renovation Tip 1 - Custom Furniture vs. Off-the-Shelf Furniture
In fact, both have their own advantages. Ready-made furniture is not tailor-made, and the use of space may be wasteful. At the same time, it is difficult to maintain the same color system between different furniture.
And custom furniture will inevitably make the best use of all the space, the product can also be more in line with your own needs and personalization, and you will be more sure of the quality control of the whole piece of furniture. The colors and matching styles you want are relatively easy to match, but the price will be much higher than that of ready-made furniture.
Renovation Tip 2 - Preparing for a meeting with a designer
Many people have their own ideas about the Dream House in their hearts, but they can't express them clearly. In fact, there are some preparations that can help you explain them more easily.
First of all, you can prepare some relevant designs and cases for your designers as a reference. Now many decoration matching platforms or teaching platforms provide relevant examples, and there are many more. There is always a style in your mind. Using these examples, you can more clearly express the color and effect you want, as well as the decoration style.
Renovation Tip 3 - Kitchen Renovation
The kitchen is one of the places that needs special attention when renovating, because there are bound to be a lot of lines, and all the details need to be considered in advance, so you need to measure the size of your kitchen space and consider the size of your different equipment and appliances. will cause quite a few problems.
Decorating Tip 4 - Wallpaper or Wallcovering?
Many homes now use wallpaper or wall coverings, but how should it be measured?
The advantages of wallpaper are mainly convenient and fast construction, affordable price and many patterns and styles, but the disadvantage is that it is easy to be scratched and difficult to clean. .
The advantages of wall coverings are that they are less prone to warping and cracking, and are easier to clean and less prone to warping and mold, but they are more expensive than wallpaper.
Renovation Tip 5 - Renovation Finished
Of course, I want to live in immediately after the renovation is completed, but there are some things that need special attention.
The first is to check the construction results after handing over the house. Remember to bring all the documents and check whether all the details are in line with the original contract and design drawings. If you have any questions, you must immediately raise and negotiate.
The second is that the chemical residues (such as formaldehyde) after decoration are harmful to the human body. Therefore, after the decoration of the house is completed, try to open the doors and windows to allow sufficient ventilation. At the same time, you can try to place several dishes of water, pineapple, tea or lemon to absorb the smell.
Moving Tips
After the decoration is completed, it is not possible to move into the new house immediately. The process of moving the house is also indispensable. What should be paid attention to during the moving? Why don't we take a look too?
Moving Tips 1 - Item Classification and Handling

You should start packing a few weeks in advance, because during the packing process you will not only have to unpack the boxes, but also some items may be arranged for donation or resale, and there is time to recheck it again. Any items lost during the move will be Hard to get back.

At the same time, you should set aside time to review all items one by one with your family members to ensure that you can reach a consensus on the handling of items to avoid misunderstandings.

Now there are a large number of platforms in Hong Kong for people to resell items, and many charities also accept donations of second-hand furniture and clothes. You can refer to them.

Moving Tip 2 - Moving Checklist

Before moving, you should arrange the order of different pending events and set a processing deadline, because moving the house is not only to pack up the items, but also to install broadband or transfer telephones. These things cannot be completed in one or two days. Reserve a buffer period.

Moving Tip 3 - Keep an eye on your child's ability to adapt to the new environment
Adults can move in directly after the move is completed, but if there are children in the family, they should pay special attention. Before the official move, parents should first explain to the children that they will move, new residence and room design, etc., to help them plan ahead. Familiarize yourself with the environment.

During the official moving period, you can consider asking family members and friends to help take care of the children, so that you can concentrate on handling the moving matters. If the child has been transferred to another school due to the move, it is even more necessary to pay attention to their emotional fluctuations and communicate with the school in advance.
Moving Tip 4 - Tidy up systematically
In the process of moving, systematically picking up items can save you a lot of trouble later. Marks should be left on and beside the cartons of different items so that you and the mover can pay attention. When packing the items into the box, you should remember to put heavy objects in the lower position first to keep the box balanced and easy to carry. The extra space in the box should be filled with newspapers, magazines, towels, etc., to prevent damage or rupture of the items inside due to movement, and fragile items should be wrapped with bubble wrap or styrofoam.

Moving Tip 5 - Be Mindful of Eating and Resting

Why are moving tips related to physical and mental recuperation? In fact, maintaining physical and mental health is also an important part of moving house. When moving house, there will be pressure from different problems. In addition, there may not be a stable place to rest and cook. For several days in a row, there will be irregular meals and the quality of sleep will decrease. Difficulty concentrating and even emotional breakdown.

When everyone moves to a new environment, they also have to face adaptation problems. It is normal to have short-term mental instability. Don't force yourself to fall asleep or feel stressed. Lying in bed and closing your eyes can also relieve fatigue.
Mini Storage Introduction
In terms of living facilities, mini storage is also a very important part. After all, no matter if you are moving or renovating, or if you have troubles about storing things after moving in in the future, mini storage will be your good helper. And the mini warehouse information of Chai Wan and Siu Sai Wan will of course be shared with you:
Friends living in the local area can easily find a trustworthy and easy-to-use mini storage, because One Storage Extreme Mini Storage has four branches in the local area, which are:
Prince Branch (located at 4/F, Prince Industrial Building, No. 5, Xinye Street, Siu Sai Wan)
Senlong Branch (located at Room B, 7/F, Senlong Industrial Building, No. 11, Xinye Street, Siu Sai Wan)
Wanfeng Branch (located at Room C, 6/F, Wanfeng Industrial Building, 7 Cheung Lee Street, Chai Wan)
Chai Wan Centre Branch (located at Room B1, 14/F, Chai Wan Centre Industrial Building, 20 Lee Chung Street, Chai Wan)

In fact, One Storage Super Mini Storage is definitely not only helping you to temporarily store items when moving and renovating. Our One Storage Super Mini Storage has nearly 30 branches in Hong Kong, Kowloon and New Territories. Easy to rent. At the same time, it supports you to withdraw and deposit throughout the day, and guarantees compliance with fire regulations and mini storage requirements. Whether it is short-term or long-term rental, it is easy and safe to use!
Using the space calculator provided on the official website of One Storage, any customer can calculate the most suitable warehouse type, without fear of waste. Whether you are renovating or moving house and need to temporarily store furniture, or you usually have no place to store out-of-print sneakers, One Storage will definitely be the most trustworthy mini storage choice!

What are the friends in Chai Wan and Siu Sai Wan waiting for? ! Don't miss the limited offer from One Storage Extreme Mini Storage!
For concessionary registration enquiries: https://m.me/onestorage
-------------------------------------
Hong Kong Island: Siu Sai Wan|Chai Wan|Tin Hau|Kennedy Town|Wong Chuk Hang
Kowloon: Yau Tong|Kwun Tong|San Po Kong
New Territories: Kwai Chung|Kwai Hing|Kwai Fong|Tsuen Wan|Tsing Yi|Fo Tan|Tai Po|Tuen Mun
Click here for Express Whatsapp: https://cutt.ly/51188503
*Terms and conditions apply, please contact our staff for details.
*Terms and Conditions: Offer is subject to availability while stocks last. This offer is only applicable to new registered customers of Supreme Mini Storage. In case of any dispute, the decision of Supreme Mini Storage shall be final. Registrants have read this Disclaimer page and agree to the Personal Data and Privacy Statement and are willing to receive promotional information.