Excessive separation is a good idea | One Storage can help! | Mini storage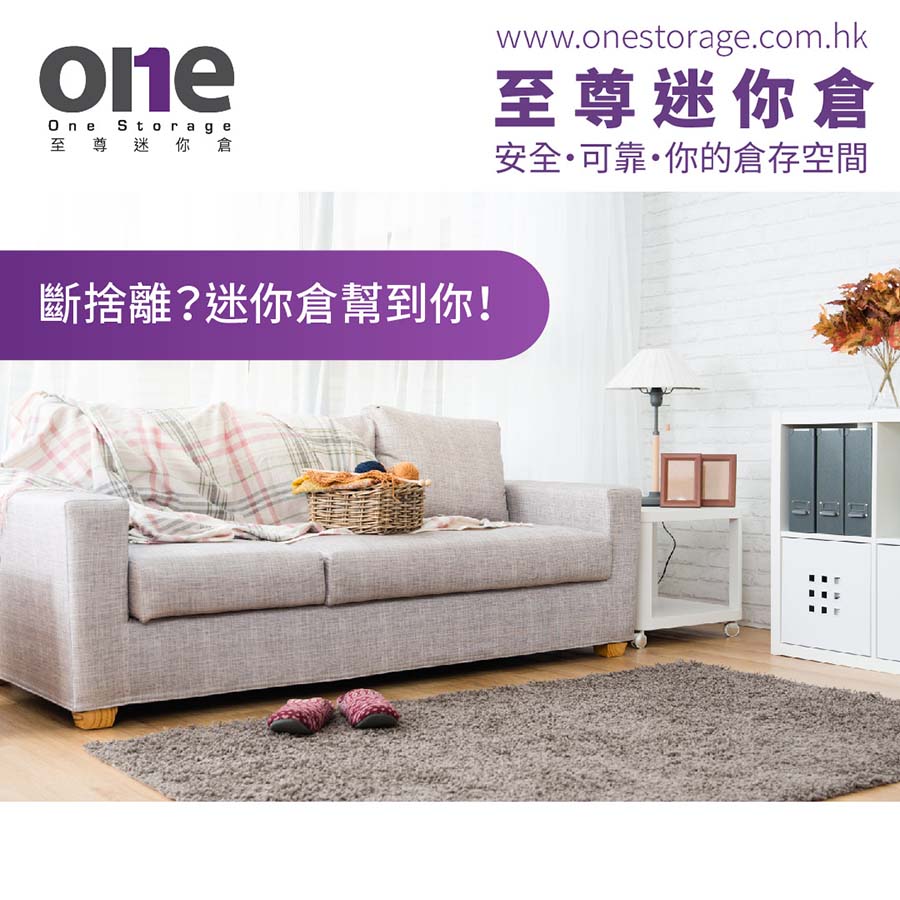 The over-buying of human beings has begun to make many people start to reflect, so that "breaking away" has become a craze all over the world in a few years.
The so-called abandonment is to cut off the things that are no longer needed, give up too many things, and get rid of the attachment to the things. But there are always some items that symbolize a person, an event, or even an important moment in your life, even if it is useless and everything has to be discarded?
Appropriate separation is not a bad thing, but too much is definitely a bad thing. Therefore, in order to avoid excessive separation, proper classification is important, but is it better to put them in place after classification? This is the time when the mini warehouse can help you!

In fact, Hong Kong people's demand for mini storage has been increasing in the past few years, because the space problem in Hong Kong is really serious. There are more and more mini storage companies on the market, which is a manifestation of the shortage of space! And there are many mini warehouse companies, and there are many choices in disguised form, but it is also a mini warehouse between microphones. Do they all meet the specifications?
Blessed are all those who are fortunate enough to read this article, because One Storage Extreme Mini Storage is a mini storage with over 1,000 positive reviews! One Storage mini storage has been providing high-quality professional storage storage services for many customers. And there are nearly 30 mini warehouse branches, and there are already 7 branches in Kwai Tsing District alone. If you live in the area of ​​Kwai Fong and Kwai Hing, friends in Kwai Tsing District, the Supreme Mini Storage can meet everyone's requirements!
Most people worry about the safety issues in the mini-storage. The decoration and equipment of our mini-storage comply with the Fire Department's mini-storage guidelines and comply with the latest fire regulations. Customers can enjoy our services with 100% peace of mind. . One Storage has an intelligent security access system that operates around the clock. There are also aluminum ladders and trolley borrowing services. It is so hard to wait for everyone to wash and move. There are also self-service drinking water machines. Everyone is comfortable!
-------------------------------------
Click to check our latest offer now
Talk to us: https://m.me/onestorage
-------------------------------------
✅ 24-hour easy access at any time
✅ 7x24 smart security access system
✅ HD security monitoring and alarm system
✅ Comply with latest Fire safety guidelines
✅ Constant temperature air-conditioning system
Hong Kong Island:
Siu Sai Wan | Chai Wan | Tin Hau | Kennedy Town | Wong Chuk Hang
Kowloon:
Yau Tong | Kwun Tong | San Po Kong
New Territories:
Kwai Chung | Kwai Hing|Kwai Fong | Tsuen Wan | Tsing Yi | Fo Tan | Tai Po | Tuen Mun
Express Whatsapp: https://cutt.ly/51188503
*Terms and conditions apply, please contact our staff for details.
*Terms and Conditions: Offer is subject to availability while stocks last. This offer is only applicable to new registered customers of Supreme Mini Storage. In case of any dispute, the decision of Supreme Mini Storage shall be final. Registrants have read this Disclaimer page and agree to the Personal Data and Privacy Statement and are willing to receive promotional information.