One Storage|Mini Storage|5 Ways to Find the Most Flat Mini Storage in Hong Kong
Release Date: 20-10-2019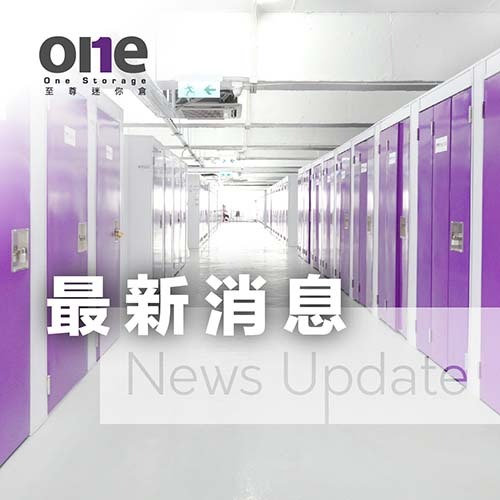 If you need a mini storage unit to store items in Hong Kong, there are many options to consider. How can you find cheap mini storage? Please read the 5 methods that One Storage Supreme Mini Storage has prepared for you now.
Mini-storage pricing method 1: Search for the best price on the website
The prices of almost all mini-storage companies are listed on their website. If you look around, you will surely find the mini-storage that suits you best, but when looking for a unit, please consider the following:
Size: How many things do you have? You can put all your objects in a mini-storage smaller than you think. If you stack up items and place other items
In products, such as clothes in drawers instead of boxes, you can hold more items in a smaller space.
Deadline: How long do you need? Most companies offer monthly commitments. Unless you stop paying the company, you can keep your items indefinitely
In its mini-storage (of course, it must comply with the terms of the contract).
Price: How much are you willing to pay? At different times, companies of different sizes have different prices.
Mini-storage pricing method 2: stuff your stuff
You may be able to stuff things into the mini-storage to save space. You can rent a large mini-storage, but you will eventually have to pay rent for the unused space at the top. If you use a smaller mini-storage, you will feel as if you are "stuffing" things to the ceiling, but it will maximize the area you have to pay!
Mini-storage pricing method 3: Ask if the mini-storage company provides pick-up service
When you promise to rent their mini storage, some companies will provide free pickup. This will make your access easier. Moving things is very laborious, so let the mini-warehouse company do the work for you.
Mini-storage pricing method 4: Contact the quotation and request a discount
Get a quote by contacting the mini storage company. They will ask questions about how much you have, what size you think you need, and how long it will be stored. If you are in a specific career field, some companies will offer discounts. It's okay to ask!
Mini-storage pricing method 5: special research
Some mini storage companies may offer some special offers, you can take advantage of them. The first month's rent is free, and discounts or referrals for three months or more may be specials. Before investing any time, make sure to look for available specials!
If you need storage, please contact One Storage as soon as possible. One Storage mini storage can help you meet all mini storage needs. We use a series of advanced security measures to ensure the safety of your property, and provide a variety of different sizes of mini storage for personal, student and business use.
Use whatsapp 51188503 /

https://m.me/onestorage

to contact One Storage Supreme Mini Storage immediately, we are happy to help you at any time.