Food Expo 2022! A lot of offers not to be missed! |Living Space|One Storage| Mini Storage
Release Date : 16-08-2022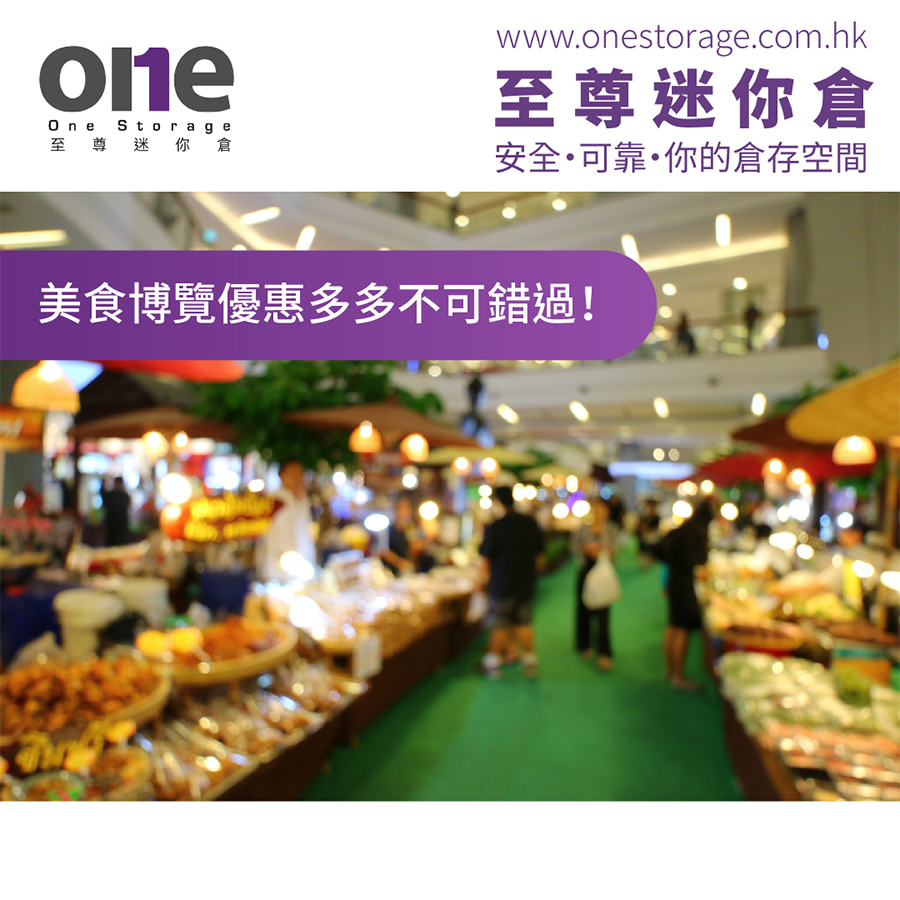 The annual Food Expo (also known as the Hong Kong Food Festival) will be held at the Wanchai Convention and Exhibition from 11 to 15 August 2022, and it has just ended! There are different discounts in the event, which attracted many friends to buy their favorites. During the entire expo, it was crowded with people and very lively!
This year's Food Expo has several major features. First, the venue is divided into a trade hall, a public hall of the Food Expo and a distinguished food area, so that participants can easily find the exhibition area they need! The premium food area has 6 major themes, including Asian cuisine, coffee, green diet and other themes. Many friends who have researched on food must have bought a lot of favorites! And the public hall also has a variety of snacks, drinks and seafood, etc. There are many discounts!
Although this year's food expo is not allowed to set up tasting food under the epidemic situation, there are still many citizens shopping in the venue. The snowskin mooncakes and fruit-flavored mooncakes with various flavors are the most popular! Many friends are shopping for goods one by one, and there are not a few who spend more than one thousand yuan!
As the so-called "people take food as the sky", food is always a common topic for everyone. It is rare to have such a food expo that gathers different types of food and provides great discounts. It is a blessing for those who love to eat! But different kinds of food are bought home, but they can't be eaten in half an hour. In addition, you may have bought some precious dried seafood, so you should keep them at home! But when you have delicious food, you are afraid that the space in your home will be insufficient, which will cause trouble or even affect your shopping mood? In fact, urban life is busy, and everyone who loves food understands that some small interests in life cannot be affected by space problems! Come to One Storage Extreme Mini Storage, let's solve the storage problem together!
One Storage Extreme Mini Storage has opened branches in various regions of Hong Kong, and 40 stores are fully serving you! I hope that friends living in various districts will no longer have to worry about the lack of storage space! Food should be well stored at home, but many sundries that are not commonly used can be placed in the One Storage Extreme Mini Storage, so that your living space can be well arranged by yourself!
-------------------------------------
Click to check our latest offer now
Talk to us: https://m.me/onestorage
-------------------------------------
✅ 24-hour easy access at any time
✅ 7x24 smart security access system
✅ HD security monitoring and alarm system
✅ Comply with latest Fire safety guidelines
✅ Constant temperature air-conditioning system
Hong Kong Island:
Siu Sai Wan | Chai Wan | Tin Hau | Kennedy Town | Wong Chuk Hang
Kowloon:
Yau Tong | Kwun Tong | San Po Kong
New Territories:
Kwai Chung | Kwai Hing|Kwai Fong | Tsuen Wan | Tsing Yi | Fo Tan | Tai Po | Tuen Mun
Express Whatsapp: https://cutt.ly/51188503
*Terms and conditions apply, please contact our staff for details.
*Terms and Conditions: Offer is subject to availability while stocks last. This offer is only applicable to new registered customers of Supreme Mini Storage. In case of any dispute, the decision of Supreme Mini Storage shall be final. Registrants have read this Disclaimer page and agree to the Personal Data and Privacy Statement and are willing to receive promotional information.