What you need to know how to prevent moisture! | Moisture-proof storage | One Storage | Mini Storage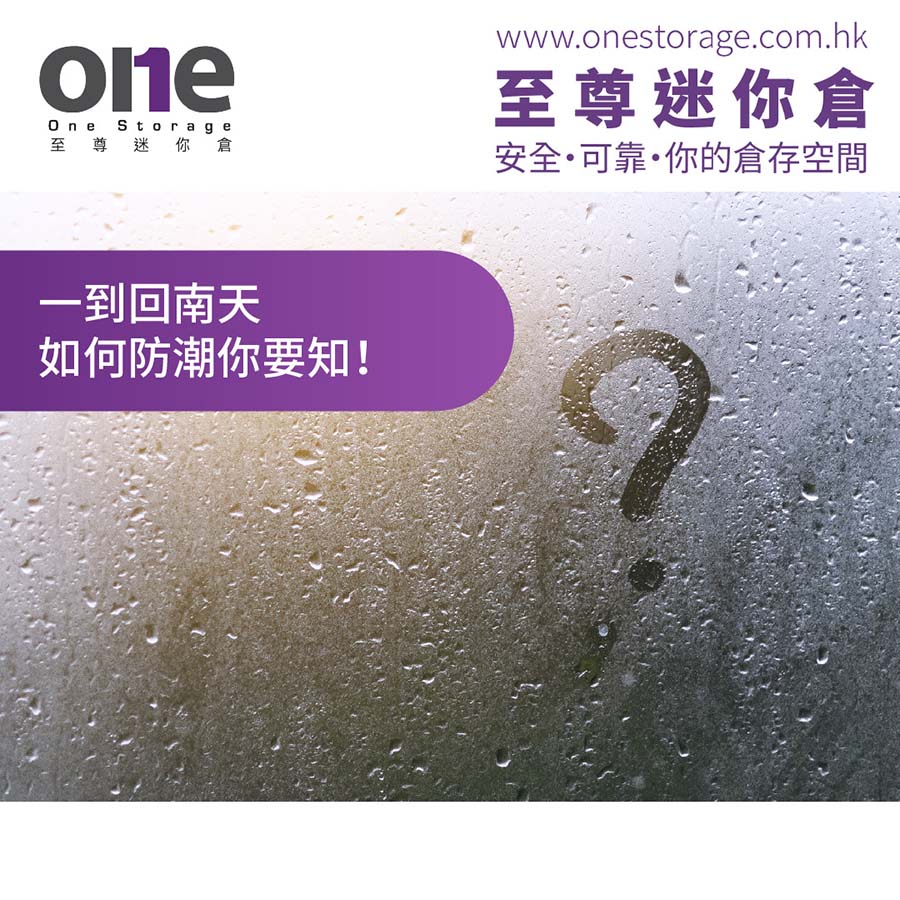 Tip 1 - Use electrical appliances
You can use a dehumidifier, an electric fan or an air conditioner to extract moisture from the air and circulate the air at the same time, reducing the feeling of dampness in your home.

Tip 2 - Moisture-proof kitchen
The kitchen will open fire, and it is easy to generate moisture, and it is more likely to have mold growth. After using the kitchen, remember to remove all oil stains, and open each cabinet door to ventilate to reduce the moisture in the cabinet. After washing the tableware, it should also be wiped with a dry cloth.

Tip 3 - Tea
Wrap some tea leaves in cloth and put them in different places in the home to absorb moisture and deodorize.
But there are many household items, or are you afraid that some valuables or documents will be moldy and damp? Why don't you ask One Storage Extreme Mini Storage for help!
Our One Storage supreme mini warehouse has nearly 30 branches in Hong Kong, and it operates around the clock. The 24-hour air-conditioning and constant temperature system in the warehouse can ensure the state of all your stored items and will not be affected by the humidity in Hong Kong. weather effects. At the same time, One Storage Extreme Mini Storage also follows all official fire and safety requirements, hurry up and find a safe home for your belongings!

Don't be afraid of wet weather! The limited offer launched by One Storage Extreme Mini Storage will definitely help everyone!
-------------------------------------
Click to check our latest offer now
Talk to us: https://m.me/onestorage
-------------------------------------
✅ 24-hour easy access at any time
✅ 7x24 smart security access system
✅ HD security monitoring and alarm system
✅ Comply with latest Fire safety guidelines
✅ Constant temperature air-conditioning system
Hong Kong Island:
Siu Sai Wan | Chai Wan | Tin Hau | Kennedy Town | Wong Chuk Hang
Kowloon:
Yau Tong | Kwun Tong | San Po Kong
New Territories:
Kwai Chung | Kwai Hing|Kwai Fong | Tsuen Wan | Tsing Yi | Fo Tan | Tai Po | Tuen Mun
Express Whatsapp: https://cutt.ly/51188503
*Terms and conditions apply, please contact our staff for details.
*Terms and Conditions: Offer is subject to availability while stocks last. This offer is only applicable to new registered customers of Supreme Mini Storage. In case of any dispute, the decision of Supreme Mini Storage shall be final. Registrants have read this Disclaimer page and agree to the Personal Data and Privacy Statement and are willing to receive promotional information.