Labor Day! The best way to clean your home! | Living Space | One Storage | Mini Storage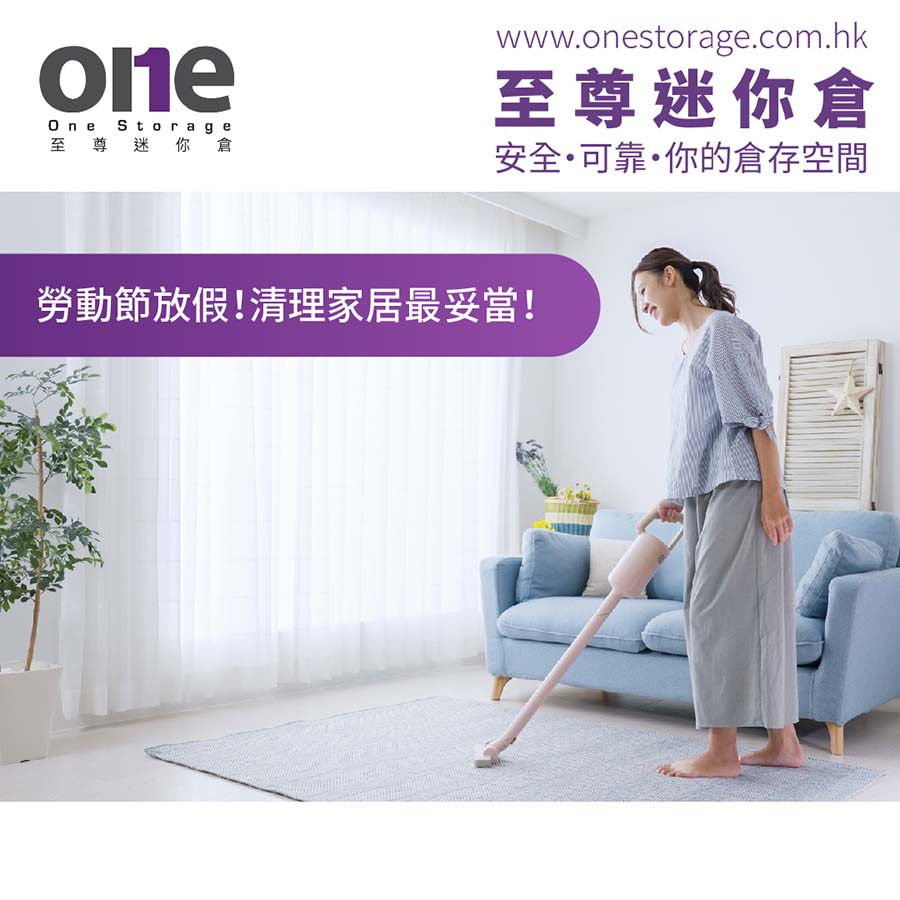 It's almost Labor Day! Labor Day is on May 1st every year. What is there to do when there is a day off on Labor Day? Why not take advantage of the Labor Day holiday to clean up your home! But there are also ways to clean your home well. Here are some tips!
Make good use of the wall
Make good use of some hooks on the wall, you can put some lighter items such as clothes, remote controls, gadgets, etc. away by hanging on the wall. It not only makes it more convenient for you to take, but also saves space on the floor and on the table, which is very suitable for friends living in Hong Kong!
to exhibit items
When storing, try to place objects where you can see them, such as in a transparent storage box, storage box, or arrange them in a more obvious way, so as to remind yourself that you have something and reduce forgetting that you have something. items or reduce the chance of buying duplicate, similar items.
Consider the frequency of daily use
When storing, consider the frequency of daily use, and put commonly used items in an easy-to-reach location. For example, if you are someone who often needs to match your clothes, you can consider hanging your clothes behind the door so that you can change them yourself, instead of storing most of your clothes in the closet and looking around when you want to change clothes. This is convenient for yourself and reduces the chance of you cluttering things up.

Consider daily habits
When storing your home, you should also consider your daily habits to cope with the situation in your daily life. Before deciding where to put different objects, think clearly about your daily habits.
For example, if you are used to taking a small schoolbag every time you go out, you'd better design the position for placing the schoolbag in a place closer to the door, so that you can take it, put it down or replace it.
The one-day holiday of Labor Day is used to clean up the environment where you live, which is definitely a good use of the holiday! The environment has improved, and people have become more energetic! But sometimes you find that no matter how you clean up, the space is insufficient? do not be afraid! You need One Storage Extreme Mini Storage to help you create space!
One Storage has many branches in various districts, and there is always one of 37 for your convenience! There are both constant temperature and security systems in the warehouse, and at the same time, the fire protection requirements are strictly followed, and the items are absolutely well protected. Debris or clothing is suitable for storage in the One Storage Extreme Mini Storage! Restore a better living space!

Don't worry about storing things! One Storage Super Mini Storage has an offer that's right for you!
-------------------------------------
Click to check our latest offer now
Talk to us: https://m.me/onestorage
-------------------------------------
✅ 24-hour easy access at any time
✅ 7x24 smart security access system
✅ HD security monitoring and alarm system
✅ Comply with latest Fire safety guidelines
✅ Constant temperature air-conditioning system
Hong Kong Island:
Siu Sai Wan | Chai Wan | Tin Hau | Kennedy Town | Wong Chuk Hang
Kowloon:
Yau Tong | Kwun Tong | San Po Kong
New Territories:
Kwai Chung | Kwai Hing|Kwai Fong | Tsuen Wan | Tsing Yi | Fo Tan | Tai Po | Tuen Mun
Express Whatsapp: https://cutt.ly/51188503
*Terms and conditions apply, please contact our staff for details.
*Terms and Conditions: Offer is subject to availability while stocks last. This offer is only applicable to new registered customers of Supreme Mini Storage. In case of any dispute, the decision of Supreme Mini Storage shall be final. Registrants have read this Disclaimer page and agree to the Personal Data and Privacy Statement and are willing to receive promotional information.