One Storage|Mini Storage | The Gospel of the Company Owner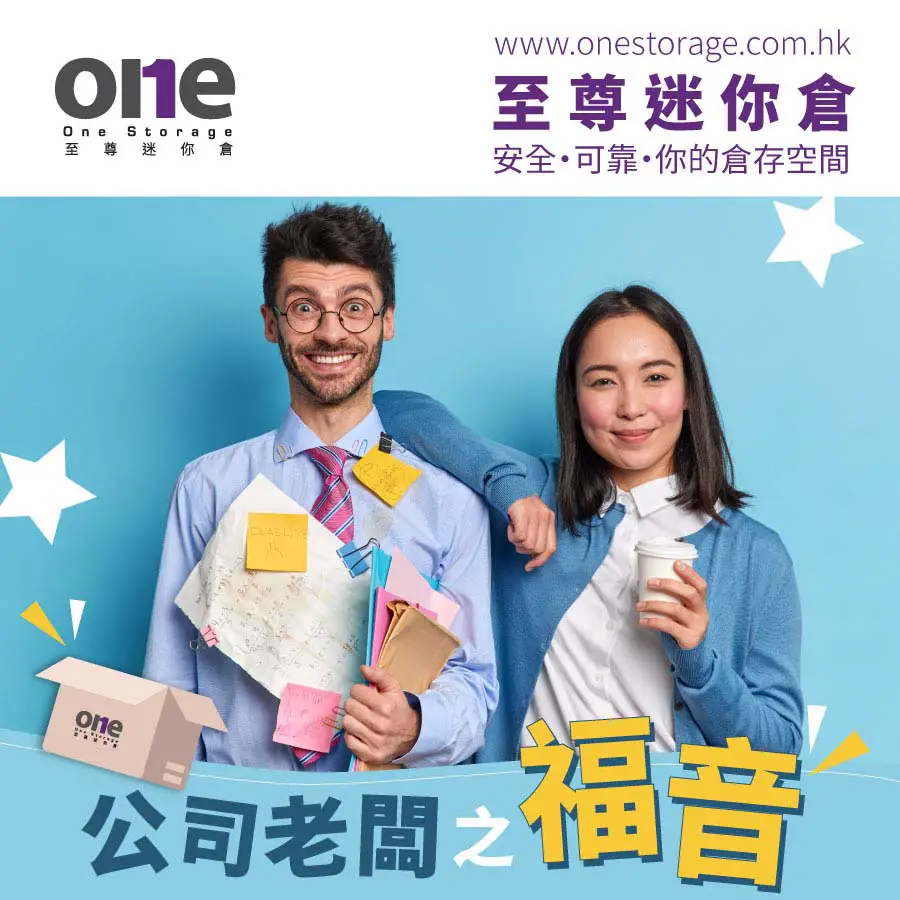 In order to enhance the operational efficiency of the company and expand the working space of the staff, nowadays, many executives of large enterprises will make use of the mini storage service to effectively handle the internal documents of the company, so as to handle the internal documents of the company and at the same time relieve the pressure of storing too many documents in the company. Our mini storage service can simplify the document storage process to reduce cost and improve operational efficiency.

In Hong Kong today, many companies and administrative staff are using Mini Storage's document storage services to reduce the cost and improve operational efficiency. Perhaps you are moving to or from a position that is responsible for document storage, and you will have a headache during the transition period. So, from a company management point of view, it is always wise to use a mini storage company that offers corporate document storage services to help with this task!

Our professional and efficient document storage service not only provides you with a place to store your documents, but also ensures that your company's important documents are stored safely and securely, and frees up valuable office space for your company, reducing the risk of your company dealing with this administrative issue! Our services are highly trusted and appreciated by our corporate clients.

Moving years of accumulated physical documents from your office to our document vault may seem like a hassle, but trust that it will be much easier with our world-class storage facilities and fleet of vehicles. We have a rigorous classification and cataloging system for our document storage; and with the ability to search for electronic or physical documents on demand through our website, these paper documents will be easier than ever to access, and our signature document mini-warehouses, which are charged by the box based on actual volume, are sure to save you unnecessary money and space.
Boxes are an important part of preserving valuable historical documents, so our Mini Storage is designed to be easy to set up and loaded with standard documents without the use of adhesive tape. Both sizes are suitable for standard A4 paper and folders, making it easy for customers to store a large number of different documents to suit your needs.

Your files are stored in a special file center in a dedicated mini-warehouse. Each mini-warehouse has a strict security policy in place, including perimeter fencing, 24/7 alarm devices within the building and trained data protection specialists. Your peace of mind is of the utmost importance to us, which is why we use a facility that is second to none. Mini Storage adheres to strict security policies, and all staff are fully trained and tested. We also ensure that the entire document access process is monitored in a safe, secure and confidential manner.
The size of the mini-warehouses is 44(L) * 37(W) * 31(H) cm. Each box can hold hard cover folders, A3 size and A4 size paper, which is suitable for general office use. Our boxes are made of double-layer tiled cardboard, which is stronger and more durable than regular cardboard boxes. The simple hand-folded box design eliminates the need for tape closure.

Our mini-warehouses in Hong Kong, Kowloon and the New Territories have over 500,000 square feet of self-owned property and a 24-hour surveillance system to provide customers with a safe and professional storage space for their documents. Mini Storage also uses the highest quality equipment and systems to manage the warehouse so that you can use our services with peace of mind.
In addition to using the best equipment and systems to manage the warehouse, we continue to pay close attention to the warehouse environment. We use an automatic humidity and temperature control system and regular cleaning and pest control to ensure that the warehouse is clean and the documents are always fresh.

We use a strict high-tech security system, with records of all people entering and leaving the warehouse, and a 24-hour full HD closed-circuit television system to ensure safe and secure storage of documents. In addition, we use computerized document management, and all documents are stored in the system, so that you can manage your documents more safely and quickly.

It is our mission to protect your property. Therefore, fire safety is a part of our mission that cannot be ignored. Our mini-warehouses throughout Hong Kong, Kowloon and the New Territories are equipped with the most secure and up-to-date fire-fighting equipment and follow the latest fire safety guidelines to ensure that your documents are stored at a high and efficient level of fire safety and are protected from damage.