Six Myths You Don't Know|Mini Storage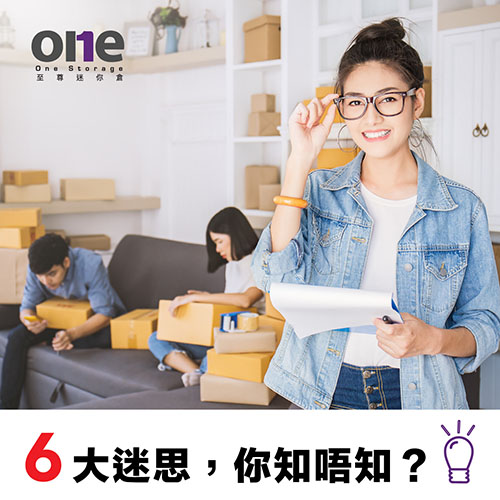 Understand the 6 myths of renting a warehouse so you don't have to worry about moving!
There are so many mini-warehouses in Hong Kong, how can you find one that is reasonably priced and gives you peace of mind and confidence?
1. The most important thing is to get a good price.
If the monthly fee is too expensive, it will be difficult to afford. In general, the monthly fee for a small warehouse starts from $500, for a medium-sized warehouse it is around $800 - $1,000 and for a large warehouse it is around $1,500. Remember to estimate how many items you have when choosing the right price.
Just a reminder: the pre-payment discount for the Premium Mini Storage is as low as *HK$300 and interest-free instalments are available.
2. usable area? Gross floor area?
Some mini-warehouses are now rented on the basis of GFA, so there is a big discrepancy in the actual usage rate. If you don't have enough space, you will lose more than you gain.
Please note that the price of the mini-warehouse is calculated on the basis of saleable area.
3. Security and temperature control to protect your storage.
Most mini-warehouses are monitored by a 24-hour closed-circuit television and card system, so it is important to have a good security system. In addition, air-conditioning, temperature/humidity control, pest control and a clean and hygienic environment are also important factors to protect the quality of your storage.
4. Is the fire protection equipment up to standard?
Since the mini-warehouse fire, fire prevention equipment in mini-warehouses is very important! There are still many mini storage units in Hong Kong that are not equipped with fire protection equipment that meets the fire regulations. So be sure to choose a mini-warehouse that complies with fire safety regulations.
Tip for you: Supreme Mini Storage is equipped to meet the latest fire safety guidelines
5. Save money on rent and even more on long-term rentals.
Mini Storage regularly offers online discounts or prepayment discounts for long-term tenants, so the longer the lease term, the lower the average monthly rent.
We have a new customer flash offer for as little as $300 to transform your living space!
What is the background of the management company and do you have the strength?
It is very important to have a strong background. If you don't manage your business well, you may be forced to close down your business. This is why it is so important to have a strong and well-managed mini storage company.
Tip for you: Supreme Mini Storage is a wholly-owned subsidiary of Golden Dynasty Group (stock code: 878 Hong Kong), a company listed on the Hong Kong Stock Exchange, with a large and strong management team.
👉One Storage Facebook
📣Choose from nearly 30 One Storage mini-stores in Hong Kong - Follow the latest fire safety guidelines