Pre-register for the new Yau Tong branch and get a chance to receive a $500 gift certificate | One Storage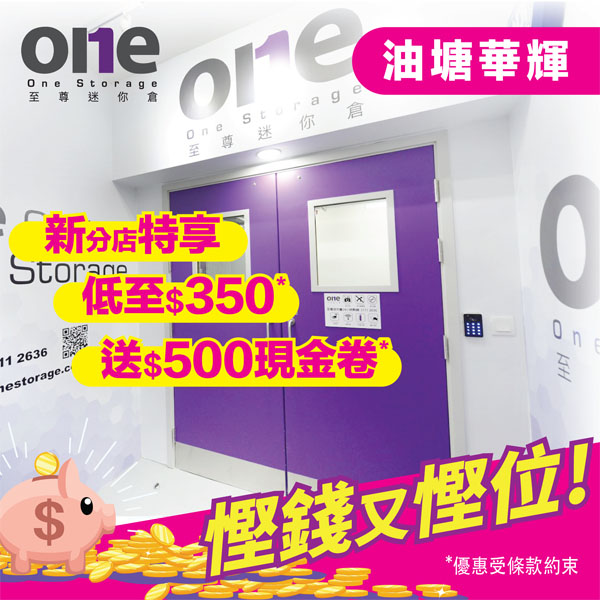 Celebrate the upcoming opening of the new Yau Tong branch
Register now and receive a supermarket gift certificate of $500*!
(*The offer is subject to terms and conditions, please enquire for details)
Address: Unit A, 1/F, Wah Fai Industrial Building, 4 Sze Shan Street, Yau Tong
~Refer to January 2021 online information
Terms and Conditions*.
📌 Registrants must be replied by One Storage for verification, supermarket vouchers 500 cannot be deducted or exchanged for cash. This offer is only applicable to the new Yau Tong store and is valid from 7 January to 28 February 2021. Supermarket gift coupons are not assignable and are available on a first-come-first-served basis, while stocks last and without prior notice. Offer is limited to one person registration only, no proxy registration or pick-up. Prepayment of 12 months or more for the designated size is required, and is only applicable to first-time new customers. The price of mini storage space varies according to area, size and latest promotion, and will be updated at any time. By registering this reservation form, you are agreeing to the Personal Information Collection Statement of our company (Jin Chaoyang Group (stock code 00878.HK), of which OneStorage is a member). Please contact us for details.
~ Statement on Collection of Personal Data.
The registrant agrees to provide the personal data on the registration form to the Company and to contact you by email, telephone, SMS or mail to continue to receive information about our services and promotions (including discounts, offers, rewards, recommendations, promotions, data updates and newsletters) in the future. Registrants do not want the Company to use my personal information for direct marketing purposes as described above at any other time. Please email to us at cs@onestorage.com.hk to announce if you are not agree.
📣Choose from nearly 30 premium mini storage units throughout Hong Kong - follow the latest fire guidelines
👉Mini Storage is to One Storage to comply with mini storage