Newlyweds Occupation Gift Guide! |Living Space|One Storage|Mini Storage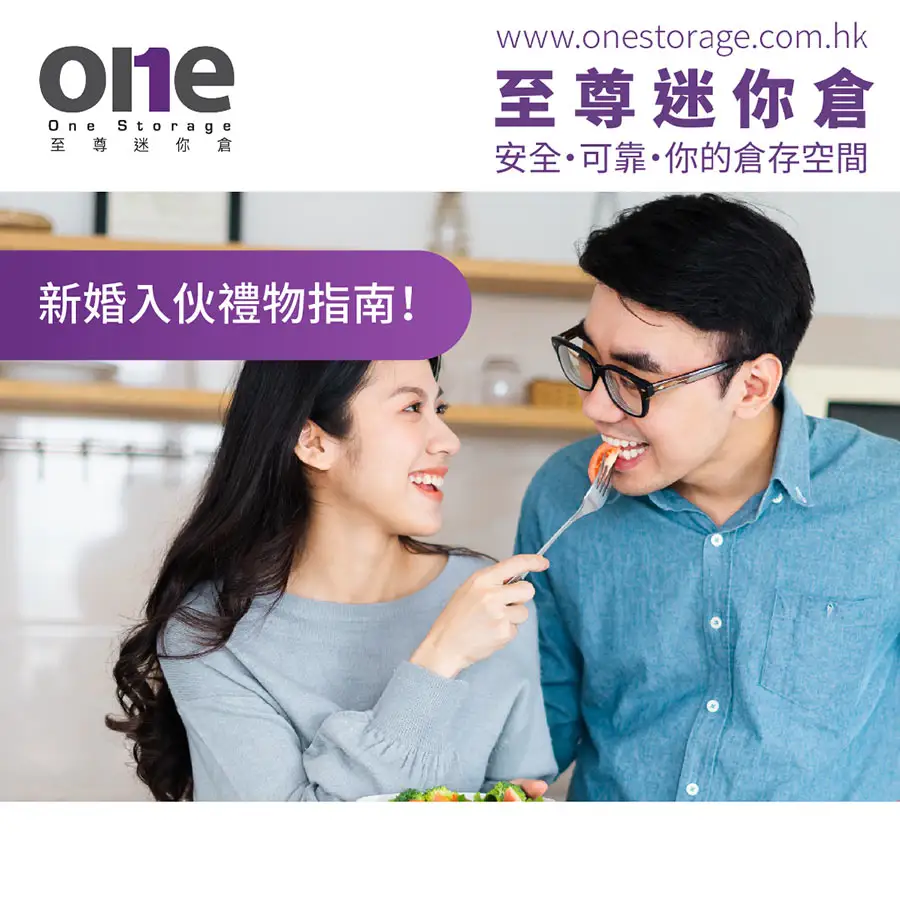 A friend or family member is newly married or joined, and you want to send a gift to express your love, but you are afraid of the wrong gift or have no good idea? Don't be afraid, take a look at the following sharing, your thoughts, we will accompany you to think about how to send it in the best way!
First of all, there are some gifts that cannot be given. Some taboos or taboos can still be referred to:
Knives or sharp objects, Chinese culture generally does not recommend giving gifts with sharp or sharp edges
Watches and Clocks: Although many people love to appreciate or collect watches, traditionally "clock" and "end" have the same pronunciation, which is not very auspicious in meaning.
Here are some good introductions for wedding or move-in gifts:
home appliances
Every newlywed couple will be troubled by the problem of moving into a new house, and home appliances must be one of the points they will consider. Therefore, sending home appliances is mostly a thoughtful and practical choice. You can send some necessary home appliances such as vacuum cleaners or refrigerators. If you know that the other family will cook a stove, you will have more good choices! Ovens, induction cookers, water wave cookers, etc. are all available, and many choices can be used as gifts!
lamps
Lighting is also an indispensable item when entering a new house. Sending small lighting with a sense of design can show your thoughts and add a romantic or personal atmosphere to the other party's home. There are many customized lighting services on the market. If you have enough If you know the newlyweds, you can customize the design considering their preferences and love, and you will definitely show your heart!
cash coupon
If you don't know much about the newlyweds, and you are afraid of embarrassing or wasteful buying the wrong item, sending cash coupons is a practical and safe option. Let the other party buy what they need. And cash coupons from different large department stores, or cash coupons from major supermarkets are also good gift choices!
The newlyweds receive so many gifts and blessings, in fact, all of them are a heartfelt gift from everyone who has a chance to meet in life. It is the most beautiful story that a newlywed couple can accompany these blessings and spend a lifetime happily with their loved ones. However, with two people living together, sometimes the lack of living space can also turn into a lot of friction and annoyance. Don't let a moment of trouble make you forget the beautiful vows you made at the beginning, just find One Storage Extreme Mini Storage to solve space troubles!
One Storage Extreme Mini Storage has many branches in Hong Kong, a total of 37! At the same time, the design of the warehouse is guaranteed to comply with fire protection requirements, and we hope to provide the best quality and most secure warehouse rental services for every family of all sizes! Don't let the space problem affect the relationship between everyone, in fact, you can solve it with One Storage Extreme Mini Storage!
Ready to use One Storage Extreme Mini Storage, there is a limited discount recently, rent it immediately to solve your troubles, you have to know what to do! The newlyweds should be happy, with plenty of space and no worries!
-------------------------------------
Click to check our latest offer now
Talk to us: https://m.me/onestorage
-------------------------------------
✅ 24-hour easy access at any time
✅ 7x24 smart security access system
✅ HD security monitoring and alarm system
✅ Comply with latest Fire safety guidelines
✅ Constant temperature air-conditioning system
Hong Kong Island:
Siu Sai Wan | Chai Wan | Tin Hau | Kennedy Town | Wong Chuk Hang
Kowloon:
Yau Tong | Kwun Tong | San Po Kong
New Territories:
Kwai Chung | Kwai Hing|Kwai Fong | Tsuen Wan | Tsing Yi | Fo Tan | Tai Po | Tuen Mun
Express Whatsapp: https://cutt.ly/51188503
*Terms and conditions apply, please contact our staff for details.
*Terms and Conditions: Offer is subject to availability while stocks last. This offer is only applicable to new registered customers of Supreme Mini Storage. In case of any dispute, the decision of Supreme Mini Storage shall be final. Registrants have read this Disclaimer page and agree to the Personal Data and Privacy Statement and are willing to receive promotional information.