Don't miss the Nike 50th Anniversary Exhibition! | Precious Collection | One Storage | Mini Storage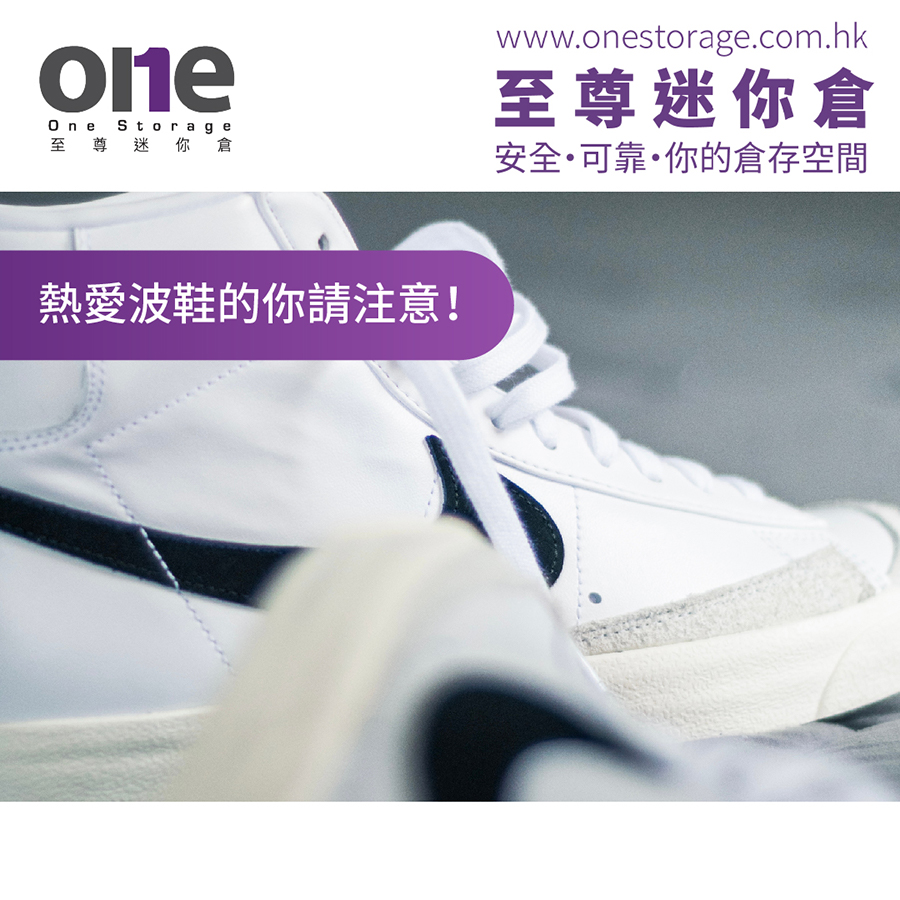 Last year Nike also held a similar exhibition, showing many pairs of popular shoe styles, and this year is the 50th anniversary of Nike's founding! Nike did not disappoint everyone, and held an exhibition called "Nike at 50: A Genealogy of Progress", which was also divided into 4 areas to share Nike's journey along the way!
The first exhibition area is Nike 50 Moment. In digital form, many short films about Nike's 50-year history are played, which is quite interesting, just like learning about Nike's past and present in one breath.
The second zone is Moon Path, which showcases Nike's 50-year-old running shoes in chronological order. This time there is a very rare sneaker - Moon Shoe (only 12 pairs in history, one of which was exhibited at this event)!
The third exhibition area is a tunnel full of Nike's popular shoe type - Air Max, which is said to be a major check-in point in this exhibition!
The final exhibition area is called Move to Zero Lounge, which mainly introduces Nike's promotion of environmental protection and local art. Nike invites 6 local artists to "create a sustainable living space" as the theme, and use different Nike brands of old clothes, shoes and shoes. Boxes and even boxing gloves used by Cao Xingru were remade into different items such as decorations, chairs and sandbags.
"Nike at 50: A Genealogy of Progress" (The details of the event are subject to the official website, the following is for reference only)
Event Dates: From now until June 11
Venue: K11 Art & Cultural Centre
Opening hours: 11:00-21:00
In fact, Hong Kong has many friends who love sneakers, and many of them love to collect precious or collectible sneakers. But many people may be limited by the lack of living space in Hong Kong, so they don't know where to store them? In fact, it is easy and hassle-free to find the One Storage Extreme Mini Storage!
One Storage has 37 branches serving all customers in Hong Kong! Many treasures need enough space and a stable environment to store, and One Storage extreme mini storage has a constant temperature system and different sizes of storage, so that everyone can easily put their favorites into the mini storage, making living space and beloved treasures Achieve balance!
-------------------------------------
Click to check our latest offer now
Talk to us: https://m.me/onestorage
-------------------------------------
✅ 24-hour easy access at any time
✅ 7x24 smart security access system
✅ HD security monitoring and alarm system
✅ Comply with latest Fire safety guidelines
✅ Constant temperature air-conditioning system
Hong Kong Island:
Siu Sai Wan | Chai Wan | Tin Hau | Kennedy Town | Wong Chuk Hang
Kowloon:
Yau Tong | Kwun Tong | San Po Kong
New Territories:
Kwai Chung | Kwai Hing|Kwai Fong | Tsuen Wan | Tsing Yi | Fo Tan | Tai Po | Tuen Mun
Express Whatsapp: https://cutt.ly/51188503
*Terms and conditions apply, please contact our staff for details.
*Terms and Conditions: Offer is subject to availability while stocks last. This offer is only applicable to new registered customers of Supreme Mini Storage. In case of any dispute, the decision of Supreme Mini Storage shall be final. Registrants have read this Disclaimer page and agree to the Personal Data and Privacy Statement and are willing to receive promotional information.