Live in North Point Full Raiders! |Real estate, decoration, moving house, punch card|One Storage|mini storage
Release Date : 20-04-2022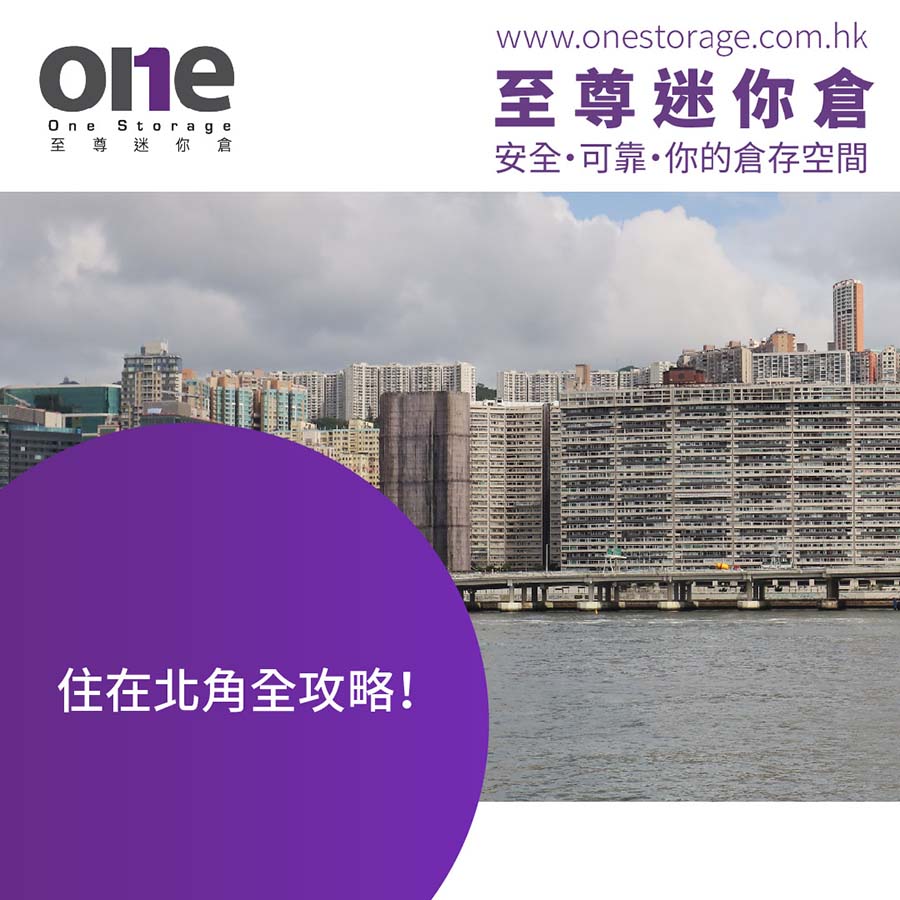 Everyone has a lot of knowledge about urban centers such as Causeway Bay, Tsim Sha Tsui, and Mong Kok, but how much do you know about North Point, an area where people lived and even engaged in local production in the early stage of Hong Kong's development?
Introducing North Point
North Point, located on Hong Kong Island, is actually not like Tuen Mun. It is a name that has been circulated since ancient times. According to the "Xin'an County Chronicle" published in the 24th year of Jiaqing in the Qing Dynasty (that is, 1819), there is no record about North Point. Therefore, it can be inferred that the name of North Point should appear after the opening of the port.
Because of this, North Point used to have many names, such as Seven Sisters, Li Chi, etc., and finally it was named North Point, which was one of the earliest developed areas in Hong Kong after the opening of the port.
In the early development of Hong Kong, North Point actually had only a small number of people, because the old North Point was not as big as it is now, and most of the land in the North Point area is actually obtained from reclamation.
North Point is located on the north side of Hong Kong Island, facing Victoria Harbour, with Oil Street in the west and King's Road and Man New Street in the east. In the old days, Fortress Hill was also included in North Point. It was not until there was a subway station that people began to separate the two. Until now, the older generation of residents will still call the eastern part of North Point (probably the northwest of Seven Sisters and Quarry Bay) as Rei Chi.
North Point has long been a densely populated area with small communities of different origins and nationalities. Therefore, as early as the 1970s, North Point was considered a traditional residential area. Different houses and estates were built adjacent to each other, so there were also sufficient living facilities.
In view of this, we understand that some friends may want to move to North Point, so we have prepared this article, hoping to provide these friends with sufficient information for reference!
North Point Properties
North Point is close to the sea, and it has always been a favorite place to live, so there are naturally countless real estate projects. Come and check out the relevant real estate information in North Point!
North Point Property 1-Hai Xuan Victoria Harbour
The project is located at 133 Java Road, North Point, Hong Kong. It will be completed in 2021. It consists of 3 phases and provides a total of 706 units. Phase 1 consists of 5 residential towers ranging from 13 to 18 storeys, featuring three- and four-bedroom units. The second phase of the project is built on the top of the 4-storey shopping mall "North Point Plaza". Residents can directly access the shopping mall from the residential lobby. There are green spaces and recreation parks around the project for residents to entertain or take a walk.
North Point Property 2 - Fleur Pavilia
The project is located at No. 1 Jiyuan Street, North Point, Hong Kong. It was completed in 2018. It provides one- to four-bedroom units, with unit areas ranging from 519 to 3,221 square feet. It mainly focuses on three-bedroom and four-bedroom units, and provides a total of 611 units, the highest of the project. The floor is the 35th floor.
North Point Property 3-The Consonance
The project is located at No. 23 Jupiter Street, North Point, Hong Kong. It will be completed in 2020. It is a 27-storey commercial and residential building, providing a total of 216 units, with a usable area ranging from 175 feet to 302 feet, and mainly one-bedroom units. The design of the project advocates greening, and provides 10 supporting facilities such as fitness room, co-working area, reading room, multi-purpose activity space, barbecue equipment and banquet hall. Near Causeway Bay Market, you can also walk to Victoria Park area.
Decoration communication points
If you want to move a house, in addition to choosing the area, you have to choose a decoration company to help you decorate the new house, so that the whole family can live comfortably. However, everyone does not have the experience of communicating with the decoration company very often. A misunderstanding on both sides?
Decoration communication points 1 - decoration materials should be listed
If the project involves material selection, the source or brand must be clearly stated. Because if the material standard and quality are not specified at the time of signing the contract, the quality problem may not be considered when doing the project, and the flattest material is used for construction.
It is best to ask the decoration company to explain the difference between different brands of materials (best or the reasons for multiple choices) during the discussion of project details, waterproof materials, wires, plumbing iron, paint, etc. There is a quality gap, it is recommended to ask clearly.
Decoration Communication Point 2-Service Commitment and Standard
The key point of the contract is not only to set standards for the project, but also to set out the service commitments fairly. For example: define the responsibility for delay, compensation methods and rules, the consequences of not properly enforced omissions, the maintenance period after the project, the number of days of the project and the way to deal with disputes, etc.
It is best to communicate clearly when the contract is formulated, and don't stick to each other when there is a problem, resulting in unpleasant results.
Tips for moving house
The decoration of the new house is completed, and of course I want to move in immediately if I have a beautiful home! But obviously there is one more thing that needs your attention, and that is moving! Generally speaking, we don't move houses often, because we are afraid that we have forgotten something or didn't check it clearly? Take a look at our little reminder!
Points to pay attention to when moving house 1-Check home Internet and fixed line phone
Check and arrange the Internet and fixed-line telephone services in the new home in advance, and you should also reserve time for services such as home phone shutdown or relocation. If you move into a tenement building or an old building, the broadband service may be hindered. It may not be the same as the new building. Prepare in advance!
Points to pay attention to when moving house 2-Manage water, electricity and coal cost arrangements
To suspend or change the arrangement of bank transfer water, electricity and coal fees (such as transfer of user name, suspension of bills, etc.) should be handled about a month in advance. .
Points of attention for moving house 3-ventilation should be done after decoration
It must be well ventilated and ventilated after the renovation is completed. Although many decoration companies have switched to using less harmful water-based oils instead of oil-based oils, after all, new paints and new furniture will have peculiar smells and affect the human body, so you must pay attention when you move into a new house.
There are also many ways to deodorize, such as placing activated carbon, pineapple or lemon, etc., but the most important thing is to ensure that the environment is adequately ventilated.
Points of attention for moving house 4-protect the floor of the new house
Before the moving process, you can lay waste cloth, newspapers, etc. on the floor of the new home in advance to protect the new home. Although the moving company has always been very professional and will avoid damage to the floor during the moving process, when the masters are moving large appliances or furniture (such as air conditioners, wooden sofas, TV cabinets, etc.), it is really difficult to ensure that there are no accidents at all. , so it is good for both parties to be prepared in advance.
North Point punch-in hotspots
Many people in Hong Kong like to check in. If you are one of them, don't miss these hot spots in North Point!
North Point Check-in Hotspot 1-North Point Public Pier
The North Point Public Pier is located under the Eastern District Corridor. It takes about 10 minutes from the North Point MTR Station, and you can reach it by walking from Exit A1 to Tong Shui Road. From the pier, you can see the whole area of ​​Kowloon and Hong Kong Island East. Many people like to check in with the sunset at dusk!
North Point Check-in Hotspot 2-North Point Waterfront Garden
The North Point Waterfront Garden is adjacent to North Point Hui. The garden has pet space, pavilion, fitness facilities and landscaped areas, etc. In many cases, it will cooperate with different institutions and units to set up some decorations or artworks!
Mini Storage Introduction
North Point has mountains and rivers, as well as sufficient living facilities, and more importantly, an easy-to-use and reliable mini-storage! Nowadays, many people have limited living space, and if there is a problem of insufficient storage space, they need to find a mini-storage helper. And how can you miss the mini warehouse information in North Point?
Reliable and reputable mini storage is not difficult to find, because One Storage Extreme Mini Storage North Point Branch opened on January 22nd!
Seaview Branch (Rooms 4 & 6, 10/F, Tower B, Seaview Building, 2-8 Watson Road, North Point)

Next to your home, there is One Storage Extreme Mini Storage, which will definitely make your daily life a lot easier, because our One Storage Extreme Mini Storage has branches in different districts in Hong Kong, and there are nearly 30 stores in total to provide services for everyone! Location is never an issue. The warehouse has a 24-hour security system and strictly meets all fire and license requirements. As long as you store your household sundries in the One Storage Extreme Mini Storage, you can return a comfortable living space, and at the same time your belongings can be properly protected, killing two birds with one stone!

Friends in North Point District have storage troubles? The limited offer launched by One Storage Extreme Mini Storage will definitely help everyone!
-------------------------------------
Hong Kong Island: Siu Sai Wan|Chai Wan|Tin Hau|Kennedy Town|Wong Chuk Hang
Kowloon: Yau Tong|Kwun Tong|San Po Kong
New Territories: Kwai Chung|Kwai Hing|Kwai Fong|Tsuen Wan|Tsing Yi|Fo Tan|Tai Po|Tuen Mun
Click here for Express Whatsapp: https://cutt.ly/51188503
*Terms and conditions apply, please contact our staff for details.
*Terms and Conditions: Offer is subject to availability while stocks last. This offer is only applicable to new registered customers of Supreme Mini Storage. In case of any dispute, the decision of Supreme Mini Storage shall be final. Registrants have read this Disclaimer page and agree to the Personal Data and Privacy Statement and are willing to receive promotional information.