Olympic Passion|Mini Storage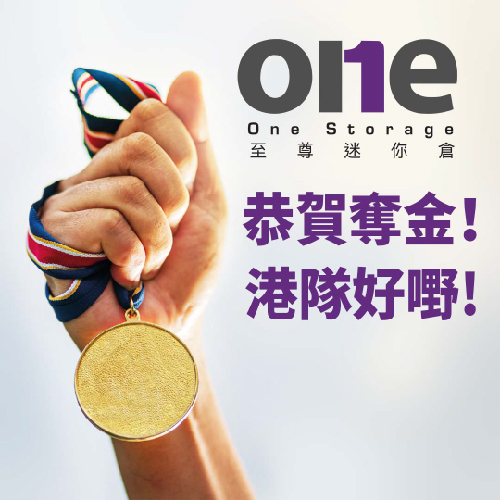 Hong Kong team, great!
Mr. Cheung faced the strong from all over the world, and won the gold medal in an international event for Hong Kong after a 25-year lapse of the Olympic Games! It's really touching and inspirational! This is a Hong Kong sword god with a height of 193. Yesterday, the whole world witnessed that he was a bastard!
This news is exciting for the whole city, which proves that Hong Kong can cultivate competitive athletes, and our Hong Kong athletes, just click the "Hong Kong Sword God", blessing the hard work, you can achieve better results!
The enthusiasm of the Olympics has made many people want to rekindle their enthusiasm for sports. No matter what kind of sports, it will inevitably need more space. Is the real estate enterprise big enough?
One Storage is here to help you, take a look at our latest limited offer:
-Rent 6 get 6 free, as low as $199*;
-Handling discount to get a $500 cash coupon*;
-Free thermos pot worth $250, limited to new registered customers in designated branches;
-July limited time offer as low as 55% off/free 2 months* etc.
-----------------------------
One Storage - Mini Storage Facilities
✅24-hour self-withdrawal, easy access at any time
✅7 x 24-hour smart security access system
✅High-definition security monitoring and alarm system
✅Comply with the fire safety guidelines of the Fire Services Department
✅All branches are equipped with a constant temperature air-conditioning system that operates around the clock
Nearly 30 stores in Hong Kong are available for you to choose from|Instant Picking:

https://bit.ly/2TGtCIK
Kennedy Town | Tai Po | Chai Wan | Siu Sai Wan | Wong Chuk Hang | San Po Kong | Yau Tong | Kwai Chung | Kwai Hing | Kwai Fong | Tsuen Wan | Tsing Yi | Fo Tan | Tuen Mun
-----------------------------
Enquiry Hotline: 21112636
*The offer is bound by terms, please inquire for details
*Offer terms and conditions: This offer is only applicable to renting the designated size of the above branches and prepaying the designated discount plan. The quantity is limited, first come first served, while stocks last, without notice. This offer is only applicable to new customers who rent a limited warehouse. Supreme Mini Storage reserves the right of final decision, please contact customer service for details.