One Storage|Mini storage|Use storage box? I tell you!
Release Date: 22-07-2019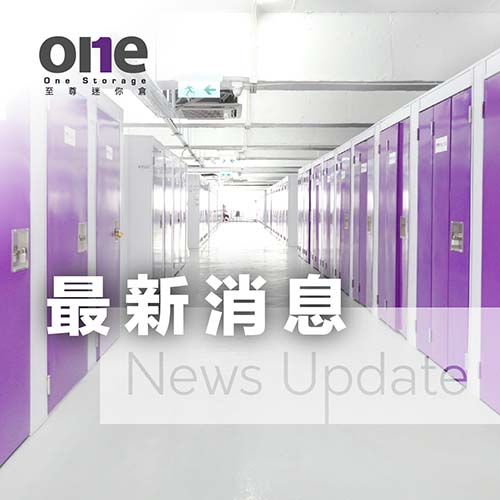 Hong Kong is a small place with a large population and as the population grows, the size of the home becomes smaller and smaller. Everyone around us has a problem with storage and is thinking of different ways to increase their living space. Storage design is becoming more and more important in Hong Kong.
A good choice is the storage box. You can find a variety of storage products at affordable prices and really good quality in the vicinity of your home. These are all convenient and cheap shops with a large number of outlets. The boxes available for purchase include: large storage boxes, storage baskets, portable storage boxes, four drawer storage boxes, etc.
Large storage boxes/boxes: these can be used to store all the clothes you need to change for each season (spring, summer, autumn and winter). You can decide where you want to store your clothes and measure the space so that you can buy a box that is as big as possible and can fit in the box. It is advisable to buy the same size box/box to make it easier to store your clothes neatly. In addition to the seasons, you should also sort your clothing into different materials. This makes it easier to organize your clothes when the seasons change. Some people also classify items by their purpose, such as home wear, work wear and leisure wear. It doesn't matter how you sort them, the most important thing is that you can find them easily.
Storage baskets: These can be used to separate seasonal clothing from unworn or unwashed items in the cupboard. It is easy to use, but it is not recommended to use many baskets at the same time, otherwise you will have to put them all over the place.
Handy storage boxes: Generally light and small, they can be used to store cosmetics, care products, etc. It can be used on the go and can be used in a neat and tidy way. If you put all your daily care products in this box, you will not miss them. As you all know, we have to do all our daily care routines, even our hair, some in the bathroom and some in the room.
Four drawer storage box: This is a great way to store smaller items such as earrings, rings, necklaces, tiaras and so on. This will prevent small items from getting lost.
Before you start, ask yourself three questions: Where do I want to put it so that it is easy to carry and put away? How do I store it so that it looks neat? Where should I put the items?
Solution 1: Where do I put it so that it is easy to carry and put away?
Clothes - first sort your clothes into seasons, then imagine what you need for the season, then put the clothes you don't need in a big storage box and put the clothes you need back in your wardrobe.
Accessories - Take out all the accessories you have bought, sort them and store them in the four drawer boxes. Stick a sticker on the outside of each shelf to indicate the type of item.
For women who have a lot of care products and cosmetics, it is advisable to check if there are any items that have expired and put the ones that are still usable in the tote box.
Solution 2: How do I store it so that it looks neat and tidy?
Putting items in a storage box is already neat. Put items that cannot be sorted in the same basket, e.g. letters, certificates, etc.
Solution 3: Where should I put things?
Keep the items you need at home and store the items you don't need at the moment (e.g. clothes, books, etc.) in mini storage. Mini storage offers a wide range of storage options. There are also many locations to choose from for easy storage and retrieval. Simply search by your desired location for mini storage in Tsing Yi, Kwai Chung, Kwai Fong, Kwai Hing, Tsuen Wan, Fo Tan, Tuen Mun, etc. to find your nearest mini storage. It's easy to find your living space!