Information of secondary school allocation|mini storage|One Storage
Release Date : 04-01-2022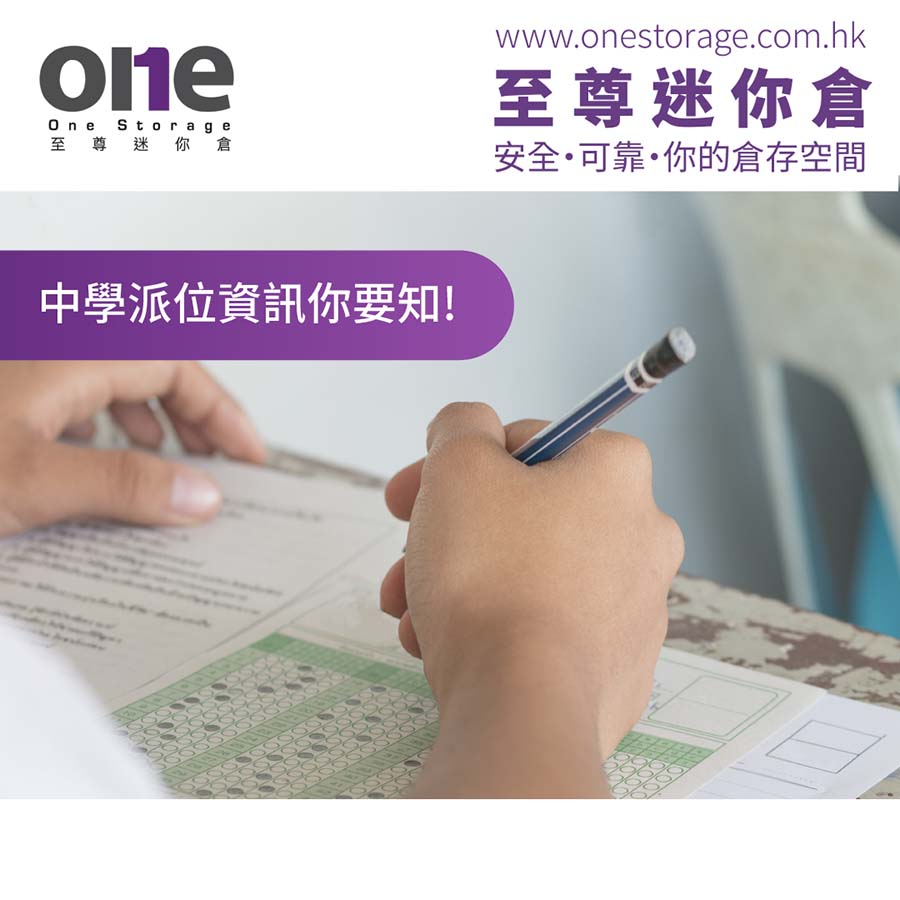 Participating in secondary school allocation conditions
Timetable for the allocation process
The main points of the self-allocating degree stage
Key points of the unified allocation stage
Suggestions for Storage of Books in Secondary Schools
There are many important days in a person's life, but it must be the middle school assignment that can bring a family up and down, from adults to children. Many parents have tried their best to help their children enroll in their favorite schools.
If you are already a parent and your children are going to enter middle school, you must be quite nervous, right? In view of this, let us share different information about the allocation of secondary schools!
Participating in secondary school allocation conditions
Although most people have gone through the process of secondary school places allocation, in fact, every primary sixth student who intends to enter a government or aided secondary school through secondary school places allocation must meet certain conditions.
They are:
If you are a Hong Kong resident
The primary school has participated in the allocation of secondary school places
Have never been assigned any Secondary One degree before
Timetable for the allocation process
Parents must be very concerned about their children and will prepare them for every process of enrolling in secondary schools. There are different stages and points in the whole process that need to be paid attention to. We will try to integrate relevant information and hope it will be helpful to you. (However, the relevant dates are for reference only, parents should pay attention to the latest information provided by relevant departments!)
Timetable 1-Self-allocated places accept applications
The application date is mid-January 2022. At that time, parents will receive the "Secondary One Discretionary Place Application Form" and the "Secondary One Discretionary Place Application Handbook". Based on the list of secondary schools, each student can apply for no More than two middle schools.

Timetable 2-Interview selection at the self-allocated degree stage
The date for middle school interviews for students enrolled from the self-allocated degree stage is generally set in February and March, but there is no standard and is determined by the school. The school may admit suitable students according to its own school philosophy and admission criteria.
Timetable 3-Announcement of the results of the self-allocated degree stage
The secondary schools participating in the discretionary places will unofficially notify the parents of students whether their children are included in the admission list of the discretionary places by the end of March 2022.
Timetable 4-Application Stage for Central Allocation
You will receive the "School Selection Form for Secondary One Places", the "Schedule List of Secondary Schools" of the school network you belong to, and the "School Selection Manual Not Restricted by School Network". Parents are required to complete and submit the "Form for Selection of Schools for Secondary One Places Allocation". Students who are not accepted by the school during the self-allocation stage will be allocated places through the unified allocation system.
Timetable 5-Official announcement of promotion results
The results of the two allocation stages will be officially announced by the Education Bureau in mid-July 2022. Later, the parents must accompany the children to the registration and admission procedures.
The main points of the self-allocating degree stage
From the timetable just now, we can know that the distribution process of secondary school places is mainly divided into two stages, namely self-allocation of places and unified place allocation. The processes and points of attention of the two stages are different. Parents should know more about it. many.
Key points of self-allocation degree stage 1-not restricted by region and school network
Students participating in the self-allocation of places to enroll in secondary schools will not be subject to regional restrictions such as school networks.
Key points of self-assignment degree stage 2-choose two schools of your choice
In the self-allocation stage of secondary schools, each student will have two options: "School Selection 1" and "School Selection 2", so they can submit applications to 2 schools of their choice. And if two schools are admitted at the same time, the order of selection of the students will also prevail.
Key points of self-assignment degree stage 3-The school decides on the interview content and admission list by itself
There is no absolute standard for the allocation of places by secondary schools. Schools can set their own criteria and scores according to their own requirements and characteristics, and then admit suitable students. At the same time, most schools will arrange interviews at this stage, so it is very important to study the school's admission requirements and prepare for the interview.
Key points of the unified allocation stage
After passing through the self-allocation stage, the next step is the larger-scale place allocation process-the unified allocation stage. Most of the degrees are determined at this stage, so parents should pay attention to the relevant process. matter.
The main points of the unified allocation stage 1-the difference between Part A and Part B
The unified allocation has two parts: Group A and Group B. The main difference is that the number of places in Group A is not restricted by the school network, while Group B needs to select schools in the school network according to the address. For more detailed differences, please see the following:
Group A provides nearly 10% of the degree and is not restricted by the school network. Parents can read the "Handbook for School Selection Without Restriction by the School Network" for details and choose a school. You can choose up to 3 middle schools in the order of their willingness to choose a school (any School net).
Part B accounts for about 90% of the places allocated in the unified allocation. Parents can read the "List of Secondary Schools" of their school network in detail, and can choose up to 30 secondary schools in the order of their wishes.

If the student does not pass the Part A to be assigned a degree, the student will automatically enter the Part B lottery.
The main points of the unified allocation stage 2-luck and performance are related
In the unified allocation stage, each student will be randomly assigned a number by the official computer system. The number determines the order within the group. Therefore, luck will also be slightly affected during the allocation process.
However, the main impact is still the "sub-examination". During the unified allocation of Part A, all students will be based on the results of the The relevant results of the Form One pre-entry test of the past students of the elementary school are divided into three groups, so it is close to use the results of all students in Hong Kong as the grouping.
In the unified allocation stage of Part B, although the students' grades are used as the grouping standard, this time they are grouped according to the number of people in the school network. Therefore, the same student can be in different groups in Part A and Part B.
The two allocations will be allocated by the official computer system in the order of three groups, from the first group of applicants to the second and third groups. Therefore, the overall allocation process will be affected by both strength and luck.
Suggestions for Storage of Books in Secondary Schools
As a stage of children's growth, it is of course happy to graduate from elementary school and then enter middle school, but the number of books after entering middle school will generally increase exponentially, because at most three to four main subjects are studied in elementary school. But in middle school, in addition to Chinese, English, and mathematics, there are more subjects such as chemistry, physics, economics, and geography. Therefore, parents must think carefully about how to organize books for their children. Here are some suggestions:
Storage suggestion 1-do a good job of sorting books
Children who have just entered middle school may not be able to classify different types of books and homework perfectly. Parents can help classify them by category. Some notices and assignments that need to be returned to school can also be classified according to the time of submission, so as to reduce the loss of books by children Or forget to return notices, homework and other opportunities.
Storage recommendation 2-pay attention to the storage environment
Many books are stored for five or six years. One day young girls have not graduated. Many documents, books, and notices need to be kept. Therefore, you need to pay special attention to the storage environment for storing such a large number of paper items in Hong Kong. You can choose books with doors. Thin cabinets, as well as placing moisture-proof pills, insect-proof pills, etc., to prevent the paper from moulding, damp, yellowing and even being eaten by insects.
Storage suggestion 3-rent One Storage Supreme Mini Storage
However, Hong Kong families have always lacked storage space. Faced with the sudden addition of a large number of books, they may not be able to store them properly, but the children's books cannot be discarded at will. How can they be made out of nothing? Create more space?
In fact, renting a mini-storage is also a good way for many people to add storage space to their homes. If you also want to rent a mini-storage service, but you are still looking for a reliable, reputable and trustworthy mini-storage, One Storage Supreme Mini Cang will definitely be your good choice!
One Storage Supreme Mini Storage has nearly 30 branches in Hong Kong, Kowloon and the New Territories. The transportation is convenient. You don't have to worry about walking around with a pile of books before you can rent our service. At the same time, there are 24 The air-conditioning and constant temperature system ensures that the books can always be kept in a dry, non-humid environment, and comply with all fire protection regulations and mini-storage requirements. No matter how many subjects there are and how long they need to be stored, there is no need to worry about any problems. !
In fact, it is not only for book storage. The safe, convenient and easy-to-use mini storage space created by One Storage Supreme Mini Storage is actually suitable for you to store any household items, collection of sneakers, or all kinds of clothing. One Storage Supreme Mini Storage They are absolutely worthy of your trust. If you have any storage problems, please feel free to ask us for help!
Deal with the problem of book storage well, so that the children will have no worries on the way to study! Immediately transfer your storage worries to One Storage Supreme Mini Storage! Don't miss out on the limited discounts now available!

Now successfully register for 12 months to enjoy a special discount, plus 1 month of free warehouse rent*! 40% off 12+1*, hurry up and register for an appointment!
For concessionary registration enquiries: https://m.me/onestorage
-----------------------------
Renovation | Short term rental | One Storage Can Help | Mini Storage

-------------------------------------
Kennedy Town | Tai Po | Chai Wan | Siu Sai Wan | Wong Chuk Hang | San Po Kong | Yau Tong | Kwai Chung | Kwai Hing | Kwai Fong | Tsuen Wan | Tsing Yi | Fo Tan | Tuen Mun
Click here for Express Whatsapp: https://cutt.ly/51188503
*Terms and conditions apply, please contact our staff for details.
*Terms and Conditions: Offer is subject to availability while stocks last. This offer is only applicable to new registered customers of Supreme Mini Storage. In case of any dispute, the decision of Supreme Mini Storage shall be final. Registrants have read this Disclaimer page and agree to the Personal Data and Privacy Statement and are willing to receive promotional information.