Don't forget the children in the decoration design! |Renovation|One Storage|Mini Storage
Release Date : 29-06-2022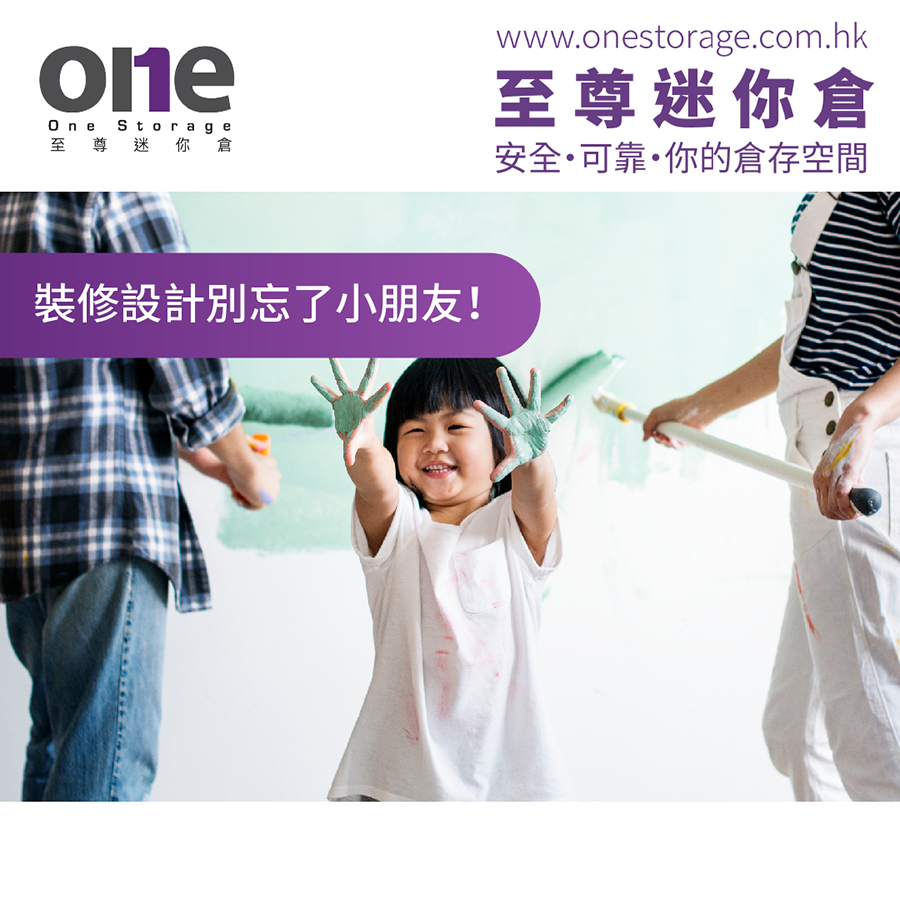 Last time we shared and studied the needs of the elders before renovating or redesigning the home, but in fact, many families also have children, and the needs of children should not be forgotten. A place to consider for kids!
Children's decoration should consider 1-formaldehyde problem
Formaldehyde must be the place that many parents are most worried about affecting children when decorating. There are two points that must be paid attention to, one is paint, and the other is furniture. In terms of paints, water-based paints are now popular, and their formaldehyde content is much lower than that of previous oil-based paints. You can pay attention to the difference between the two. Now some paints can capture volatile organic compounds and reduce their impact! At present, the amount of formaldehyde in furniture sometimes varies with the production process, and sometimes it is higher than that of paint, so pay attention and keep ventilation.
Children's decoration should consider 2-floor and corner safety
Last time, we mentioned the importance of corner safety. We can make the corners rounded so that it will not be too dangerous for children to bump into. But in addition, in fact, you can install platforms at different positions in the home, and add carpets or soft pads on the platform, so as to delineate the space for children to move and run and jump. In this way, children have a safe and comfortable space to play, and at the same time, there is no need to spread carpets or cushions in the whole home, and balance cost and effectiveness!
Children's decoration to consider 3-may fall off the bed
At present, there are many ways to create more storage space for children, such as making platform beds or bunk beds, but parents always worry that children may fall off the bed and cause accidents. In view of this, railings can be added beside the bed, but a space should be reserved in advance so that the cabinets and stairs on the bed will not be affected.
It is the goal of every parent to create a better living space for children. However, children will grow up every day, and their body shapes and needs will be different every day. The home may need more space or more decoration to meet the needs!
The love of parents, we understand that if there is space to worry about or short-term storage, it is best to use a mini storage! If you need a mini storage, find our One Storage Extreme Mini Storage Helper!
One Storage Extreme Mini Storage has 37 branches in various ports, and it is very helpful! At the same time, our warehouse has a constant temperature and safety security system, providing the best quality and safe service for friends who create space for temporary storage or storage of items for decoration! Don't hesitate if you need it! Find One Storage Extreme Mini Storage to help you!

Children grow up and their needs are different every day! Immediately learn about the One Storage Extreme Mini Storage Offers for Renovated Mini Storage, always helping you!
-------------------------------------
Hong Kong Island: Siu Sai Wan|Chai Wan|Tin Hau|Kennedy Town|Wong Chuk Hang
Kowloon: Yau Tong|Kwun Tong|San Po Kong
New Territories: Kwai Chung|Kwai Hing|Kwai Fong|Tsuen Wan|Tsing Yi|Fo Tan|Tai Po|Tuen Mun
Click here for Express Whatsapp: https://cutt.ly/51188503
*Terms and conditions apply, please contact our staff for details.
*Terms and Conditions: Offer is subject to availability while stocks last. This offer is only applicable to new registered customers of Supreme Mini Storage. In case of any dispute, the decision of Supreme Mini Storage shall be final. Registrants have read this Disclaimer page and agree to the Personal Data and Privacy Statement and are willing to receive promotional information.