Be careful when ordering furniture! |Renovation|One Storage|Mini Storage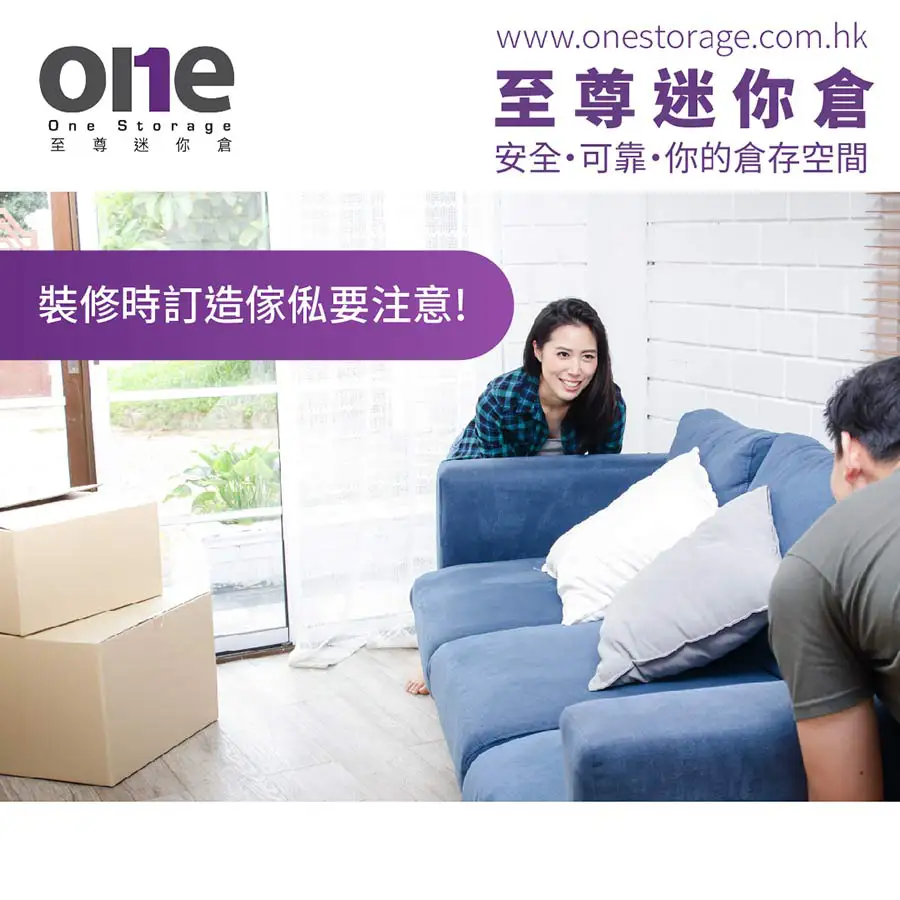 The average living space in Hong Kong is not very large. In view of this, many people will go to order furniture, hoping to match the home environment and use up every inch of space in the home. And custom-made furniture does have many advantages, such as it can meet the needs of different sizes in the home, and it can also enhance the unique design of the home. But although there are many benefits to custom-made furniture, there are more things to pay attention to than buying ready-made furniture. Here are the custom-made furniture tips we share with you!
find a shop
Custom-made furniture is a difficult project to have a budget. It is best to find some reputable stores. If there is no well-recommended or familiar store, at least start with the price. At the same time, when exchanging furniture custom-made requirements, don't just look at the model in the store's showroom, which is not of high reference value. You can ask the furniture store to provide some photos of the actual furniture, or the actual product currently being produced.
Check Quote Information
It is very important to check the information on the quotation. This is the basis and evidence for everything in the future. There will be different criteria, such as project size, materials, accessories, deposit, and the remaining balance. Everything is important!
Pay attention to the field scale
After both parties have decided on the desired design and production drawings, they will usually measure on the spot. And the guests had better be more attentive at this moment. The ruler is the most important part of custom-made furniture. It is best to follow up in person and don't be casual. You can also communicate with Master at any time, explain requirements, and inquire about questions. Because if there are any mistakes, such as affecting the placement of other furniture, blocking the electric switch and not being able to enter the gate, etc., it will be very troublesome to correct it!
Custom-made furniture is also a flexible way of life for Hong Kong people! There is only so much space, so you have to use other methods to make your life more comfortable. Through custom-made furniture of different designs, you can cope with different home environments, and even live a unique and self-fulfilling life! But at the same time, can the space really not get bigger? In fact, mini storage allows you to easily have extra space, did you know that? Come and find out about One Storage Extreme Mini Storage!
One Storage has branches in various districts, a total of 37 stores are very accessible and convenient! Families of different sizes may have troubles related to space and storage! However, our Mini Storage provides different storage types to choose from, and is designed to meet the requirements of fire protection. It can solve the problem of insufficient home space with peace of mind and thoughtfulness!
-------------------------------------
Click to check our latest offer now
Talk to us: https://m.me/onestorage
-------------------------------------
✅ 24-hour easy access at any time
✅ 7x24 smart security access system
✅ HD security monitoring and alarm system
✅ Comply with latest Fire safety guidelines
✅ Constant temperature air-conditioning system
Hong Kong Island:
Siu Sai Wan | Chai Wan | Tin Hau | Kennedy Town | Wong Chuk Hang
Kowloon:
Yau Tong | Kwun Tong | San Po Kong
New Territories:
Kwai Chung | Kwai Hing|Kwai Fong | Tsuen Wan | Tsing Yi | Fo Tan | Tai Po | Tuen Mun
Express Whatsapp: https://cutt.ly/51188503
*Terms and conditions apply, please contact our staff for details.
*Terms and Conditions: Offer is subject to availability while stocks last. This offer is only applicable to new registered customers of Supreme Mini Storage. In case of any dispute, the decision of Supreme Mini Storage shall be final. Registrants have read this Disclaimer page and agree to the Personal Data and Privacy Statement and are willing to receive promotional information.