If the housing enterprise wants to renovate, it is decided to rent a mini-storage point? | One Storage | Mini Storage|Decoration
Release Date : 18-10-2021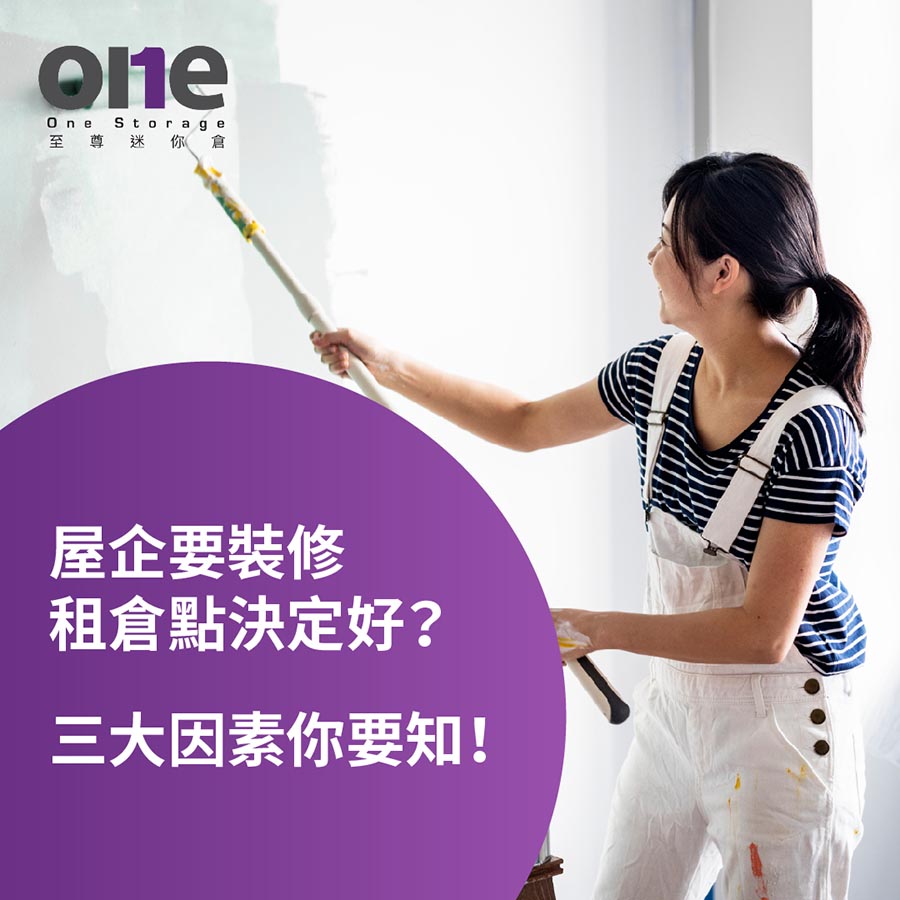 Whether it is a public housing estate, a Home Ownership Scheme (HOS) flat or a private home, housing is always in a state of disrepair. Of course, it may also be the case that you want to change your home, but home renovation projects, no matter how big or small, can be fraught with problems such as finding a renovation company, redesigning your home, finding temporary accommodation and so on. Not least of all is the inevitable problem of short-term storage of appliances, furniture or groceries.
It's not just the short-term storage that's annoying, it's also the effort of sorting, organising and throwing away unwanted items. That's why a lot of people are now renting mini storage to store their belongings in one go during renovations. However, if you want to find the right mini storage, you need to consider whether the conditions of the mini storage are suitable for you. In this regard, the following three points can be considered.
The location of the mini-warehouse
In terms of decoration, the best location is near your home if possible, as it is not only convenient for storage, but also for taking things home after decoration. But if you are temporarily renting a place that is not at all close to your mini storage, and you have things to pick up and use, it's a nightmare! So think about a mini storage unit that is conveniently located, has 24 hour access or has a delivery service.
Lease term of mini storage
Customers who rent mini-warehouses because they are renovating old units usually have a short-term need and will not rent for a long period of time, but some mini-warehouses may require tenants to rent for a period of time in one go, which may be less flexible. For customers who only want to rent for a short period of time, this is really inconvenient. Even if you want to return the lease, you may have to pay additional fees for the various terms and conditions, so it is important to know the terms and conditions of the mini-warehouse you choose. Of course, it is most convenient to rent a mini-warehouse for a short term rental!
Size of mini storage
Mini storage is now available in a variety of sizes for customers to choose from, both large and small. Customers can of course rent a mini-warehouse of the size they need, depending on the size of their home. The important question is, what size mini storage is the right size? One Storage provides customers with a space calculator, so that they know what they need before they rent a mini storage unit.
One Storage not only provides space calculators for customers, but also 24-hour access and short-term rentals for customers who need mini storage for renovation projects.
-----------------------------
Nearly 30 mini storage units in Hong Kong - renovation and short term rentals to help you!
Kennedy Town | Chai Wan | Siu Sai Wan | Wong Chuk Hang | San Po Kong | Yau Tong | Kwai Chung | Kwai Hing | Kwai Fong | Tsuen Wan | Tsing Yi | Fo Tan | Tuen Mun | Tai Po
To know more about mini storage rental offers:

https://m.me/onestorage
Enquiry Hotline: 21112636